'Stigma is the worst part of this virus.'
Shylesh Pillai, who is recovering from COVID-19, shares what he learnt from the 9 days he spent in hospital.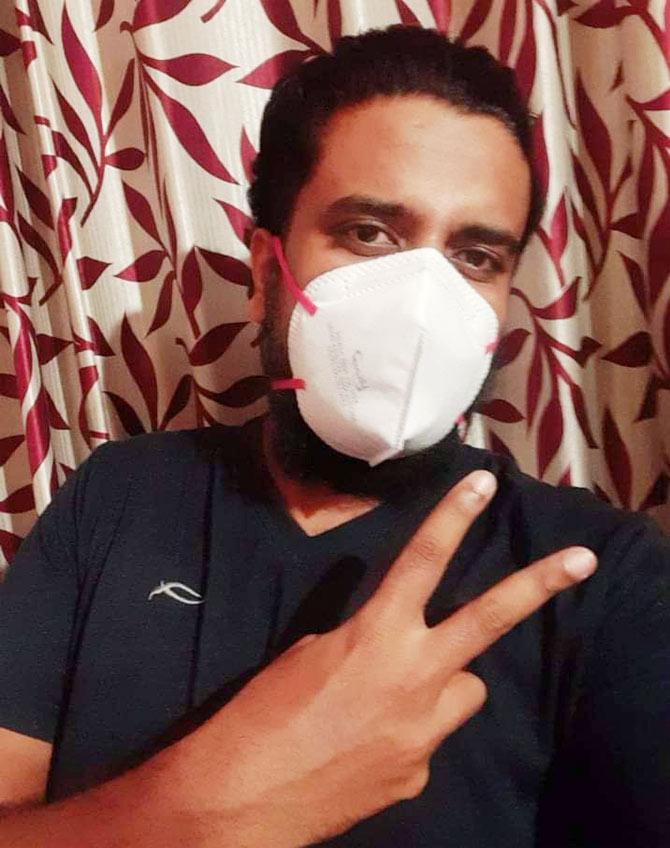 1. No one is immune
I was diagnosed with coronavirus two weeks ago, but I am yet to come to terms to understanding how I may have contracted it.
I used to go to office regularly, but no one tested positive at work.
My family never came in contact with anyone and tested negative too.
Besides, I always wear a mask and use sanitisers at regular intervals whenever I step out.
All I can say from my experience is that no one is really safe.
2. Testing is a challenge
When I had fever, an irritation of the throat and loss of taste, I decided to get a COVID test done. But testing itself was a tiresome and tough task.
No testing labs in Kalyan would conduct your swab test until you get a doctor's prescription, which was a herculean task.
Most private clinics send you to government or municipal corporation-run fever clinics to get a prescription.
If you get through a private clinic, you have to convince the doctor that you have got symptoms related to COVID, failing which you won't get a written prescription.
At government/municipal fever clinics, you are standing with multiple fever patients who may or may not be positive too. So the slightest negligence puts you at high risk of infection.
If you manage to get a prescription online and if you don't have any major health issues, you should opt to get tested at home rather visit a lab to deposit swab.
I had to visit a private lab to get tested and found it equally risky as visiting a government/municipal fever clinic. Most labs do home visits only two days after you place your request.
I was charged Rs 2,500 for the lab test and 2,800 for the home visit which I opted for my family. I went to get tested at 6.30 am and my turn came at 9.30 am. The results were available in 48 hours.
3. It's not easy to get admitted to hospital
Availability of beds and ambulance services continues to be a challenge.
I started checking for beds from the day I deposited my swab.
My frequent communication and interaction with various hospitals, doctors, friends, social workers etc helped me find a bed on time.
I would call myself lucky here as I had begun to experience shortness of breath towards the second day of being tested.
So stay connected with people who you think can help you in times of need. Check with your family doctor like I did.
4. Health insurance is important
Mediclaim or health insurance is important if you are looking to be treated at a private hospital.
Don't expect any sort of mercy with respect to billing.
In my opinion, state governments should have a cap on these enormous bills issued by private hospitals.
I was admitted in a comparatively standard hospital with timely food, fruits, milk and medicines. I was charged Rs 1.63 lakh for 9 days.
After much negotiation, some charges were reduced.
The bed charges at most private hospitals vary between Rs 8,000 to 14,000 per day which includes food.
You will be additionally charged for medicines and miscellaneous expenses.
5. You can't ignore the stigma, mental trauma
Stigma is the worst part of this virus.
As soon as someone comes to know that you have COVID symptoms, people begin to make you uncomfortable -- by asking questions about how you got it and why aren't you getting treated etc.
When I had the slightest doubt, I isolated myself in my room and informed my parents, friend and society group to avoiding coming in direct contact.
But after spending 9 days in a hospital, all I can say is that none of us is immune.
None of us would deliberately want to get infected.
Despite taking all precautions, it is still possible that you could get it.
But if you come across someone who has tested positive, don't look away or make a nasty face.
Don't turn your back. Keep your distance. But be kind enough to ask them if they need any help.
Remember, this mental trauma of being ignored and avoided by society while being treated in isolation away from your loved ones is a huge barrier that may also be delaying recovery in some patients.
A lot of people may lose hope and give up even before the treatment begins.
So let's be kind to all. That's the least we can do.
6. Be responsible, don't put others at risk
Even today, when I see people failing to wear masks and have a careless approach towards the infection, I can only pray to God to drill some sense into them.
This is the time to be responsible, follow guidelines and avoid putting yourself and others at risk.
Remember we can only fight this together.