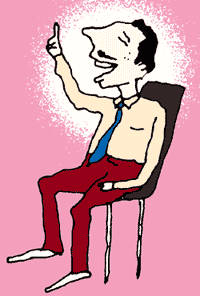 'Do not panic; have a good rapport with the HR and negotiate if they can map you to some other requirement with lesser compensation.'
'Take sometime off -- 10 to 15 days; relax; be with your parents or friends then come back and prepare a good resume and learn new skills.'
A chemical engineer and IT professional share their layoff lessons.
Illustration: Dominic Xavier/Rediff.com
This is how Narayana Vennavelli coped with his layoff...
I have been a victim of layoff once in my career and I would like to share my experience with others.
I am a chemical engineer with a Masters from USA. After my graduation, I got a job with a large French engineering company in Houston, Texas, as Process Engineer.
In May 2010, during the global recession, my company ran out of work. My boss called me to his room and informed me that he had to let me go as he did not have much choice. I felt a little down but I was mentally prepared for this day as lot of other co-workers had already been laid off.
It was a very tough job market, especially for people working on H1B visa. In order to be able to stay in the US, I joined GMAT coaching with a small institute in Houston and converted my visa from H1B to F-1.
I continued to study for my GMAT, while searching for a job. I interviewed with a lot of companies but most of them were ready to hire only 6-8 months later, as they were not getting new projects.
I was looking for opportunities whether small or big in order to not lose out on experience.
I started to apply overseas and a few months later I got placed in the same company in Abu Dhabi, UAE.
Earlier, I was planning to settled down in the US as my green card was already in process. However, the new offer seemed equally good as I it would take me much closer to home in Hyderabad, India (only 4 hours of flight) and I was getting a better pay which was completely tax free.
Hence I would suggest this to anyone who got laid off: Keep your chin up and be prepared to make small course corrections if required. Hope eventually everything would be fine again.
Especially it would be good to commit to some course that would let you upgrade your skills for which you will not find time otherwise while working in a regular job. Having a daily routine is very important to keep oneself motivated.
***
Jitendra Seti who was laid off -- not once, but thrice -- offers practical tips to face layoffs
My experience with the layoff was very painful. It happened to me thrice in different companies in the past. But the first one was very bad for me.
I took much time to return to normalcy.
Most of the time it happens to the people at middle management level. Once you cross 12 years of IT experience. As IT companies hire you at the time of their need or when there is an 'urgent requirement of the client', recruiters are desperate to find a matching profile to map you as per the clients requirement.
If you are the right match then salary and the compensation you ask for does not matter to the companies. But once the project is over, let's say in next one or two years, there will be difficulties in placing you in the right team. At such times it's an alarming situation for the employees and companies.
Management feels that you are an additional cost to the company and they lay you off.
In my first layoff I panicked when I was suddenly asked not to come to office and handover the laptop and other company assets I was holding.
My final settlement was done by the HR. I was not even consulted for the tax deduction. An email was sent to my personal email ID along with the final settlement letter after deducting a huge tax. When I spoke to the HR over phone they said I can claim it back from the income tax while filing the return.
I was really worried about meeting my expenses till I got a new job. For the first 7 days I locked myself inside my home. Then I started searching for jobs through job portals; along side I started looking out for some ideas to start a small-scale business instead of finding another job.
I kept a target for myself: I shall pack everything and go back to my home town if I fail to get a job in two months.
As 2009 was recession time and jobs were very less in the market it did not click. I went to my home town to be with my parents to save some of my expenditure. After five months I got through a job.
These are some of the tips to cope with layoffs that I learned:
1. Do not panic; have a good rapport with the HR and negotiate if they can map you to some other requirement with lesser compensation.
2. Take sometime off -- 10 to 15 days; relax; be with your parents or friends then come back and prepare a good resume and learn new skills.
3. Go for as many interviews as possible: if nothing click in these interviews, note down the reasons for which they did not click and prepare for the next one.
4. Have financial security or save money in a bank (fixed deposit) or post office to get monthly income from them.
5. Try to payback loans if you have any and make EMIs as small as possible by increasing the tenure.
How to cope with layoffs
Achche Din or not, people are being laid off. Layoffs can happen anytime. To anybody.
If you have been laid off and coped with it well, we would like to know the lessons you learnt and what it takes to emerge successful.
Please mail your responses to getahead@rediff.co.in (Subject line: Layoffs) to help those who have been laid off or could face layoffs in the weeks to come.
Also Read: