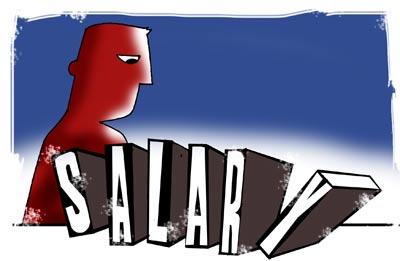 This article was first published in October 16, 2008 after Jet Airways gave pink slips to 1900 employees. Today, following reports of TCS laying off 3000 employees, we reproduce the same article. Illustration: Dominic Xavier/Rediff.com
Tough people last, tough times don't!
And tough times indeed are upon those employees who were laid off recently and also for others who fear their turn is coming soon.
Recession or not, companies do pare their staff strength to improve their profits. They are accountable to their shareholders and stakeholders.
Similarly, if you are a sacked employee or fear that you may get a pink slip in times to come, isn't it time you become accountable to yourself and think what next instead of cribbing about the fate that has befallen upon you?
Here's what you can do to survive your layoff / expected layoff, financially.
1. Negotiate with your employer to get a good severance package.
After all, you are already sacked and they can do you no more harm. But remember to keep your aggression polite for the same employer may want to hire you when wheels of fortune turn. Never slap an opportunity, ever!
Getting to hard numbers let's assume that a company A sacks 10 per cent of its employees and promises to pay 12-months' salary in advance. Also, let's assume that on an average these employees earn Rs 20,000 per month. This will help them get Rs 2,40,000 in advance. This amount if planned and spent productively can help them cope financially till the time they get another job.
2. If you have a debt of any kind -- home loan, personal loan, credit card payment etc -- make provision for that first from the money that you can squeeze out from your ex-employer. There is no point in defaulting on your debt as it may come to hound you later -- via your credit rating -- when your financial condition improves.
For those who fear a layoff in the near future it would be a wise decision to payoff their dues when the going is good rather than waiting till the last moment. Also, postpone your decisions to buy a home or borrow money for some other purpose.
However, if you are neck deep in debt then it would be better that you seek advice from a debt counselor. Bank of India's Abhay, ICICI Bank's Disha helps people with financial counseling and how to cope with debt.
3. In the meanwhile, try to search for a job, even if on a temporary basis, matching your skills and profile. Don't hesitate to compromise on salary as your topmost priority should be to keep the engine well-oiled so when the real opportunity knocks you can race ahead of the others.
4. Your next priority should be your grocery expenses. You have to eat to survive and be in shipshape to go out in search of another job. Visit your nearest discount stores and check who sells your items of daily need cheaper. This exercise may help you save some dimes but if you are laid off or fear a layoff every penny should count.
5. There is no need to tell you that when you are laid off or are expecting the same you should cut down heavily on your socialising expenses including outings to hotels, multiplexes, vacations etc.
6. Try asking your parents and friends for some money in case your severance package amount fails to meet your monthly expenses. After all, a friend in need is a friend indeed.
Of course, your parents, if they are financially sound, wouldn't think twice about helping you with money. Make it a point to ask your parents first for money. For borrowing money from your friends can sometimes spoil a friendship.
7. If your severance package is good make sure that you keep at least 20 per cent of this money into an emergency fund. Put this amount in a fixed deposit that will earn you at least 7 to 8 per cent post tax. But as most banks are reducing their deposit rates this option may not be very attractive right now. Anyways, this amount can come in handy in case of any medical emergency. Of course, you will have to forego the interest amount if you withdraw your fixed deposit before the tenure is over.
8. If charity begins at home, cost cutting too should begin at home. Ask your maid to take a break for three months or till the time you find a new job. It is better you start doing your own laundry, utensils and ironing. You may feel a bit odd in the beginning but the amount you will save every month will add to your financial relief.
9. Spend most of your time fine tuning your resume, preparing for interviews, adding new skill sets related to your job profile (at lower cost if possible, but without any compromise) and networking with people (both online and offline). This will not only help you find a new job but also keep you busy and away from any mischief.
10. Finally, don't forget to make a plan about your future as you will have enough time to ponder over your finances and career. Take a hard look at what you would want to do in life and how your career is shaping up. Make sure that such an eventuality should never befall you and if at all it does then you should not struggle as much as you struggled during your first layoff.