A lesser-known Bengali dish, Bati Chorchori is best served with plain white rice.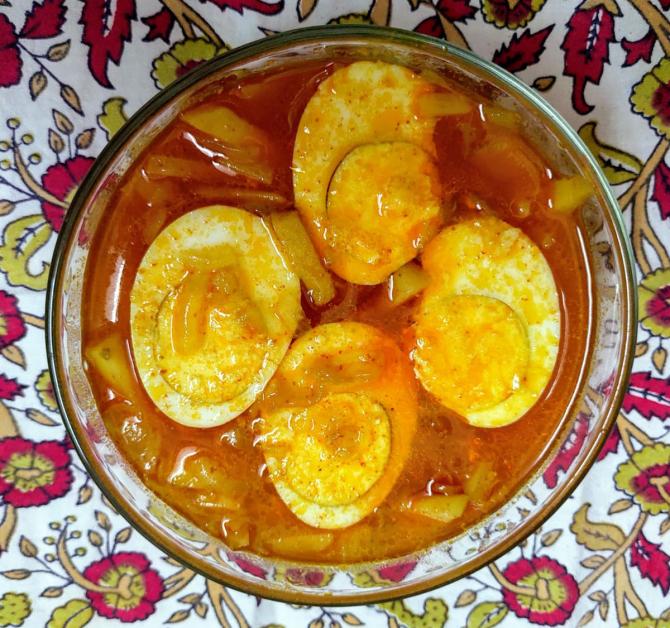 Swarupa Dutt offers her distinctive recipe for Bati Chorchori, a Bengali one-pot dish that is much-loved across the length and breadth of Bengal.
"Bati means an utensil and chorchori generally refers to a mishmash of vegetables," says Swarupa. "This dish essentially comprises potatoes and onions, but many kitchens add eggs or fish."
She shares her tips for making the perfect Bati Chorchori.
"If you are vegetarian, stick with the potatoes and onions. I promise you this is a one-pot meal that is at once tasty, nutritious and more importantly, hassle-free," she says.
"Do not substitute mustard oil with any other oil. Mustard oil gives this dish its flavor and no other oil works as well."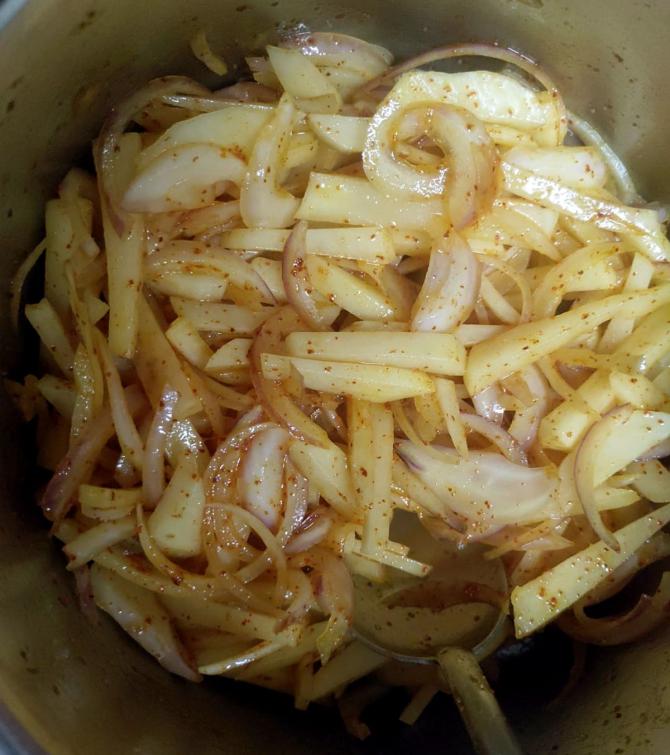 Bati Chorchori
Serves: 2
Ingredients
2 very large or 4 medium-sized potatoes
1 very large or 2 medium-sized onions
1 green chilly, chopped finely
4 tbsp mustard oil + 1 tbsp for drizzling
1 pinch haldi or turmeric powder
1 tsp red chilly powder or more if you like it spicy
1 tsp salt or to taste
2 boiled eggs, optional
1 tbsp kashondi or Bengali mustard sauce, easily available online
Water for cooking
Method
Chop the potatoes into fine juliennes, finer than French fries.
Chop the onions likewise, from head to tip; please check pic above.
Put the chopped onions and potatoes in a saucepan.
Add 4 tbsp of mustard oil, turmeric and chilly powder, green chilly and salt. Mix well.
Add enough water to cover the potatoes and onions.
Add a little more water if you want gravy, but not too much.
Cover the pan partially and place it over low heat.
It will take around 20 minutes to cook.
The potatoes should lose their form slightly and then it's done.
Ensure its not a mess of mush.
There is no need to stir further.
If you want to add the boiled eggs, do so when the Bati Chorchori is almost done.
Cook for a further 2 minutes.
Add the kashondi and take off heat.
You can cook this without the eggs and kashondi as well.
Since it's a one-pot meal, the protein component is important.
Drizzle 1 tbsp of mustard oil and cover with the lid so that the aroma doesn't dissipate.
Serve hot with rice.