Kasam Shaikh says he will never forget February 3, 2022 in his life.
It was on this day, the 35 year old received a letter from Microsoft awarding him the Microsoft Most Valuable Professional title in Artificial Intelligence.
'The Microsoft MVP Award is an annual award that recognizes exceptional technology community leaders worldwide who actively share their high quality, real world expertise with users and Microsoft. All of us at Microsoft recognize and appreciate Kasam's extraordinary contributions and want to take this opportunity to share our appreciation with you,' the statement from Microsoft team dated February 3 reads.
'With just over 3,000 awardees worldwide, Microsoft MVPs represent a highly select group of experts. MVPs share a deep commitment to community and a willingness to help others,' the e-mail adds.
"I am the fifth person from India to receive this recognition, I am also the first from Maharashtra to receive this honour in Artifical Intelligence," Kasam tells Divya Nair/Rediff.com.
Kasam, a resident of Kalyan, a township near Mumbai, is a computer science graduate and is currently employed at Capgemini as a senior manager-cloud evangelist.
Although Kasam has been working in IT for over 14 years now, he decided to share his knowledge with the world for free four years ago.
"When I was young, I dreamed of studying aeronautical engineering and become a pilot. Since we belong to a middle class family, my father would always say we wouldn't be able to afford the fee. So I studied hard and tried to score well over 90 per cent in physics, chemistry and mathematics," he recalls.
"However, a month before my Class 12 board examination, my father unexpectedly passed away. His death really shattered me and I ended up scoring 82 per cent in PCM. I had to settle for computer science, but even that wasn't easy."
"My family, especially my mother, toiled hard to fund my education. She mortgaged her jewellery so I could continue my studies," he says. "I started working and studying at the same time."
"I realised there may be so many youngsters like me who want to study, but cannot afford to do so. So I started teaching as a guest speaker at engineering colleges and institutes. I volunteered to speak at tech events where I began to share my knowledge for free."
Kasam has also authored four books on artificial intelligence, one of them (Demystifying Azure AI: Implementing the Right AI Features for Your Business), he says is being used as reference material( external link) at the ACM Education & Learning Center in New York.
Kasam also has a YouTube channel (external link) with approximately 8,000 subscribers where he uploads informative videos about cloud artificial intelligence and updates about the latest technology.
"If you visit my LinkedIn, you will notice that a lot of people who have seen my videos and taken up certification are doing well in their jobs. They would tag me to say thank you for guiding them," he says.
"During the pandemic I gave out 20+ books on Microsoft Cloud, Azure and AI to IT professionals who lost their jobs due to layoffs so they could upgrade their skills and get back into the industry."
Kasam says his name was suggested to Microsoft by a UK-based professional a few months ago.
"In 2021, I received a link to the application where I had to fill a form with all the details. The claims had to be validated by the team in Seattle which took another few months."
The Microsoft award is a recognition for all these years of selfless tireless work and efforts Kasam has endured in order to change the lives of others.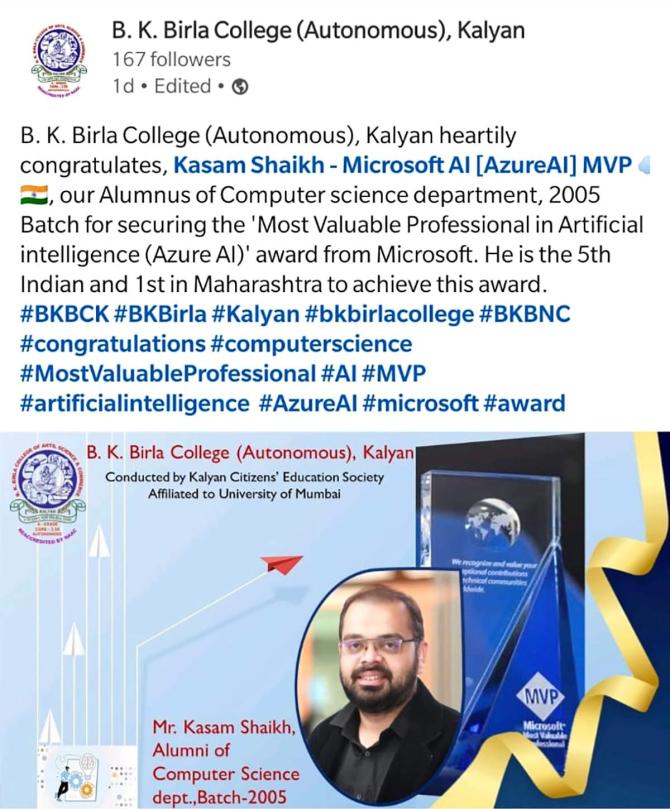 Although Kasam was heartbroken when his childhood dream came crashing down, he is happy with how his career and life has transformed meaningfully in the past decade.
"I was always fascinated by aircraft engineering, the inside of a cockpit and even today, when I visit the airport I feel the pain. I know I can't force anyone to pursue something they don't believe in. But I'll definitely guide my daughter if she wants to pursue a career as a pilot. It's mentioned in the Holy Quran that Allah always has a plan for you and it's the best. I truly believe that."
Kasam lives with his mother, a homemaker, wife Ruksar, who works as a consultant at Deloitte, and 8-month-old daughter Maryam.
In his advice to young professionals, Kasam emphasises the importance of continuous learning.
"Don't ever stop learning. The day you say you are done (learning), you are done (for life