Akumjung Pongen, the first Rhodes scholar from Nagaland, shares his inspiring journey.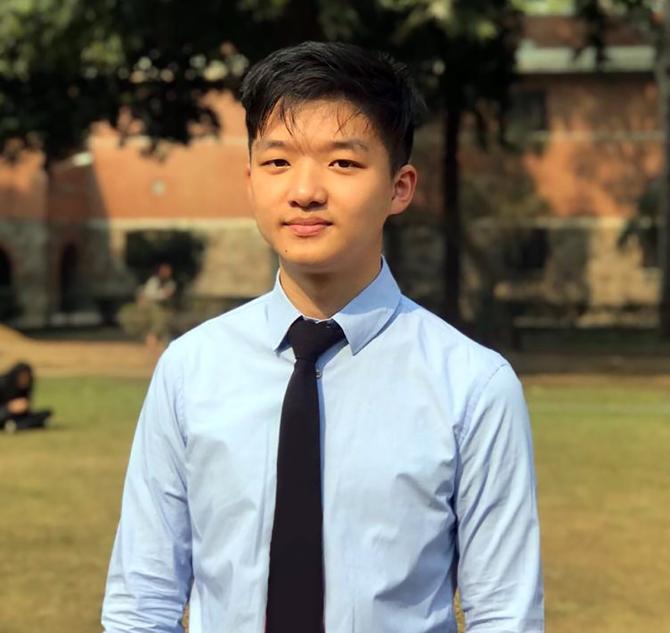 Every year, the Rhodes Trust selects over 100 students from across the world to pursue post graduate studies at the University of Oxford. Among past winners of the Rhodes Scholarship is one Bill Clinton, 42nd president of the United States.
Five Indian students have been selected this year from among thousands of applicants from over 60 countries for the prestigious scholarship.
Akumjung Pongen is the first student from Nagaland to have secured this scholarship to study at Oxford in 2022.
"I got to know of the scholarship only after joining college," Akumjung, currently in the final year studying philosophy at St Stephen's College, Delhi, tells Divya Nair/Rediff.com.
"There are many capable and fitting students here (in Nagaland) as well; it is only because it isn't known that many people do not apply," explains the young achiever who lives in Kohima with his parents -- his mother is an assistant professor at a college while his father is self employed.
As Akumjung aspires to pursue a degree in philosophy at Oxford, he explains the rigorous application process which he cleared to win one of the most prestigious scholarships on the planet.
What went through your mind when you applied for the scholarship?
I got to know of the scholarship in my first semester of college back in 2019.
It wasn't an aim that I actively pursued; it was mostly stored at the back of my mind.
I started to actively consider the idea during June when applications opened.
For a few days I deliberated and after a week, I decided to contact my professors and get the documents and written application ready.
I had to submit four letters of reference along with my two statements (academic and personal), transcript, etc.
The selection process consisted of a written application and three rounds of interviews over the course of about two-and-a-half months.
How did you prepare for this journey?
My experience, for the most part, may run contrary to the experiences of a typical Rhodes Scholar.
But I think it stands testament to the idea that there is no one way to obtain the scholarship and no one perfect scholar.
I started to actively prepare for the scholarship during September.
I tried to do well in my exams and keep myself active in extracurricular activities. But I would say those were not done keeping the Rhodes Scholarship in mind.
I had reached out to a few of my friends and my professors for advice on how to compose myself, and how best to approach a Rhodes interview seeing how I had given only one other interview in my life -- the interview to get into St Stephen's College.
Other things included keeping myself up-to-date with the news, getting to know recent developments in my field of interest, studying and revising, and so on.
Apart from these, I also want to stress the importance of carving out some time to take care of my mental health.
I made sure to spend time doing things that I enjoyed and loved -- like playing the piano, talking to my friends, spending time with family, reading a nice book, etc.
Given the nature of the Rhodes (scholarship), it is very easy to feel overwhelmed, and so I made sure to be gentle on myself.
What was the most challenging part of cracking the scholarship?
I think one does not 'crack' the scholarship like one 'cracks' the civils (civil services examination). Rather, I think one realises that the aims of the scholarship align well with the aspirations that one has.
The scholarship demands its applicants to reflect deeply on things that matter to them: What they want to study and why; how they want to impact the world; what their passion in life is; how they conceive of using their education to make a difference; and so on.
This level of self-reflection can make people queasy.
It certainly made me uncomfortable at times as well. But it is an essential demand of the scholarship; a demand which, I think, makes the scholarship unique.
In hindsight, I feel like I know myself better than I did earlier this year.
Why Rhodes?
I chose the Rhodes Scholarship because it assessed not just a person's academic brilliance but their other aspects as well.
Certainly, I would argue that a person is not just their good grades; they are so much more.
I think the importance that the scholarship places on qualities like leadership, ability to use one's various talents, devotion to duty, etc, assessing people holistically makes it stand out from other scholarships.
What are some of the qualities that you believe helped you bag this scholarship?
One thing that kept me going was realising that one could not succeed unless you tried, and that there was nothing to lose in trying.
Sending the application and sitting for the interviews had no downside. And realising this was, I think, something that motivated me.
I saw it as an opportunity to better myself regardless of the outcome and tried to look at it as a time for me to introspect and think deeply about things and causes that I hold personal to me.
You are one of the first from Nagaland to be a Rhodes scholar. How does that make you feel?
I have always had people -- my friends, parents, teachers and professors -- who supported me and helped me to do my best.
I feel honoured and I am truly grateful to them.
So I would say that it is a culmination and fruition of all that they have done for me. I have been very fortunate; blessed, even to have them by my side.
This award, in as much as it is mine, is theirs as well.
How did your parents respond to the news of your selection?
They were elated and full of joy when I told them I got the scholarship.
Tell us about some of your other significant achievements.
Scoring well and being the state topper of the Trinity College London Piano Grade 8 exams in 2018 would be one achievement I'm humbled to have gotten.
I'd say clearing the interviews at St Stephen's College was an achievement in and of itself as well. It was my first time giving an interview of heavy consequence.
How do you plan to optimise this opportunity for your future?
At the moment, I hope to work in academia and continue to study and research in philosophy.
The Rhodes Scholarship allows me to engage with eminent scholars of the field while also giving me the resources to furnish my knowledge of the subject area.
I hope to learn and grow as much as I can with the help the scholarship gives me.
What course/programme will you be studying there?
I hope to study a BPhil in philosophy or an MPhil in philosophical theology at the University of Oxford. Those courses align well with my interests.
Why do you think it took so long for someone from Nagaland to make it to Rhodes?
I wouldn't say the education system in Nagaland is the only factor; I'd argue that there are other larger pressing issues.
However, I have to admit I may not be in the best of positions to levy a critique.
What I do think is one reason is the lack of awareness of the scholarship here in these parts.
I got to know of the scholarship only after joining college. There are many capable and fitting students here as well; it is only because it isn't known that many people do not apply.
Apart from academics, what are your other interests?
I am a classically trained pianist and I enjoy playing the piano. Apart from piano, I enjoy singing as a chorister and playing the guitar.
I like learning languages as well; currently, I am learning German in my free time.
I like going on long walks to the forest -- it's a nice way to find some solitude in busier days.
What are some of the things you learned while applying for this scholarship?
Preparing for the scholarship has taught me the importance of staying true to oneself and being honest.
I also realised that one has to be unabashedly themselves during the application and interview process, since the committee is looking for people who are true to their story, their goals in life and believe in what they do, however big or small.
I didn't have any internships as such to showcase, but whatever little I had, I presented with full honesty and being confident in the impact that I hoped to make.
That, I think, is one factor that I would consider to be of importance.
Who inspires you?
My teachers, I would say, are my inspiration.
Teachers as understood in a broader sense, encompassing not just people who have invested in me academically, but people from whom I learned how to say please and thank you; how to appreciate others; how to think critically; how to play the piano; how to sing; how to conduct myself in society; how to have fun; and so on.
In that sense, not just my school teachers and professors, but my family, friends and acquaintances are also my teachers, and to all of them I convey my deepest thanks.
Your dream for India would be...
I hope that in the years to come education is made accessible and available to every person.
Education not in the sense of just the ability to regurgitate information, but education as understood as the ability to think critically, reflect deeply, and consider varying perspectives and opinions, and also helping us appreciate the vastness of human thought and thereby softening our temper with regards to accommodating differing perspectives.