Bike insurance? Car insurance? Health insurance?
Roopam Asthana, CEO and whole time director, Liberty General Insurance Limited, answers them all.
Illustration: Dominic Xavier/Rediff.com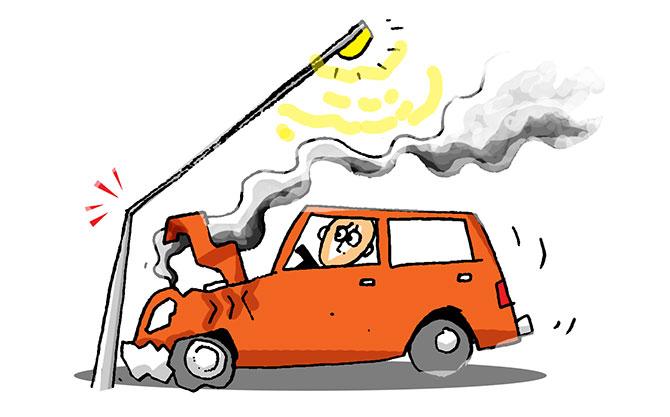 The last date to renew my bike insurance policy was three months ago, which I missed. What should I do now?
You should approach an insurance company of your choice and get an insurance cover for your vehicle immediately.
The insurance company may want to inspect your vehicle.
It will also collect the premium and a few necessary documents from you, such as the proposal form, registration certificate, previous policy and so on, after which it will issue a new policy.
Please do not delay this matter any further.
Does any motor insurer offer an add-on cover under which the cost of hiring an alternative car, during the period when my car is being repaired in a garage, will be covered?
What is the typical cost of such covers? What are some of their features?
Is there a policy or add-on cover that offers a back-up car in case of an accident or breakdown -- so that the insurer arranges a car instead of reimbursing me the cost of hiring one?
There is an add-on cover termed as 'daily allowance' under which the insurance company will pay you a daily allowance for a limited number of days, in case your vehicle is in the garage for repairs after an accident.
This will be for a certain number of days, as mentioned in the policy.
The number of days for which allowance is paid varies from one insurer to another, subject to policy terms and conditions.
Also note that often this daily allowance is paid only if the repair work is carried out in garages authorised by the insurance company.
Please read the terms and conditions carefully before buying such an add-on cover.
There are add-ons available in the market which also offer a courtesy car (or a daily allowance in locations where the courtesy car arrangement does not exist) to the insured during the repair period.
There could be some restrictions on the availability of such add-ons.
You need to read the terms and conditions carefully.
I recently purchased a second-hand vehicle. I am continuing with the insurance cover that the previous owner had bought.
Please explain how I can go about transferring the insurance cover in my name.
Also, if I fit a CNG or LPG kit in my car, is it necessary to inform the insurance company?
You should approach the insurance company for a name transfer endorsement with a request letter from the previous insured (consent) along with the proof of vehicle transfer.
The insurance company will process the required endorsement based on satisfactory inspection of the vehicle and payment of applicable premium, if any.
Yes, you need to inform the insurance company regarding the CNG/LPG kit.
My 55-year-old father currently has two health policies for sum insured of Rs 2.75 lakh and Rs 2.25 lakh. He went through a total knee replacement surgery recently.
I'm 30 years old and have a health policy of Rs 2 lakh.
My mother, aged 50, is healthy and has no medical history. She doesn't have any health policy though.
Now that we want to increase the sum insured, should we buy a family floater covering all three?
Since your father has a medical history, it would be advisable to have him continue his individual policy.
Having your mother insured with you is a good decision.
You may convert your policy into a family floater and include your mother in it.
The two of you may then jointly opt for a higher sum insured.