'A 25 year old buying a high-value policy now will be well covered even in his 40s.'
Sanjay Kumar Singh finds out more.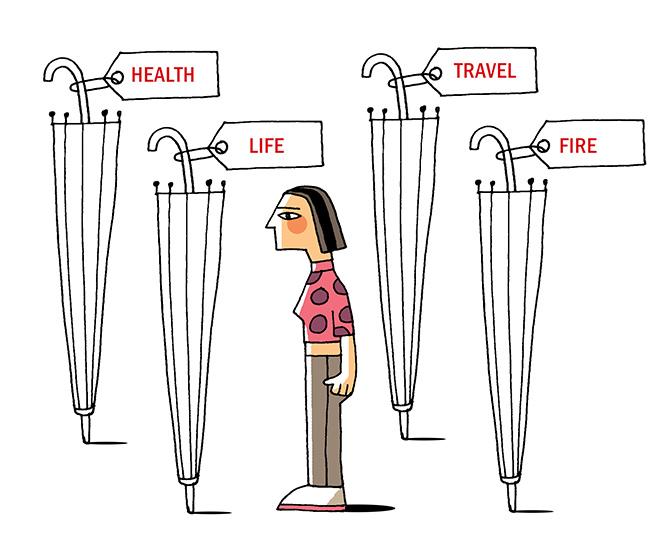 Youngsters who have graduated recently from college and begun working often ignore buying a health insurance policy.
The attitude often is: 'I am fit and fine. Why do I need health insurance?' Experts, however, say that the purchase of health cover should be the first step in a person's financial planning.
Many such youngsters tend to have an education or a car loan.
It then becomes all the more important why one should buy health cover so that an illness or an accident does not dent their finances drastically.
A 25 year old should ideally purchase health cover for at least Rs 10 lakh.
"This should be the minimum. They may even purchase bigger cover if they can afford it," says Amit Chhabra, business head, health insurance, Policybazaar.com.
Those who live in metros want to be treated at high-end hospitals and would prefer to stay in a single room will need large cover.
Those who can afford Rs 50 lakh to Rs 1 crore cover may go for one.
"A 25 year old buying a high-value policy now will be well covered even in his 40s," says Anik Jain, co-founder and chief executive officer, Symbo India Insurance Broking (please see table for premiums of high-value policies).
Buying a policy early has several advantages.
All policies come with a standard waiting period, which could be of around two years, for conditions like cancer, cataract, and knee replacement.
It is best to buy early and cross this period while one is young and healthy.
By the time a one reaches 40 to 45, one may contract some ailment.
Insurers could then refuse to insure the person.
If one agrees, it may apply a loading on the premium, or it may exclude those ailments that the person already has.
Buying early also offers monetary benefits.
Health insurers offer a no-claim bonus in the form of an increase in the sum insured (usually around 10% for each year of no claim).
Some insurers also offer an early-entry discount.
"In Go Active, we offer a 10% discount throughout the life of the policy to customers who buy before 35," says Ashish Mehrotra, managing director and chief executive officer, Max BUPA Health Insurance.
Those who can't afford higher cover at 25 should begin with Rs 10 lakh cover and increase it periodically.
The earlier you bump up cover to a safe amount, the better.
"Once you have contracted a major ailment or have undergone a major surgery, your insurer could turn down your request to hike the sum insured," says Chhabra.
The sum insured should be reviewed at important life stages.
Once one gets married and includes one's spouse in the policy, one should hike the sum insured.
The person should do the same thing when children are born.
The sum insured should also be hiked to counter the impact of medical inflation, which is 12% to 14% annually.
As a rule of thumb, increase the sum insured by 50% every three years.
The cost of buying incremental health cover reduces progressively.
If the premium for Rs 10 lakh cover is Rs X, the premium on a Rs 20 lakh policy will be less than Rs 2X.
Since health insurance is expensive, customers should look at ways of minimising cost.
Instead of hiking the sum insured on the base policy, a person may buy a super top-up policy.
"Using a super top-up is a more cost-effective way of acquiring a large sum insured," says Chhabra.
Customers can also reduce their premium cost by exercising.
Players like Aditya Birla Health Insurance, for instance, offer discounts of up to 30% on the premium to customers who meet fitness-related goals.
---
Sanjay Kumar Singh covers personal finance for the Business Standard newspaper.