The benefit offered under small-ticket insurance may not be huge, but it is better to have cover, suggests Sarbajeet K Sen.
Illustration: Uttam Ghosh/Rediff.com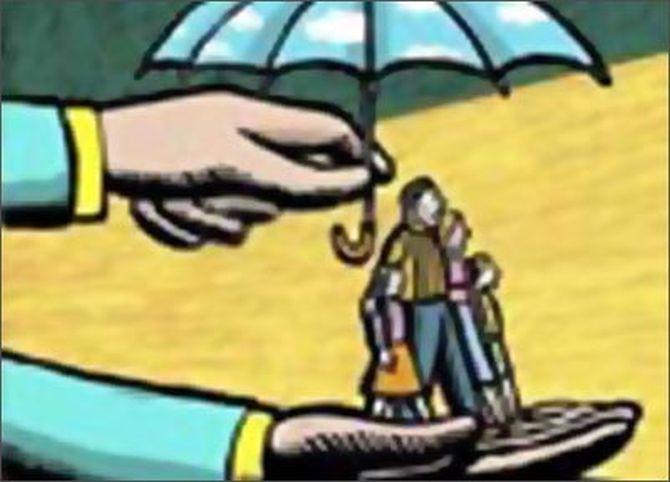 Do you tick the checkbox that allows you to insure your trip when you are buying a railway ticket on IRCTC portal or while booking a cab or a domestic airline ticket? The idea is to play safe by paying a few rupees more.
But is it a good thing to do or just a case of ensuring peace of mind?
How do they work?
First, let's understand these products.
Be it traveling for work or a holiday, and we are exposed to risks.
Most of us do not mind if someone is offering us readymade cover 'at the click of a button'.
The idea of small-ticket insurance is to offer some coverage while the consumer is carrying out some day-to-day activities.
For example, IRCTC offers to cover the passenger on a particular journey by charging a minuscule premium of 49 paise.
The sum assured on offer is of Rs 10 lakh in case of death and permanent total disability to the insured person arising out of a train accident.
In case of permanent partial disability, Rs 7.5 lakh is payable.
In case of hospitalisation and expenses arising out of a train accident, a sum of Rs 2.5 lakh is payable.
A sum of Rs 10,000 is payable for transportation of mortal remains, according to the IRCTC portal.
Ola, the cab-hailing app, has a tie-up with Acko General Insurance.
"For example, if a user has booked an outstation ride, the insurance offered can provide cover for loss of baggage and home content cover against burglary and fire. Given that Ola is often used for transport to the airport, a missed flight cover is offered to provide reimbursement to the user in case the flight is missed due to traffic, catastrophe or in the event of driver denying duty," Ashwin Ramaswamy, business head, strategic partnerships, Acko General Insurance, says.
Extremely cheap
While these may be one-off and small transactions, there are benefits to taking cover.
"Today's customers look for relevant and contextual insurance. Moreover, they don't like the hassle of going through a long and often complicated process of buying an insurance policy. Small ticket insurance is, in a way addressing such things, including lower premium," Rakesh Goyal, director, Probus Insurance Brokers says.
He also pointed out that such policies though for limited purpose are often bought because of the simplicity of the offering.
"These insurance policies are simple to understand, provide more clarity on what customers are paying for, the benefits offered under a plan besides lower premium with a simplified buying process," Goyal says.
Ramaswamy points to the low cost of cover.
It is very cost-effective and gives flexibility.
The Ola city rides insurance is priced at just Rs 2, rentals at Rs 15 and outstation rides at Rs 99.
Not adequate, though
The coverage in 'small-ticket insurance' is generally inadequate as an insurance cover.
So, while buying them makes sense because of the amount involved, having core insurance cover-- life and accident is necessary.
"Small-ticket insurance is limited by the scope of coverage and benefits, which is definitively not adequate from the long-term perspective," says Goyal.
Agrees Ramaswamy: "Insurance, such as one with Ola, is episodic insurance specific to a trip and the benefit ceases to exist after the trip ends."
It may make sense, sometimes
If one does not have any insurance and say, takes a trip between cities in an Ola, it makes sense to buy such small-ticket insurance whenever one is travelling.
The benefit offered under small-ticket insurance may not be huge, but it is better to have cover.