Buying a house, getting married and starting a family are good reasons to buy life insurance, says Santosh Agarwal.
Illustration: Uttam Ghosh/Rediff.com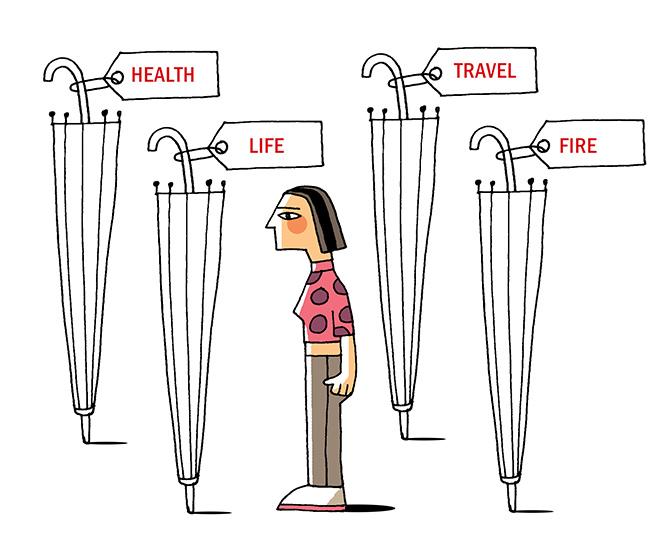 From figuring out their careers to tackling crushing student loans to save for retirement, millennials face unique financial challenges these days.
One of the things millennials tend to put on the back-burner is having adequate insurance.
Of course, when you are young, its already enough to juggle between other responsibilities than to plan for what might happen to you some decades from now.
Additionally, the financial priorities of young people often don't include life insurance because they don't understand its purpose.
They think buying life insurance is something they don't need to think about until you get old.
It is something their parents buy, not them.
Many factors contribute to this mindset, and the lack of an appetite for life insurance among millennials in general.
It's important to realise that life comes at you fast, which means it may be time to sit down and think through what happens if something unfortunate happens to you.
You could lose your job, be diagnosed with a fatal illness and may lose your income.
Think of how your family is going to get by without your income or how they are going to take on any debt that you leave behind.
If you have got people depending on you for financial support, you need to be prepared to deal with it.
One of the easiest ways to do that is by purchasing life insurance.
When should you buy life insurance?
It is important to do the right thing at the right time.
Millennials usually carry the attitude of 'there is no tomorrow' and hence end up spending thousands of money at things that are not important.
Ideally, the reality is that millennials need to think about their and their family's future today, in order to live a stress-free life later.
Life insurance proves to be an ideal pick as you chase major milestones, whether it is starting a business, getting married or having your first child.
When you are single and in your 20s, you probably don't even think about life insurance and even if you do, there is always a slight doubt: 'Should I buy life insurance in my 20s?'
And the answer: It depends on how ready you want to be for unexpected times.
Having life insurance is the ultimate financial tool for those unexpected times.
If you have co-signed a student loan with your parents, you have a financial obligation which could impact your parents.
Life insurance premiums are cheaper when you are young and healthy. This is because young adults enjoy better health and less prone to any chronic disease which will equate lower monthly premiums with no exclusions.
Buying a house, getting married and starting a family are good reasons for purchasing a life insurance.
However, in case other financial obligations keep coming in the way, there is an economic consideration in case you are a millennial getting life insurance early is probably much easier and cheaper than you think.
What kind of insurance policy should you buy?
Even after you know when to buy life insurance, actually figuring out what to buy can still be stressful and confusing.
That's why it is important to learn the basics of how to buy life insurance so you are more in control when you finally pull the trigger.
Depending on your personal needs you get the you get the flexibility to choose from different kinds of life insurance plans which also provides various saving opportunities along with the life cover.
Some of the types include term plan (a product that covers the life insured against an untimely death) and Unit Linked Insurance Plan (ULIP) which includes an investment component so that you can invest money as per your risk capacity.
Term life insurance is pretty much exactly what the name implies -- it covers you for a specific period of time, typically 30, 40 and 50 years.
In such a plan, the dependents receive the death benefit only when the policyholder passes away before the end of the term.
On the other hand, the whole life policy does not have any specific tenure.
The policy stays active throughout your entire life. You need to determine your needs so you can choose your policy wisely.
However, for most people term life insurance is the way to go.
For example, a 30-year-old, relatively healthy, woman who is considering buying Rs 1 crore policy will likely pay Rs 600 to Rs 800 per month for a 40-year term life policy, as opposed to Rs 3,000 to 4,000 a month for whole life coverage.
Additionally, there are optimum plans to secure your child's future. These are long term plans designed for your child's education or marriage.
Millennials who have kids need not worry about their children's future expenses since this plan is a wise pick for you.
To choose the right type of life insurance, it is imperative to first figure out your financial goals -- both long term and short term goals.
How to determine the amount of coverage you need
Once you have settled on the type of insurance policy you should buy, it is time to determine the amount of coverage you should have.
Most millennials who have completed college are uniquely burdened with student debt. In thirty years, the cost of attending college has risen 220%.
While millennials may be more educated than previous generations, they have paid dearly for it, and are likely continue to do so.
As they face big questions over starting families, housing and career advancement, millennials will encounter momentous financial decisions impacting their futures.
To determine the amount of coverage one should purchase, first add up all of your financial obligations, such as student loan, credit card debts and your mortgage balance.
If you are the sole breadwinner of the family, you may also consider adding three to five times your annual income to your coverage depending on the financial needs of your family.
Use this number as the base amount of insurance you should consider purchasing.
Once you decide on how much coverage you need, you can choose from standard policies which ranges from Rs 10 lakh to Rs 20 crore.
---
Santosh Agarwal is chief business officer, life insurance, Policybazaar.com.
He can be contacted at ga@rediff-inc.com
---