Rediff Reader Manasi Sadarangani shares a quick recipe.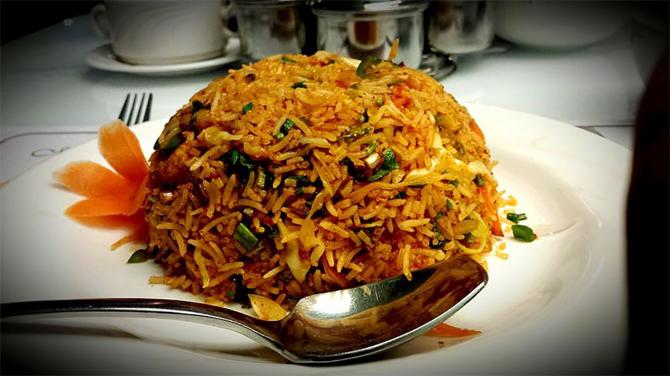 Vegetable Pot Biryani is an aromatic rice dish made by cooking basmati rice with vegetables, herbs and spices.
You can make it in a rice pot or pressure cooker.
A lot of people confuse Vegetable Biryani with Pulao.
The difference between Biryani and Pulao is that there is no curd and spice powder (garam masala) in Pulao.
Here's the recipe for Instant Pot Biryani:
Ingredients
1 tsp ghee
1 bay leaf
1 Kashmiri lal mirch
1 inch cinnamon
1 star anise
3-4 cloves
1 tsp cumin seeds
1 tsp fennel seeds
1 tsp coriander seeds
2-3 cardamoms
1 tsp turmeric powder
1 tsp Kashmiri lal mirch powder
1 tbsp curd
2-3 green chillies
1 onion finely chopped
1 capsicum finely chopped
1/2 cup beans chopped
1/2 cup cabbage chopped
1 tbsp ginger garlic paste
1 cup paneer diced
1 cup basmati rice
1 cup water
For garnish (optional)
8-10 cashews
1/4 cup grated paneer
Method
Heat oil in a pot and add oil.
Add cumin seeds, coriander seeds, fennel seeds, cardamom, cloves and star anise.
Saute well.
Grind them in a blender to make garam masala powder.
In the same rice pot or pressure cooker add ginger garlic paste, chopped onions, green chillies and saute for about a minute or until the raw smell disappears.
Add chopped vegetables, paneer and fry for about 2 minutes.
Add turmeric, Kashmiri red chilli powder and garam masala.
Mix well and cook on a high flame for 2 to 3 minutes.
Add soaked basmati rice and adjust water.
Cover the pot and cook for 15 to 20 minutes.
Turn off the gas and rest for 15 minutes.
Garnish with grated paneer, cashews and coriander leaves.
Serve hot with curd or raita.
Notes:
You can use vegetables of your choice.
If you are using cauliflower, cut them large, not diced.
If using peas, soak them in water for 7 to 10 minutes before cooking so it will be soft.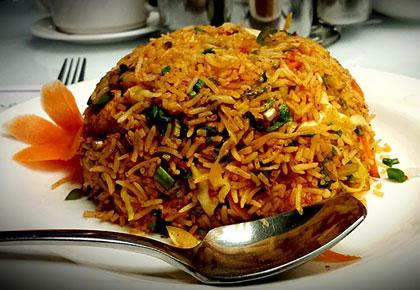 ---
Would you like to share an interesting recipe or cooking video?
Please do send your recipe/video to us at getahead@rediff.co.in (Subject: My Recipe) along with your name, location and, of course, the recipe.