Chef Parameshwar shows us how to cook Turiya Patra.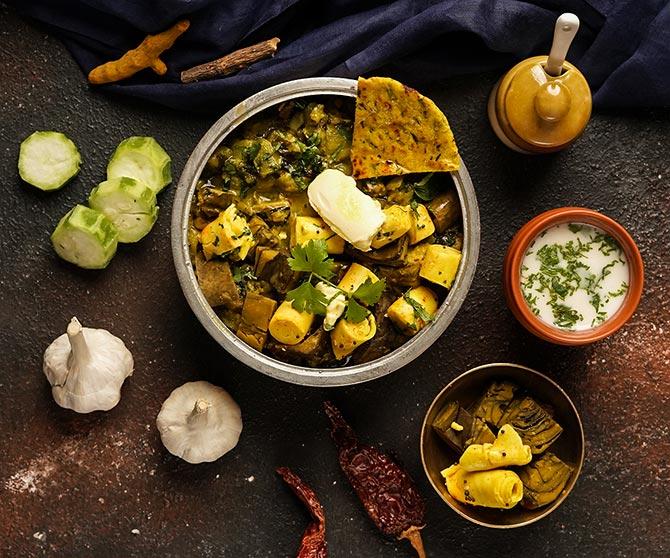 Turiya Patra features an unusual combination of ridge gourd and patra.
Uncommon the combination may sound, but Turiya Patra is very popular among Gujaratis and a must served item at weddings.
Ingredients
200 gm ridge gourd
200 gm arbi leaves
100 gm besan
1 tsp green chillies
2 tsp turmeric powder
1 tsp chilli powder
1 tsp cumin powder
1 tsp coriander powder
Salt to taste
10 gm ginger
20 gm coriander leaves
50 ml oil
10 gm mustard seeds
10 gm curry leaves
A pinch of asafetida
A pinch of soda bicarb
Method
For khandvi
Mix 1/3rd besan with water to form a thick batter.
Add seasoning, turmeric powder, soda bicarb, chilli powder and cook on flame till thickness consistency.
Spread thinly on a flat tray which is lined by oil.
Allow it to cool and then roll into the cylinder and cut into the desired size and keep aside.
For patra
Clean arbi leaves and dry it.
In a bowl take remaining besan and add all spices and seasoning and make a thick batter and spread evenly on arbi leaves and roll it and steam in the steamer.
Allow to cool and cut into small rolls, Keep aside.
For final dish
Cut ridge gourd into small dices.
Heat oil in a pan, put mustard seeds, curry leaves, hing.
Add ridge gourd cubes and all remaining spices, adjust with little water and allow to cook on slow flame.
When ridge gourd is 75% cooked, add patra and khandvi in it.
Cook till proper consistency. Serve with roti or phulka.