Enjoy these sumptuous traditional delicacies, courtesy chef Ranveer Brar.
All photographs and recipes: Courtesy Chef Ranveer Brar
Pindi Chana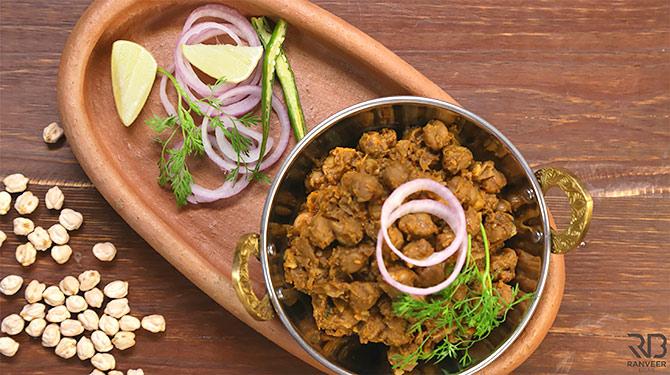 Preparation time: 2 hours
Cooking time: 50 minutes
Serves: 4
Category: Main course
Ingredients
2 cups dried chickpeas, washed and soaked for 2 hours
1 tsp baking soda
Salt
For potli mix
3 black cardamom pods
1 inch cinnamon stick
3-4 cloves
1 inch ginger, peeled and crushed
1 tsp tea leaves
Other ingredients
½ tsp turmeric powder
1 tsp red chilli powder
1 tsp cumin powder
1 tsp coriander powder
1 ½ tsp anardana powder
1 tsp raw mango powder
2 tsp oil
1 tsp cumin seeds
1 tsp ajwain seeds
2 tsp ginger, julienned
2 green chilles, chopped
2 tbsp kasuri methi
1 tsp black salt
Fresh coriander leaves, for garnish
2 tsp oil
Accompaniments
1 lemon, cut into wedges
1 inch ginger piece, julienned
½ cup onion rings
1 green chilli, slit
Method
Take a heavy bottom pot and add the soaked chickpeas to it.
Add in water, salt and baking soda.
Take a muslin cloth and add the ingredients mentioned under potli mix except the oil. Secure it with a sting to make a potli. Add this potli to the chickpeas and cover with a lid and cook for 25 minutes until the chickpeas become tender.
Open the lid and remove the potli. Add all the powdered masalas like turmeric powder, red chilli powder, cumin powder, coriander powder, anardana powder and raw mango powder. Let the masalas cook along with the chickpeas.
Meanwhile take a pan and make the tempering for the chana.
Heat oil in a pan and add cumin seeds and ajwain to it. Let it splutter and add ginger and chopped green chillies to it.
Add this tadka to the chickpeas.
Add little water to retain some moisture. Add kasuri methi and black salt and mix everything together.
Cover with a lid and cook it for 10 minutes so it infuses all the flavours.
Turn off the flame and garnish with coriander leaves and serve along with the mentioned accompaniments.
Atte Ka Halwa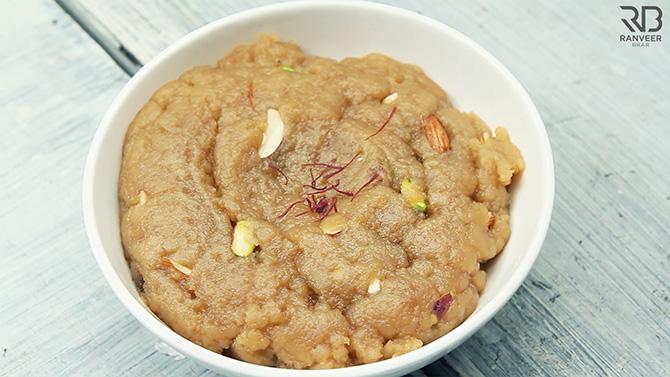 Preparation Time: 5 minutes
Cooking Time: 40 minutes
Serves: 2
Category: Dessert
Ingredients
¼ cup ghee
¾ cup wheat flour
½ cup water
½ cup sugar
1 tbsp almonds, chopped
1 tbsp pistachios, chopped
Method
In a pan heat ghee. Add wheat flour and cook on low flame for good 15-20 minutes or till fat separates.
Then add water and cook till all the water is absorbed.
Add sugar and cook for few more minutes.
Lastly add almonds and pistachios and turn off the flame.
Serve hot or cold.
Gur Ke Chawal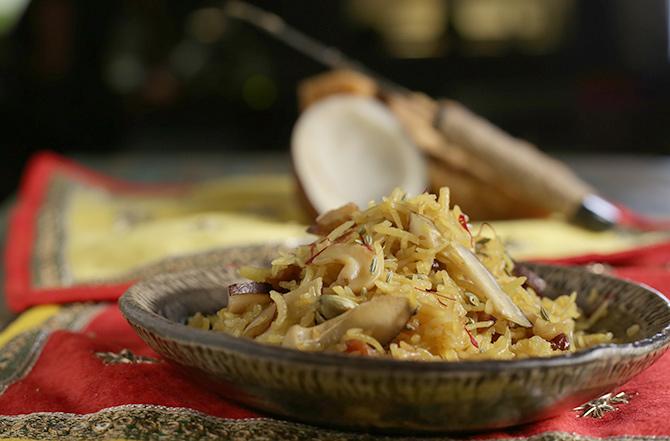 Preparation time: 10 minutes
Cooking time: 25 minutes
Serves: 2
Ingredients
1 cup long grain basmati rice, soaked
1 tbsp ghee
3-4 cloves
2-3 green cardamoms, slightly crushed
1 tsp fennel
¼ cup dry coconut, sliced
¼ cup raisins
¼ cup almonds, chopped
¼ cup cashew nuts, halved
A pinch of saffron
¾ cup jaggery, grated
Method
Heat ghee in a non-stick pot and add in cloves, cardamom pods, fennel seeds and stir fry for 30 seconds until it releases its flavours.
Now add in the sliced coconut and raisins, almonds, cashew nuts and cook for another minute on medium flame.
Now drain the soaked rice, rinse well and add it to the pot and sauté for 2-3 minutes.
Add in 1 cup of warm water and saffron. Cook till three forth done.
In another pan add jaggery and melt it by adding one cup of water.
Allow it to melt completely and add it to the rice. Do not stir, cover with a lid and cook for another 5-6 minutes on very low flame.
Once cooked remove and serve hot immediately.

Moong Dal Halwa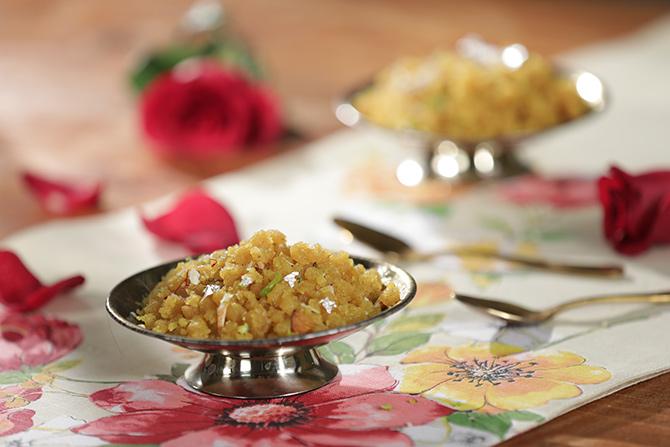 Preparation time: 15 minutes
Cooking time: 1 hour
Serves: 2
Course: Dessert
Cuisine: North Indian
Ingredients
¼ cup ghee
1½ cup moong dal, soaked, paste
1 cup milk
2 tbsp saffron infused water
¼ tsp cardamom powder
1 cup hot water
3 tbsp ghee
1 cup sugar
For garnish
Pistachios
Almonds
Silver vark
Method
Melt ghee in a non-stick pan. Add the ground moong dal paste. Stir well
Keep on stirring the halwa on a low to medium flame. The raw aroma of the moong lentils should go away completely.
Meanwhile, take another pan of water and bring to a boil.
Add milk to the cooked dal mixture and cook till all the milk is absorbed by the dal.
Add saffron infused water and mix well. Add cardamom powder and hot water mix well (The mixture sizzles so be careful while adding hot water mixture).
Add in the ghee and sugar and stir well. Cook on low flame and string with frequent intervals.
The liquid should get absorbed and now you will see the ghee getting separated.
Lastly add chopped pistachios. Serve moong dal ka halwa hot.

Shakarkandi Halwa / Sweet Potato Halwa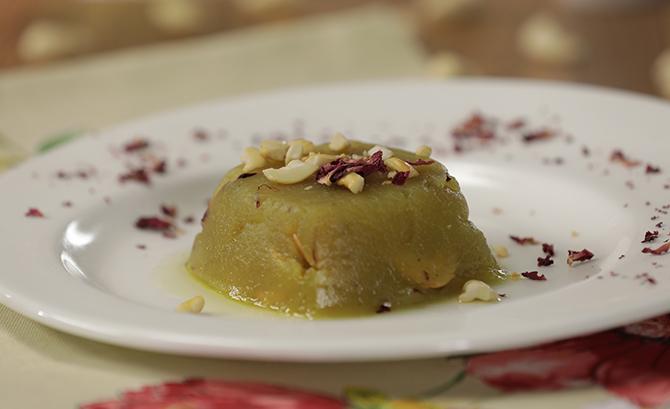 Preparation time: 5 minutes
Cooking time: 20 minutes
Serves: 1
Ingredients
3-4 tbsp ghee
12-15 cashews/ halved
2 large sweet potato/ grated
¼ cup milk
2 tbsp sugar
3-4 kesar strands
¼ tsp cardamom powder
4-5 rose petals
For garnish
Method
In a pan, add ghee, cashews and roast well till golden brown and keep it aside.
In the same pan, add grated sweet potato and cook till soft in texture.
Add milk, sugar, kesar strands, cardamom powder, rose petals and mix well.
Cook till the mixture turns soft.
Garnish with rose petals, serve hot.
 
Lauki Halwa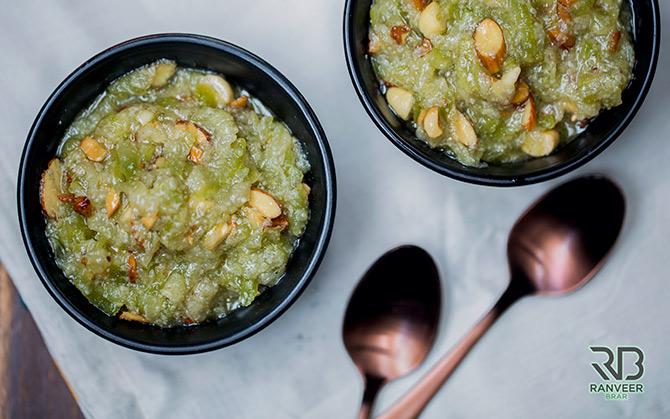 Preparation Time: 10 minutes
Cooking Time: 25 minutes
Serves: 2
Ingredients
2 tbsp ghee
2 cups dudhi/bottle gourd, grated
1 cup full fat milk
½ cup sugar
½ tsp cardamom powder
6-8 cashew nuts, chopped and ghee roasted
6-8 almonds, chopped and ghee roasted
Method
In a kadai, heat ghee on medium flame. Add grated dudhi and sauté for 7 minutes.
Add milk, bring it to boil and then put it on simmer. Keep stirring at intervals.
When the milk has reduced to minimum, add cardamom powder and sugar. Cook further till desired consistency.
Add cashew nuts and almonds. Mix well. Serve hot or cooled.
 
Makhane Ki Kheer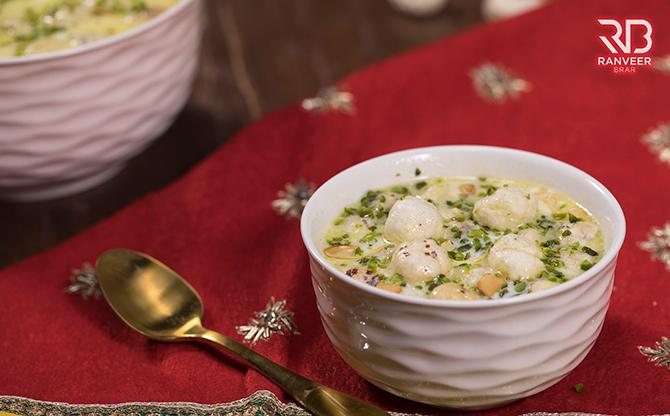 Preparation Time: 15 minutes
Cooking Time: 25 minutes
Serves: 4
Ingredients
2 tbsp ghee
2 ½ cups makhana/foxnuts
6-8 cashew nuts, halved
1 litre full fat milk
½ tsp cardamom powder
6-7 tbsp sugar
Saffron, few strands
For garnish
1 tbsp pistachios, chopped
Process
Heat ghee in a pan. Add makhana and roast until it absorbs all the ghee.
Divide in two parts. Crush half the quantity of makhana and reserve the rest. Keep them aside.
Heat ghee in a pan. Add in cashew nuts and cook for around 4-5 minutes or until it turns golden brown in colour. Remove from flame and keep aside.
Add the crushed part to the milk, followed by the whole makhana.
Boil the milk then turn the flame to medium low. Simmer the milk until it reduces to 3/4th of its quantity.
Keep stirring the milk constantly. When the makhana has turned soft, add sugar, saffron and cardamom powder. Mix well and cook for 4-5 minutes. Switch off the flame.
Serve makhana kheer hot or chilled.