'That we could touch someone's loving memory is fulfilling; it is something we both cherish.'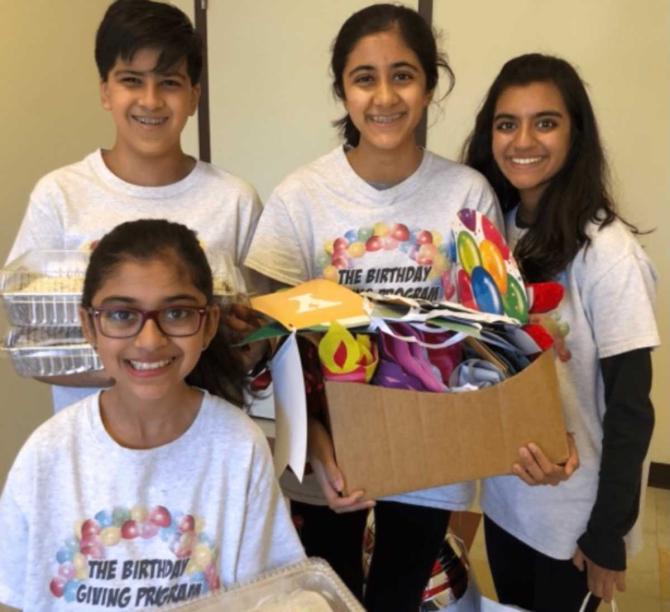 "Birthdays are not just about gifts and cakes. It is about being remembered. It is about feeling that your existence matters to the world," says Chicago-based Sonika Menon, who recently graduated from high school.
Sonika wanted to make a difference in the lives of people less fortunate than her -- senior citizens, veterans, people suffering from poverty, homelessness and domestic violence. And she wanted to make birthdays memorable.
"Birthdays," Sonika tells Rediff.com US Contributor Abhijit Masih "are not just a one-time celebration; the memories from one birthday can last a lifetime."
Which is why she founded the Birthday Giving Programme in the summer of 2017, just before she started high school.
*Soon, she was joined by her cousin, Rinna Talwar.
Sonika and Rinna celebrate birthdays through their not-for-profit organisation, which now has chapters in 38 US states and in Washington DC.
The celebrations are simple, but filled with love. Birthday bags -- that include balloons, homemade cakes and handmade cards -- add to the warmth.
BGP reaches out to not just children and adults, but also to seniors, the homeless and veterans through an army of over 100 volunteers across the US. The latter happened after the cousins realised that almost 80 per cent of the nursing homes for seniors in the US do not get regular visitors.
Rinna, who is a year younger than Sonika, decided to include senior citizens in the BGP universe -- a division she now proudly heads.
"We reach out to everyone -- from little children to senior citizens who may be approaching their 100th birthday,' say Sonika.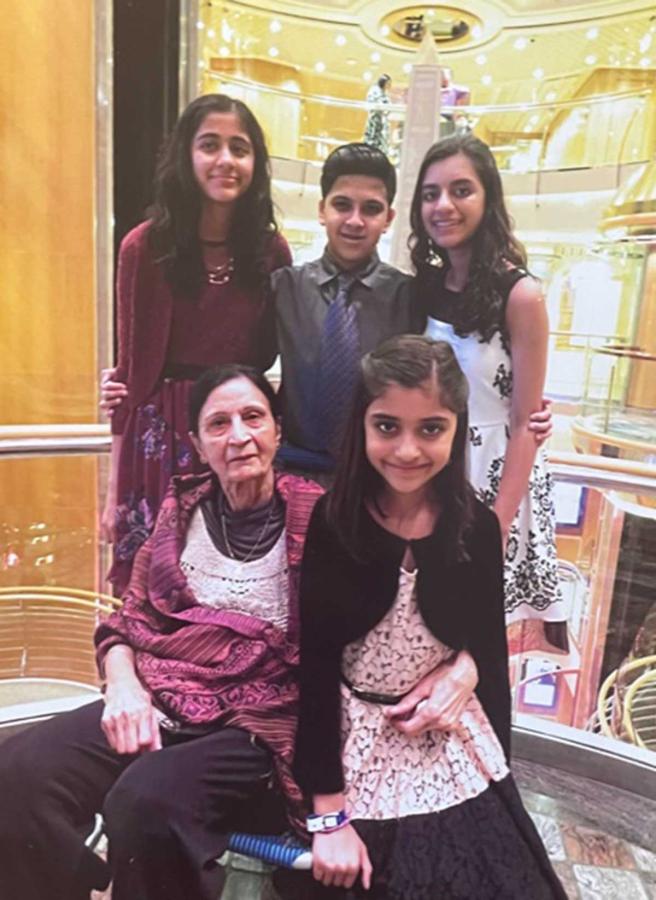 The inspiration to start BGP came from their grandparents who migrated to the US in 1964. Though they didn't have much, they always managed to share their time and money with the less fortunate.
The two cousins bring up their grandmother. who was born and brought up in Chandigarh, many times during our conversation, recalling tales of how she opened her doors to Indian immigrants in need.
The way she helped the community inspired the cousins to honour her legacy.
"It is so important to be inclusive. That's what our program does. It includes everybody and is focused on making everyone feel welcome and special," says Rinna.
"As Indian Americans living in the US, giving back is a major part of our culture," says Sonika.
If the cousins have varied interests -- one is a second degree black belt in Taekwondo and the other is a Bharata Natyam dancer -- they also share common passions -- giving back to the community and playing the piano.
When they are not busy at school and organising birthday bags, they enjoy watching Indian soap operas and Bollywood movies.
Sonika's mom and Rinna's dad are twins, which may explain why the two girls are close and spend most of their time together.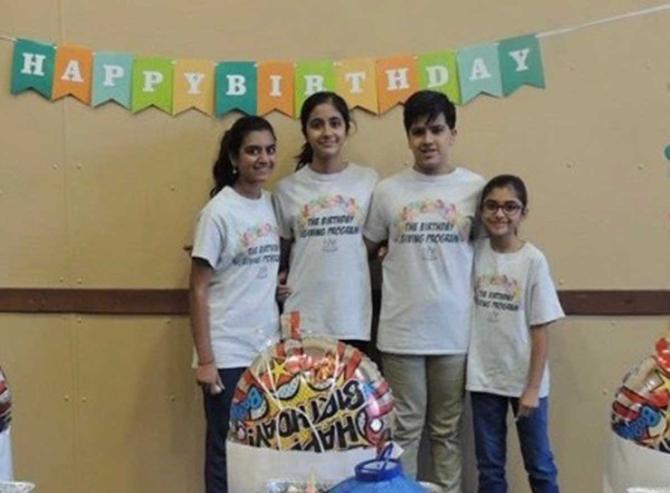 On an average, approximately 250-300 bags are sent out each month through various chapters and organisations working with children, homeless people, seniors and veterans.
To identify genuine recipients, Sonia and Rinna research online before contacting organisations that work with these people.
BGP depends mostly on donations, grants and corporate sponsorship to source and distribute the birthday bags.
Recognising their hard work for the community, the Birthday Giving Programme was featured on CNN in 2018 as part of CNN Heroes: An All-Star Tribute.
The cousins cannot contain their excitement when they recall their meeting with CNN anchor Anderson Cooper. The recognition and media exposure that followed has helped them expand the programme from their Illinois home base to other parts of the country.
"We now have a lot of volunteers from different states. It has also encouraged parents to enrol their children so that they are involved in some kind of community service," recounts Sonika.
The most satisfying recognition of their work came when they were playing the piano at a nursing home for seniors.
They were playing the song Don't stop believing by Journey when an elderly man approached them with tears in his eyes. He told them it was his late wife's favourite song, one that they would sing together.
"That we could touch someone's loving memory is fulfilling; it is something we both cherish," they say.
You can click here (external link) if you wish to donate to the programme.
Feature Presentation: Ashish Narsale/Rediff.com