'The images of mass cremations and crowds of people at hospital doors brought me to tears.'
'I started this initiative because at the end of the day India is my home.'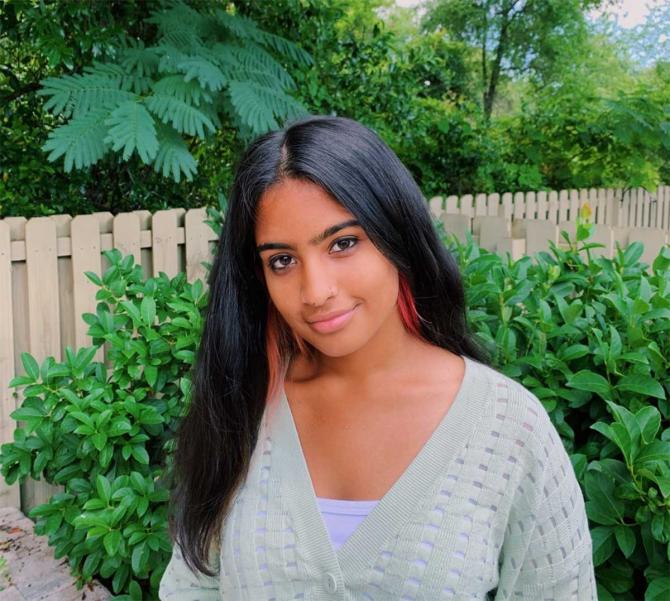 "Support is coming from everywhere," says Mokshvi Shah a 16-year-old teenager from Gainsville, Florida.
Mokshvi has launched a fundraiser on GoFundME (Help India Breathe) (external link) which has almost reached her target of collecting $7,500 to assist COVID-19 relief for India.
The amount she ultimately raises will be matched 100% by Indiaspora, a nonprofit community organisation in the United States.
An avid reader, tennis player, owner of a baking business since she was 8, practicing vegetarian and a promising future psychiatrist, Mokshvi's message to India is to "stay safe, listen to science, keep your masks on".
In an interview with Rediff.com US Contributor Abhijit Masih, Mokshvi reveals how she raised funds last year by sewing masks and then launched a fundraiser this year on GoFundME for COVID-19 relief.
Tell us something about yourself and about your family.
I am a junior (11th grade) at Gainesville High School.
I hope to become a psychiatrist to be able to reduce the stigma of mental health while helping others become stronger, healthier, versions of themselves.
My parents are both computer engineers, avid tennis players, and I owe my giving mentality to them.
When I was younger, they donated to organisations in my name, taught me about the causes, and told me a good portion of anyone's earnings should always be for charity.
To this day I remember these lessons and implement them.
Where do you and your family hail from?
My father's side of the family is from Gujarat and my mother's side is from Rajasthan.
Both parents were born and raised in Mumbai, where I was also born.
The majority of our family on both sides is still in Mumbai.
What moved you to start this initiative to raise funds for India?
I started this initiative because at the end of the day India is my home.
I am in a position of privilege to not be fighting this harsh second wave of COVID-19, and when the images of mass cremations and crowds of people at hospital doors brought me to tears, I knew that my privilege of safety needed to be put to use.
To start I needed some sort of connection, a larger group to deploy the resources the money could provide, which led me to work with Indiaspora, a non-profit organisation of global Indian Diaspora leaders.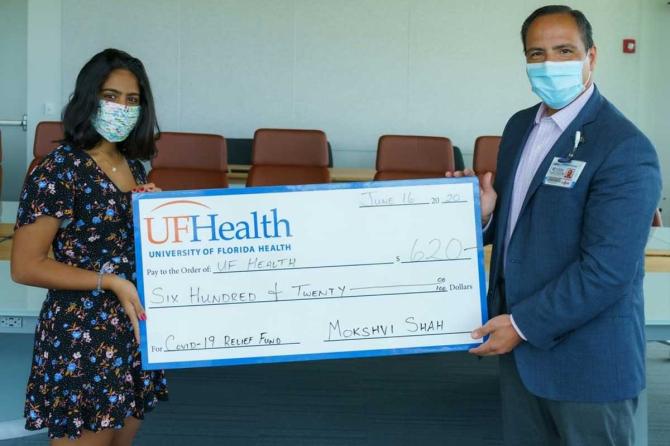 Have you done something similar in the past?
In April of 2020, I sewed and donated 170 face masks to people in Gainesville, and if they chose they could donate a few dollars in return, which totaled $620 for the University of Florida Shands Hospital COVID-19 Relief Fund.
I consider my current initiative an extension of the previous one, helping the other half of my ethnic identity.
How have your parents helped maintain a connect with India for you?
My roots were already deep, I was born in India, lived there till I turned one, and again from ages 4-7.
We continue to speak Gujarati amongst the family as our main language, and there are weekly calls to home, to maintain my relationship with my grandparents.
I participate in functions which our town's Indian cultural centre hosts, as well as annual celebrations of Diwali, Navratri, Paryushan, and other festivals in our own house.
I love hearing stories about my parent's childhood back in India, relating it to some of my experiences there, and just learning about the differences and celebrating the similarities all at once.
What are the Indian traditions that are followed in the family here in Florida?
My parents and I always set up diyas, do aarti, make mithai and rangoli for Diwali.
The closest derasar (Jain temple) is two hours away in Orlando, so we always try to go there during Mahavir Jayanti.
One of the monthly rituals we do is nazar utarna, or casting off the evil-eye with salt.
Part of our daily lives is following Jainism, being vegetarian as well as not eating any root vegetables.
What has been the reaction from family back in India, your friends and the Diaspora here?
My family and friends were extremely proud, and immediately started spreading word of my endeavour in any way they could.
I got phone calls from family back in India with them telling me how proud and happy they were that I thought of this initiative.
I got donations from children aged 3, 8, and 10, who broke into their piggy banks and gave whatever they could.
Almost all of my parents' friends and co-workers have donated as well as my classmates, coaches, and teachers.
The entire community here as well as through Indiaspora has come together to raise money for this cause.
I am thankful for the opportunity Indiaspora gave me, to match whatever I raised, to write for their blog (The Path to Giving in a Pandemic) (external link), and to provide a larger platform to spread my message.
What is something that you would like to do to assure people in their suffering?
To everyone that is suffering, know that you have support coming from every direction.
Until the hardest part passes, stay diligent, stay safe, listen to the science, keep your masks on and try to get vaccinated.
The mental impact of this pandemic is also just as tolling as the physical one so please don't be afraid to talk to a professional if you are struggling, rely on close friends and family members for love, and reach out to others in your life.
What do you do in your free time?
I play tennis, it's a family sport.
Both my parents play as well, and enjoy the competitive and recreational fronts of the game.
I also run a baking business that I started when I was 8 years old, this business is where the $500 I donated came from, since I had it saved up.
My biggest passion is psychology.
I love learning about the nuances of the human brain and analysing behaviour is a favorite pastime.
I say my first patients would be fictional characters since I'm an avid reader, I picture their beings and break down their motives and manipulate every aspect till the words are almost tangible.
Feature Presentation: Ashish Narsale/Rediff.com