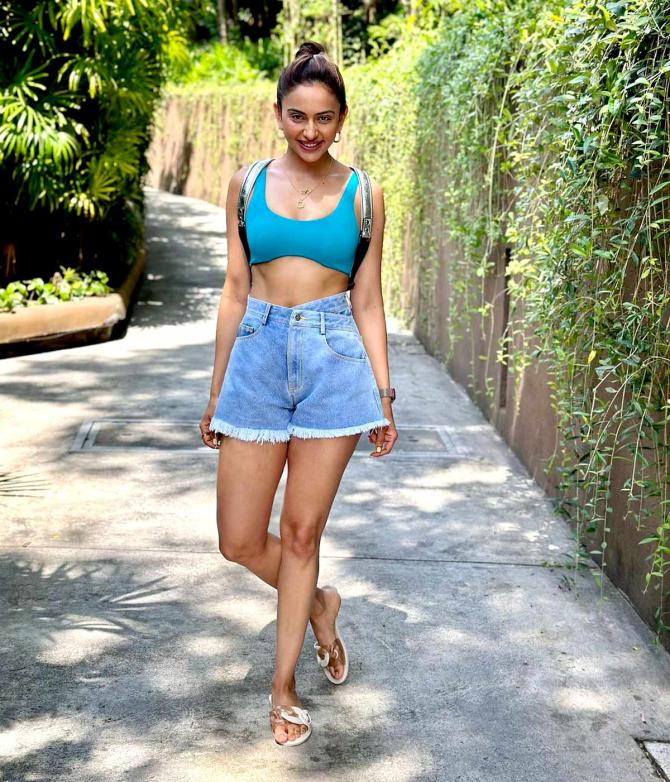 The most stylish time of the year is finally upon us.
While most of India is currently suffering acutely as the mercury rises, summer is the season when Indian celeb fashionista can use the heat to their advantage -- outfits downsize, becoming teeny-tinier, itsy-bitsier, perforce, and the ladies, as a result, get exponentially sexier.
Rakul Singh has handy advice for you.
"You need to keep making sure that you hydrate your skin to feel beautiful from within because that's what reflect on your hair and skin," she tells Rediff.com's Mayur Sanap. She piles up on loads of water-rich fruits and vegetables to escape the soaring temperatures.
For the actor, "fitness is a way of life" be it summer or winter. "Eat right, have positive thoughts and it will reflect in the right way," she adds.
Summer fashion, she says, is about "comfort and dressing for the occasion." A pair of jeans or shorts and a T-shirts are her go-to relaxed clothing.
But the trick is to "just be confident in what you're wearing."
Rakul also offered a bit of relationship advice.
"It's about compatibility. Two people need to be compatible to have a relationship of equals. Never believe that you're supposed to do certain things in a relationship."
WATCH: Rakul discusses what kind of bride she'd like to be.
Video: Afsar Dayatar/Rediff.com