Six years ago, a small group of Indian students started working on a dream -- to build satellites and design space missions for India.
In January 2019, they created history by successfully building and launching the world's thinnest, lightest satellite in just six days.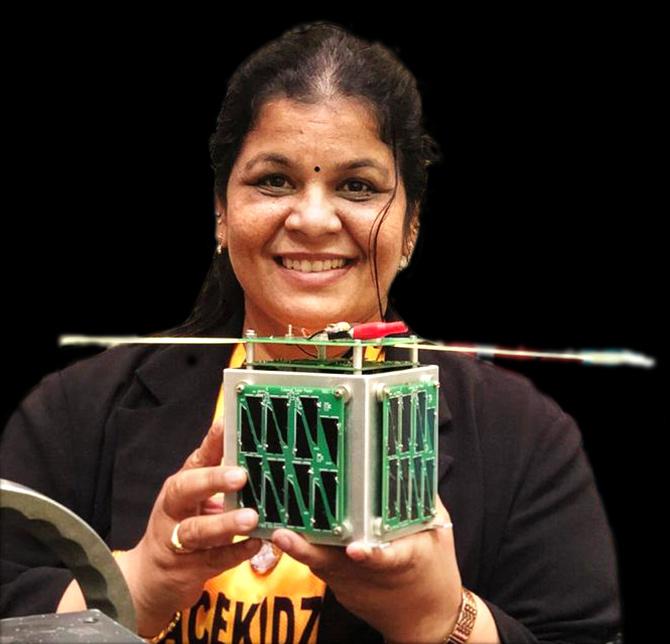 In 2017, American space agency National Aeronautics and Space Administration launched a sub-orbital satellite weighing 64 grams made by Chennai-based Space Kidz India, which innovates in the field of space education in India.
Named 'Gulab Jamun', it could have been the world's lightest satellite made by Indian students except for the fact that it was sub-orbital and not meant to complete an orbital revolution.
Two years later, in January 2019, the team of seven students -- funded and mentored by Space Kidz India founder Srimathy Kesan -- were invited by the Indian Space Research Organisation and challenged to develop the world's thinnest satellite.
It was an exciting opportunity -- if they built it in six days, ISRO would fund and launch it.
"My jaw dropped," mission director Srimathy Kesan tells Divya Nair/Rediff.com over the phone from Chennai.
She knew that to build and launch a satellite could cost a few crores. It would have taken the self-funded team a few years before they could attempt it on their own.
The ISRO offer -- challenging as it was -- seemed like a Godsend. Srimathy recalls how it all began.
"In December 2018, we were interviewed on (the national television channel) Doordarshan, where we shared our dream of launching a satellite from India. Within a month, I was sitting in the ISRO office, discussing how to design something no one had done before. And I had only six days to make it happen."
The team created history by launching Kalamsat V2 (named after APJ Abdul Kalam; Kalam had worked at ISRO and came to be known as India's missile man before he went on to become one of India's most popular presidents), their first orbital and the world's thinnest, lightest satellite -- a cube measuring 10 cm that weighed 1,200 grams. It cost them Rs 12 lakh.
The Kalamsat V2, the first satellite ever made by students, was launched from the Satish Dhawan Space Centre in Sriharikota, Andhra Pradesh, on January 24, at 23.37 IST.
"We have no memory of how those six days went. We didn't eat, sleep or rest. It was the opportunity of a lifetime. We couldn't believe we had done it. That India was the first country to do it and make history," Srimathy said.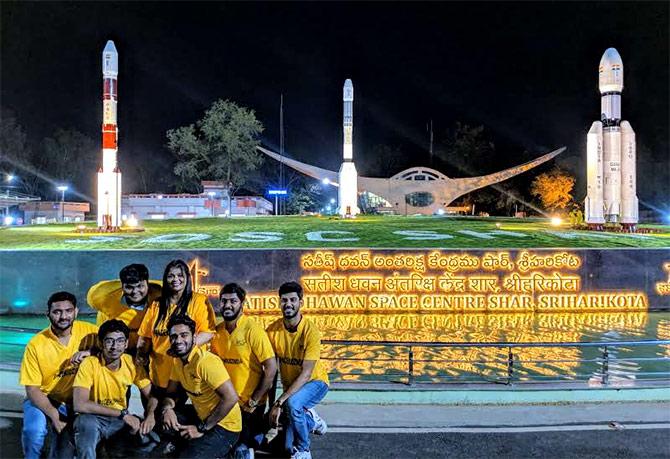 Besides Srimathy Kesan, the team included seven students aged between 19 and 21 years, who had been working towards this goal for over six years.
Rifath Sharook, lead scientist (and the team's first and youngest member), Mohammed Abdul Kashif, lead engineer, Yagna Sai, lead technician, Vinay Bharadwaj, design engineer, Tanishq Dwivedi, flight engineer, T Gobinath, biologist and Vijaya Lakshmi Narayan S, lead satellite architect, are the youngsters behind this proud achievement.
Unfortunately, Vinay and Gobinath could not make it to the launch at Sriharikota.
Apart from the help and support of the ISRO officials, the journey would have impossible without Srimathy, who they call their 'biological mother'.
She saw the dream for India six years ago when she founded Space Kidz India with her meagre savings.
"When I was young, I always wanted to build and launch satellites and rockets. I also wanted to fly, but since I am just 5.3 feet tall, I didn't qualify for aviation.
"I was married off early and could never really pursue my dream.
"I took up odd jobs like fashion choreography and documentary film writing without the knowledge of my family so I could keep busy.
"After 15 years of marriage, I started Space Kidz India in 2012. I wanted to give our talented kids the exposure and training they needed to design and develop their innovations at an early age," says Srimathy, who moved from Hyderabad to Chennai after marriage.
"I have been taking school kids to NASA and Russia so they could experience the best of space technology. It is expensive so only those who are really interested sign up.
"We used to organise the Young Scientist competition so aspiring space scientists could compete and showcase their skills.
"I picked up this particular team because I saw the same drive and passion in each of them that I had when I was young," she says.
In the last six years, the team had worked on two sub-orbital satellites (including the one launched by NASA) and five high altitude balloons in Bikaner, Rajasthan.
"Working on satellites is not new for us. But we had to learn a lot more since, this time, we were doing an orbital launch.
"The scientists at ISRO gave us stunning support and made it possible for us to launch our satellite within six days," says 21-year-old B Tech aerospace engineer Yagna Sai.
The challenge, this time, was also to build the world's lightest satellite.
"In our earlier missions, we found alternatives for testing but, this time, we had clear the tests at the ISRO facility since our satellite was to be launched on the prestigious PSLV (Polar Satellite Launch Vehicle). We had to make sure our satellite was safe to go on it.
"As we got approval for our satellite in a short period, we also had to take care of the integration."
The team is deeply grateful to the ISRO scientists who "helped us at every step," says Sai.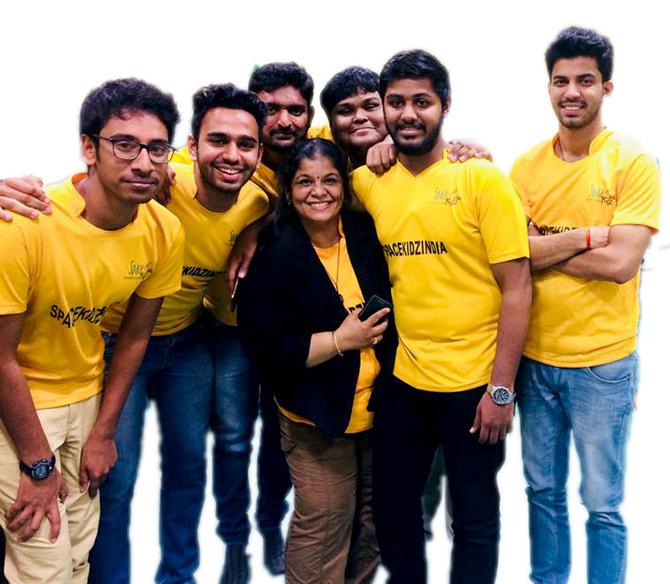 The team was thrilled to be able to watch the launch live from mission control at Sriharikota.
"We never imagined that we would get such an opportunity so soon and that we would get to watch the launch from mission control. The beauty is that Dr K Sivan, the chairman of ISRO, called us immediately after the launch. To hear him congratulating and appreciating us was a very proud moment," Sai says.
As the team awaits the signals from Kalamsat V2, Srimathy says, "Since it is a cube and is stuck to the PSLV on one side, only three sides are being powered by solar. But it's a two month project so we are hoping for a miracle.
"The size of the satellite could be a breakthrough as it can help us during calamities and reach out to darker areas where other satellites cannot. It is an experiment for all of us, but it's a first for India and we will learn a lot from it."
Srimathy wants more corporate organisations to support space missions in India. She appeals to parents and students to spot talent early.
"We all have a hidden talent in us. If you are able to realise it early, you can do wonders with it.
"Let your kids explore new ideas and experiences without being judgmental. Watch them carefully and see if they have some magic. See how you can develop this magic and help them achieve their dreams.
"Let them fly. Let us be their wings."