Dr Tejas Patel from Akshardham in Gandhinagar showed the world how it is done.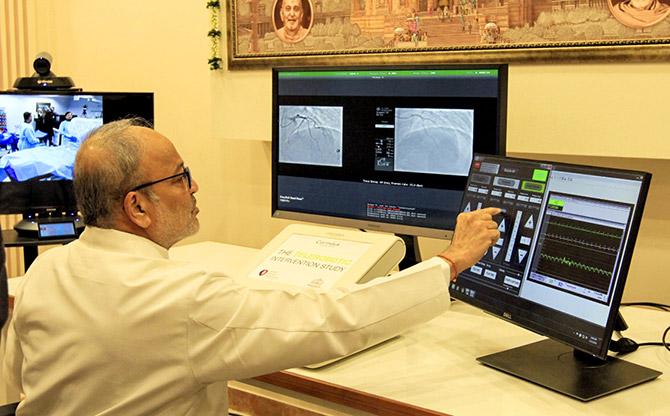 Earlier this year, we saw how Dr Tejas Patel, chief interventional cardiologist, Apex Heart Institute, Ahmedabad used vascular robotic technology to perform a coronary intervention.
In the video, he'd explained how it was the first time outside the US this technology has been used.
Dr Patel mentioned how accurate and precise the surgery was which also increased the safety of the patient. (Click here to watch the video)
On Wednesday, Dr Patel who is from Akshardham in Gandhinagar, Gujarat performed the world's first in-human telerobotic coronary intervention on a patient located 32 km away in Ahmedabad.
The scene was witnessed by the state's chief minister Vijaybhai Rupani. The CM's office took to Twitter to excitedly share the news:
'Gujarat CM Shri @vijayrupanibjp today witnessed the world's first in-human telerobotic coronary intervention, a historical breakthrough in medical science, performed by Dr.Tejas Patel from Akshardham in Gandhinagar on a patient located 32 kms away in Ahmedabad,' it tweeted.
The chief minister was joined by deputy chief minister Nitinbhai Patel along with saints of Bochasanwasi Akshar Purushottam Swaminarayan Sanstha (BAPS).
In his statement released to the media Dr Tejas Patel, chairman and chief interventional cardiologist of the Apex Heart Institute, said, "The first-in-human case of remote robotic PCI represents a landmark event for interventional medicine."
Cardiovascular diseases, including stroke, Dr Patel said, are the number one cause of death worldwide resulting in nearly 18 million deaths per year.
"The application of telerobotics in India has the potential to impact a significant number of lives by providing access to care that may not otherwise have been possible. I am honoured for contributing to this historic groundbreaking research which is going to earn a lot of glory and global respect for my country."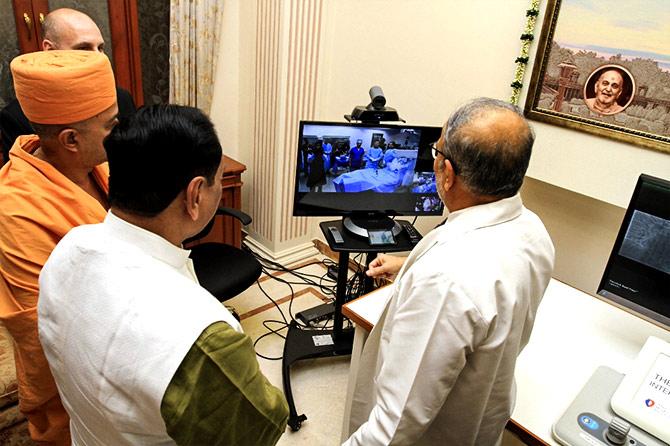 Talking about his inspiration for the achievement, Dr Patel said, "I dedicate this breakthrough to His Holiness Pramukh Swami Maharaj whose heart I had the privilege to take care of. His heart made a difference to my heart and through this technology I want to make a difference to millions of hearts."