And he was just nine when he published his first book.
The shy young author tells Divya Nair/Rediff.com how he wrote it in just three days and created a record.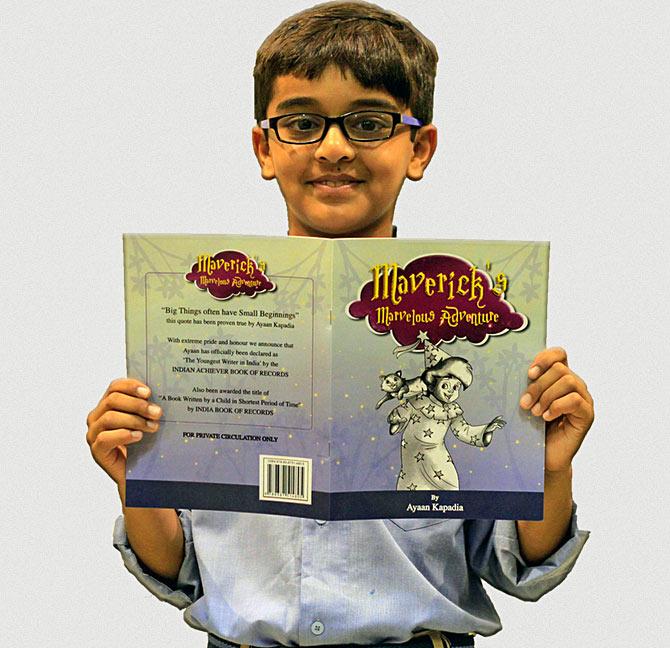 Ayaan Mufazzal Kapadia was nine years old when he self-published his first book, Maverick's Marvellous Adventure.
In April 2018, Ayaan, a student of JBCN International School in Parel, Mumbai, was recognised as the 'youngest author in India' by the Indian Achiever Book of Records.
The 20-page Maverick's Marvelous Adventure, according to the India Book Of Records and Asia Book Of Records, is also the first book written by a child in the shortest period -- he wrote it in three days.
The class IV student followed it up with a second book in November 2018 -- a sequel to his first -- the proceeds of which will be shared with an orphanage.
In an interview with Divya Nair/Rediff.com, the young author, who shares his birthday with William Shakespeare, talks about his inspiration to write, his favourite author and his big dream.
You wrote your first book in three days.
I learnt to write because of my school assignment and that's where I wrote my first book.
It took me three days to complete my first book which enabled me to win the title of 'a book written by a child in shortest period' from the India Book Of Records and the Asia Book Of Records.
Who inspired you to write it?
I was inspired by my cousin, Anuj Shah, who had written a book. It all started when I got an assignment from my library teacher to write a fairy tale.
I didn't want to write it initially, but my mom encouraged me to try.
As I wrote, the story just started flowing. I am so glad that my tiny story has turned out to be a story book.
I thank my mother for supporting me.
How do you find time to write and read after school?
Since I enjoy reading and writing, I'm willing to sacrifice my playtime and see to it that I dedicate one hour to read after finishing my homework.
I plan my day well in advance where I am not deprived of enjoyment and at the same time I complete all my school assignments so I can find time to write.
Watch: Ayaan, who was a speaker at the recently concluded India's Future Tycoons by ENpower, a competition for student entrepreneurs held in Mumbai, answers questions at the venue.
Video: Kind courtesy India's Future Tycoons
How do you build your vocabulary?
I read a lot and my reading has helped me a lot to use good vocabulary.
I always make a word bank of all the words which I don't understand and I refer to that while I'm writing.
You share your birthday with William Shakespeare. Have you read any of his books?
No I haven't; since there are no books for my age.
What do you like to read?
I enjoy reading books on magic and adventure.
Who is your favourite author?
JK Rowling. She writes about fantasy and adventure and those are my favourite genres.
You have a mini library at home. How many books are in there?
I have about 150 books in my library.
How do you pick a new book to read? What do you look for?
I pick up a book by its genre. I look for adventure and fantasy. I am always interested in knowing how a story begins and how it ends.
What turns you off in a book?
I never choose a book with a melancholic ending. I want to end all my books with a smile.
The best book you have read till date
The best book I have read till date is Harry Potter And The Goblet Of Fire. I have read it four times and watched the movie at least 10 times.
As the youngest author, what have been some of your greatest learnings?
To never leave your assignment half way.
I have learned that if you stay focused and be confident, you will surely achieve your goal.
What's your secret to success?
My hard work and my tenacity to work.
Your big dream is...
To become a well-known author and a cricketer.
Your message for young authors
Always listen to your parents and maintain a word bank.