We asked you, dear readers, to tell us how you are preparing yourself for the dark economic days ahead.
Rajesh Srivastava from Greater Noida shares his suggestions.
Post COVID, there is a threat that there will be a salary cut.
If I am lucky my salary will not be cut, but definitely there won't be any salary hike.
During this lockdown, I didn't commute to office which helped me save approximately Rs 3,000 a month.
There were no newspapers, saving around Rs 250.
My wife further contributed to the family budget by offering to cook and do the household chores saving Rs 2,000.
Considering that salons and beauty parlours were closed, we saved an additional Rs 3,000.
We trimmed each other's hair. Surprisingly, the cut was not so bad.
My son offered to clean our car, saving us Rs 500 a month.
We saved about Rs 8,750 in the lockdown, which I think is a good amount to start with.
We have also stopped ordering food and buying clothes online.
I pay all my bills -- electricity, society maintenance and credit card bills -- on time. This helps me save on the late fee charge.
I didn't opt for the home loan moratorium, which I believe will help me in the future as I will have to pay less interest.
The lockdown helped us utilise our time well. I tried to help my wife in whatever way I could. My son also understood the quantum of work at home and came forward to contribute.
I can safely say that now we know more about our strengths and weakness as a family.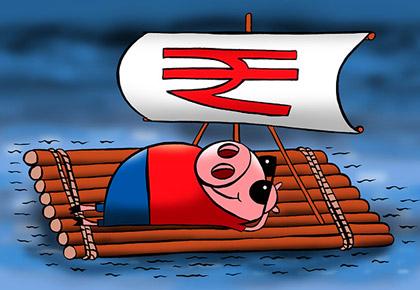 Illustration: Uttam Ghosh/Rediff.com
---
How are you financially preparing for the dark days ahead?
Please share your plans with us at getahead@rediff.co.in. Do share your name, age and profession with us. Please mention MY POST-COVID FINANCIAL PLAN in the subject line.