'The sea levels are rising, glaciers are melting. The ocean temperature is rising. And it's not natural.'
'This has not happened in a billion years, so we better do something about it before it is too late,' says Siddharth Pillai, a Mumbai teen who has designed and patented a technology that prevents coral bleaching and will save hundreds of marine species from extinction.
The earth, like you all know comprises 2/3rds of water and 1/3rd of land.
But do you know that over 30 per cent of marine species, which include rare organisms, face extinction because of coral bleaching, caused by marine tourism and global warming?
Sidharth Pillai, a 17-year-old student of the B D Somani School in Mumbai, is one of the youngest in the country to have developed artificial 3D printing technology that will prevent coral bleaching and protect marine eco-system.
"I have always been enchanted by the world under water. I love diving. I have been diving in different parts for five years now. I can say my love for the environment has only grown over the years," Sidharth, who holds a master's certificate in scuba diving, tells Rediff.com's Divya Nair.
In April 2018, during a trip to the Andaman and Nicobar islands Siddharth learned about the impact of coral bleaching.
"I was shocked," he says while describing the severity of the situation.
"Corals or polyps are basically marine organisms that live in the seabed on limestone or reefs. When ocean temperatures rise to over 31 degrees, corals will expel the algae (which provides 90 per cent of the energy for corals) living in their tissues causing them to turn completely white. Once this happens, it takes a maximum of 30 days for the corals to die. Then there is no coming back," he says.
Corals help balance the marine ecosystem. If they die, it affects numerous plants and animals that thrive on them, even causing extinction of rare species, Siddharth explains.
In May 2018, on a trip to Puducherry, when Siddharth and his youngster sister Maya went diving, he was heartbroken.
"It was disheartening to see layers of dead coral underneath," he recalls. "Although I had read about coral bleaching and facing extinction, I didn't realise it was so precarious."
When he returned to Mumbai, Siddharth was restless. He couldn't stop thinking about it.
"I wanted to do something different. I had read about artificial reefs so I thought of using 3D printing to design reefs that could be planted in the ocean bed."
He joined Curiosity Gym, an innovation hub based in Churchgate, south Mumbai, and did a 40 day course where he learned about 3D printing techniques.
Simultaneously, he got in touch with Suneha Jagannathan, a marine biologist and CEO, Temple Reef Foundation who was already working on restoring coral reefs and protecting marine life. She agreed to help him with necessary resources and guided him on the project.
Over a period of three months, Siddharth started out to create an artificial 3D structure which would resemble the natural coral bed, so he could place them in the sea.
But it wasn't easy as he had imagined it in his head.
"It was a complicated structure. It had to be porous, there should be crevices and it should be conducive for organisms to grow and thrive on it."
The first design he created was a plastic model. He built it in his balcony.
"It was a mess," he admits about his trial and error days.
"Once the mould was ready, we created blocks using cement and dolomite (composed of calcium magnesium carbonate). I took help from a company that agreed to print these new type of blocks. The blocks were designed with manual crevices in a way that they can be placed one over the other to expand or add on whenever necessary."
"The crevices and pores were created so that polyps can attach to them and make them their home. Each block weighed over 10 kg. I patented the technology. But it was an experiment," Siddharth adds.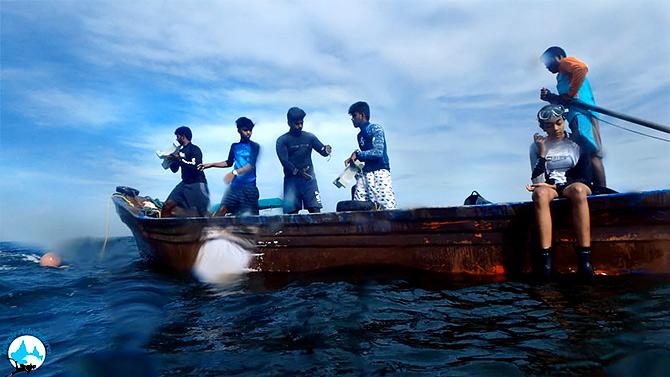 Siddharth thanks his parents -- his father Sudhir Pillai is a cardiologist, mother Neeta Jain is a physician -- for making the initial investment. He soon realised the project would require additional funding, so he crowdfunded the project on Ketto, the crowdsourcing platform.
"My parents never questioned my decision to travel to Puducherry. Or gave it a second thought when I told them about what I was doing. I never asked them or kept track of how much money has already gone into it, but they never refused," he says.
Siddharth raised Rs 150,000 through crowfunding.
In October 2018, he travelled to Puducherry along with his sister to test his prototype.
With the help of Temple Adventures, a team of divers based in the Union territory, Siddharth placed 200 cement dolomite blocks into the sea.
Last month, he visited Puducherry to see if it had made any progress.
The teen was excited to see aquatic life on those blocks.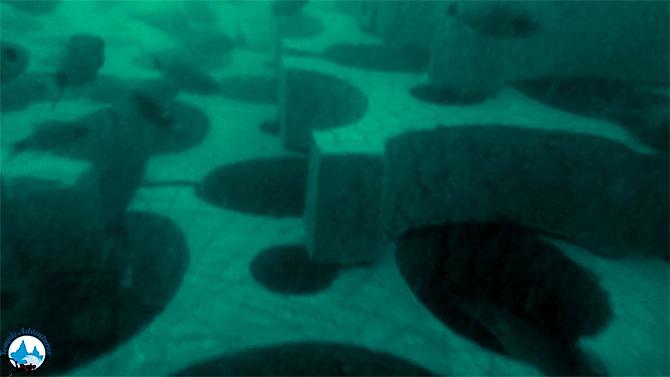 "I am planning to place 200 more blocks above the existing ones. This time it will be slightly bigger and heavier," he says.
In a tribute to one of his favourite artistes, Siddharth named his project 'Bennington's Reef' in honour of Chester Bennington, the American musician and Linkin Park frontman who died in 2017.
"Global warming and climate change is real," says Sidharth. "You can no longer ignore it. The sea levels are rising, glaciers are melting. The ocean temperature is rising. And it's not natural. This has not happened in a billion years, so we better do something about it before it is too late."
So what can we do?
"We should create awareness. Unfortunately, my generation is not very conscious about how their choices are affecting the future. I feel there should be awareness at the school level. Children should be taught to live in sync with the planet. Marine tourism should be more responsible."
"You cannot reverse the damage that is already done, but you can delay the consequences. We cannot take the environment for granted."