Haaziq Kazi, disturbed by the damage we have done to marine life, has designed a solution to save the oceans.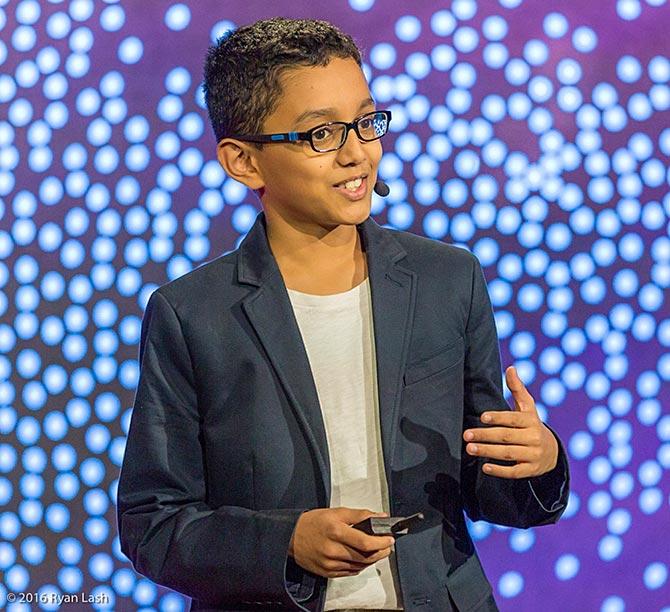 Haaziq Kazi was just 9 when he saw a photograph of a dead whale washed ashore in 2013.
The details of how the mammal had landed on the shores of northern Holland and died made him curious.
It had died due to intestinal blockage, he learned.
'People were very surprised to find an unusually bloated stomach,' Haaziq said in his first TED-Ed talk in Pune this year.
'When they opened it up, they found among other things, two hose pipes, (a) 9-metre rope and 37 pounds of plastic,' Haaziq added.
Between 2015 and 2017, Haaziq spent a lot of time after school reading and researching the causes of the death of marine life.
With the help of a 3D artist, Haaziq, 12 designed ERVIS, a prototype of a ship which can extract plastic from the ocean surface.
Today, he uses every opportunity to raise awareness about how plastic and chemical waste is destroying marine life.
"There are 5 trillion pieces of plastic in ocean and it is enough to go to the moon and back twice," Haaziq, who studies at the Indus International School, Pune, tells Divya Nair/Rediff.com in an e-mail interaction.
What inspired your TED-Ed talk?
It started as a project in school two years back when they asked us to pick a topic which we felt strongly about.
I stumbled on some videos of how plastic pollution is affecting marine life, how the sea life was getting affected and how little we knew about the problem.
Two years ago, I asked people around me and I found that the awareness around the plastic waste problem in ocean was very negligible.
There was so much waste that we tended to underestimate.
I strongly felt I had to something about it and so I dreamed and went about making a ship which can help clean the oceans.
How much did you read and research before taking up this initiative?
I did lot of research and I was fortunate enough to be connected and helped by a wide variety of people across the world.
Among them were scientists, inventors, peers and people who were passionate about the cause who helped me with the research.
My parents also helped me in doing the research and then there is the Internet.
It is interesting to see how much is out there about the problem and what different people are doing about it.
There are organisations who are focused in creating awareness on the problem, there are people who have done research just to find about the magnitude of the problem and there are people who are dedicated to find innovative way of solving it, and it was extremely helpful for me to connect the dots and come with my talk based on it.
What were the most alarming, surprising, facts you realised?
According to an estimate, there are 5 trillion pieces of plastic in ocean and it is enough to go to the moon and back twice.
Some of the waste that is created are from things we never knew about like tire dust, or cosmetics or fibres from clothes.
This waste is what is called micro plastic waste, which is so small it is normally not visible to the human eye.
Research says microplastic has been found in salt and fish we consume and the implications of humans consuming it is still not known.
The most heartwrenching thing I learnt was the impact the waste has on marine life.
I have seen photos of birds eating plastic when they are unable to differentiate between normal food and plastic.
When they eat they are unable to get it out of their system and die because of hunger, there are shores with bodies of such birds and sea creatures who when examined are found filled with plastic waste.
There are animals who get tangled and maimed because of the waste.
It is very painful just to imagine what these creatures have to endure because of our negligence.
Tell us about the ship you designed and how it can help fight oceanic pollution.
One interesting fact that I came across during my research was that large ships are actually one of the biggest pollutants on earth. They use high sulphur fuel which creates a lot of air pollution.
That is when I got asking myself: 'How do I ensure ERVIS does not end up adding to the existing problem?', so I started studying on how I could make my ERVIS environment friendly and modern.
I also saw new generation ships like VINDSKIP which uses LNG and wind to power it, and then I knew I wanted ERVIS to be powered by cleaner fuel like solar, wind, RNG and hydrogen. Hydrogen is radical, because it combusts with oxygen and gives water and you put back clean water in oceans.
I wanted ERVIS to man the oceans for months carrying on tirelessly keeping the waters full of life and free of plastic, and that's where I thought I should make it completely autonomous like Tesla.
I want ERVIS to have minimal impact on marine life and preserve the ecosystem.
I eventually want to see multiple ERVISes manning the oceans. cleaning and scavenging the waste.
How does it work?
As I was doing my research, going through a variety of resources (videos, tutorials, visual observations, a lot of thoughts, discussions), reading tons of articles, and after guzzling down innumerable cups of hot chocolate (hey, I'm still a kid, no coffee for me), I started zeroing down on the following things I really want ERVIS to do:
Clean the current waste floating in the ocean;
Analyse the data from the waste which we collect;
And to stop it at source, which is getting disposed by the ships.
What I realised was the data on the waste in ocean is not massive.
I knew while reducing the waste I also wanted a smarter approach to create more data about the waste for people like me to analyse, my idea was to get answers to questions like: 'What is it actually made of? What is the density? How old is it?' and a few other questions.
I figured If I could create a way to share it with other people working on the subject, it could help us understand the problem better.
How does ERVIS solve the problem?
The ship is essentially a large boat with various compartments and saucers surrounding the ships.
The working of waste collection is based on some basic physics concepts like:
Centripetal force;
A multi-stage cleaner which uses size-based separation to separate different size of waste and,
A compactor to compact the trash.
The saucers float on the surface moving circularly to pull the waste towards its centre.
These saucers will have a central outlet which will swallow the waste and is connected via a tube to various chambers in the ship.
Imagine a gigantic vacuum cleaner with many cleaning tubes attached to many dust bags.
Once the waste enters the tube, we have various stages which will then segregate it.
The first sensor will be an infrared sensor which alerts ERVIS for marine life. We could use thermal activity to detect presence of life and put it back in the ocean.
The waste then goes to the first level -- an oil filter, which collects waste oil and sends it to the oil chamber. We would like to treat this waste oil, either decompose it or store it for safe disposal.
The second, third, fourth and fifth chambers are for large, medium, small and micro waste respectively.
Once the waste enters these chambers, we follow these steps:
Take a sample of the waste and analyse it.
Send it to a segregator to separate plastic from non-plastic items. The plastic is compacted and stored in cubes.
The other waste is taken and degraded with bacteria or stored for separate disposal.
The water which comes out finally will be cleaner and be pumped back into the ocean.
What can we do about the damage that we have already caused?
The biggest thing we can do is stop being a part contributing the the problem and like Mahatma Gandhi said 'Be the change you want to see in the world' make some conscious choice of what and how we consume and contribute to the problem.
Minimise or stop using single use plastic.
Question how and what we are consuming and if there is a smart alternate to it.
For example, detergent -- it is better to use liquid detergent than solid ones since detergent is also a big contributor to the waste problem.
What are the alternatives to plastic we can use in our daily lives?
It would be wrong to say plastic is bad since it has been an important part in our lives.
What is important is how we can consume it.
Like I said earlier, stop using single use plastic or make smart choices like use things which has minimum plastic content.
Start using organic and natural alternates, stopping single use plastic.
There are more eco-friendly options available use them instead of plastic-based stuff.
Keep eyes open for bio degradable or eco-friendly or recycled stuff. That would be the best bet
How are you helping this initiative? How do you find the time?
I am trying to work with like-minded people on taking the subject further and also creating awareness with people I know on how we are consuming and disposing the plastic waste.
I try and use my school holidays to further my cause.
Do you discuss these issues with your parents, friends? How do they respond?
I do. I think I have been blessed to be surrounded by people who resonate with my passion.
People in general are conscious or share favourable views on the topic.
It is also heartening to see them engage with their peers and social circle on the topic and also change the way we are consuming plastic on a daily basis.
What are your interests?
Reading, playing games, the piano, playing football, watching TV, cooking.
What books do you read?
I have read classics like Great Expectations, The Three Musketeers, The Invisible Man, Sherlock Holmes, Greek mythology, Robin Hood, etc.
Among modern fiction, I liked Percy Jackson, Storm-breaker, Goosebumps, Hitchhikers Guide To The Galaxy, The Chronicles Of Narnia, The Lord Of The Rings and casual/comics like Wimpy Kid, Big Nate, Asterix, Tintin and books by O Henry.
I also read non-fiction books on astronomy, literature, science, history, movies and philosophy.
What are your plans for the future?
I want to make ERVIS a reality and work with like-minded people to approach and tackle this problem.
There is a statistic which says that there will be more plastic in oceans by 2050.
What I would like to do is prove this prediction wrong.
What message would you like to share with our readers?
Be conscious of the impact we are doing to our ocean and be inspired to find your idea which can bring a positive change in this world.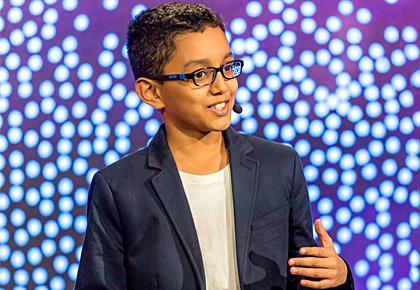 Haaziq Kazi is a speaker at the 10th edition of TEDxGateway on December 2 at the DOME @ NSCI Mumbai.