Arsh Ali's work is about getting reliable evidence about the ancient Buddhist link between India and Egypt, discovers Veenu Sandhu.
Illustration: Uttam Ghosh/Rediff.com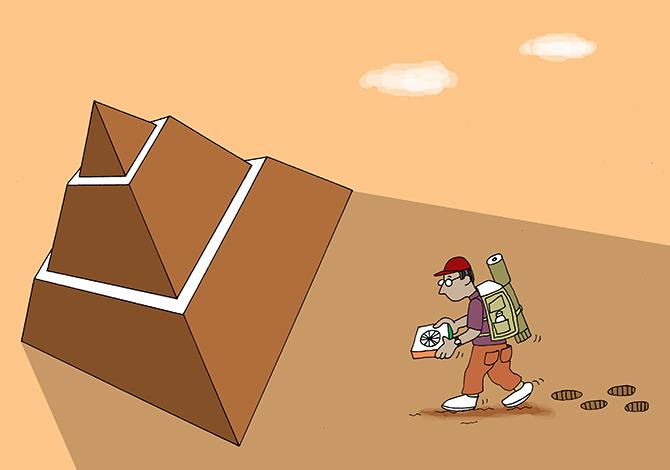 In April, Saqqara, an ancient burial ground in Egypt, had an unusual visitor: A young man who had come not to admire the famous step pyramid of Djoser but to unravel a mystery engraved on a particular tombstone.
All of 17, he had travelled from Lucknow in search of a tombstone which he well knew no longer existed.
But he also knew that even the original location of a lost piece of antiquity can reveal things. At least to an archaeologist.
And that's what this young man is -- India's youngest archaeologist, Arsh Ali.
Arsh's visit to Saqqara and, in fact, to several other places in Egypt, was another step towards seeking evidence of a historical connection that he is becoming increasingly convinced existed during the reign of one of India's greatest emperors, Ashoka.
Arsh says he is discovering growing evidence that Ashoka sent Buddhism to Egypt during his time (268-232 BCE).
While it is well established that the Mauryan emperor was instrumental in spreading Buddhism to Southeast Asia, Korea, Japan and Sri Lanka, the idea that he directed it even towards the Mediterranean is unique.
Evidence of this has remained hidden and scattered in libraries and Buddhist sites in India but no one seemed to have made a correlation between what lies here and what exists in Egypt.
Arsh could, for various reasons.
He has been studying the Ancient Egyptian and Indian cultures, simultaneously, from a very early age.
He knows Sanskrit, Brahmi (the script in which the Ashokan inscriptions are written), the Vedas, Ancient Egyptian history as also hieroglyphics (the Ancient Egyptian writing system).
So strong is his hold of these scripts that he is currently translating the Vedas from Sanskrit to Egyptian hieroglyphics.
Last month, Arsh delivered a lecture on 'Egyptian Buddhism' as part of the exhibition, India and the World: A History in Nine Stories, at the National Museum in New Delhi.
Among the other speakers at the exhibition organised in collaboration with the Chhatrapati Shivaji Maharaj Vastu Sangrahalaya, Mumbai, and the British Museum, London, have been historians Nayanjot Lahiri (the award-winning author of Ashoka in Ancient India) and Upinder Singh, art historians B N Goswamy and Naman Ahuja, and the British Museum's head of research, J D Hill.
That a young Class 12 student should be one of the speakers in this space occupied by such authorities might seem curious -- even incredible. But those who know Arsh's work and have facilitated his research explain why it isn't.
"He is a genius," says B R Mani, director general of the National Museum. "He has been giving lectures on archaeology to MA students."
Mani says Arsh's topic, Buddhism in Egypt, related to the pre-Ashokan, Ashokan and post-Ashokan eras, is unique and that nobody in India has ever worked on it or interpreted its existing indications.
Mani was the one who had issued a letter from the National Museum to the Egyptian Museum in Cairo to allow Arsh unhindered access to the books and antiquities during his visit.
Among others who have helped him is Syed Jamal Hasan, former director of excavations and exploration at the Archaeological Survey of India.
He allowed Arsh access and permission to work at various excavation and exploration sites in India.
Arsh has since worked at early historical sites such as Sinauli and Barnawa in Uttar Pradesh, Rakhigarhi in Haryana and Binjor in Rajasthan.
Arsh was born in Allahabad to a Muslim father and a Sikh mother, who converted after marriage but stayed connected with her roots in Amritsar in Punjab.
He grew up in an environment where his mother had a sound understanding of two religions, two cultures and two languages. Neither was forced on Arsh. The two existed in his world naturally.
What his parents, Faisal and Fatima, however, stayed tuned to was his interests, the first signs of which he displayed when they were returning after visiting the Pashupatinath temple and the Ashokan stupas in Nepal.
Arsh was three and a half years old. During a halt for lunch, he took his father's pen and on a paper napkin sketched the sites they had visited. The close likeness had his parents thinking that perhaps he would become an artist.
During his early years in school, he won some scholarships from the state cultural department for his proficiency in art.
By the time he was 12, his parents, who have a property business, felt they needed to move him to a bigger city where there would be more opportunities and better exposure.
They shifted to Lucknow and enrolled him at the City Montessori School.
By now he had already started self-learning the hieroglyphs. His interest in archaeology and history was also growing.
"He clearly had something in him," says his mother. He was constantly researching, reading, probing. "All he wanted was books, books, books," she says.
When he was 14, his parents felt he should take the advanced placement test, a programme created by the College Board in the US and Canada that offers college-level curriculum and examinations to high school students.
He appeared for the world history test and scored 4 out of 5 (approximately equal to 95 to 99 per cent).
His teachers were impressed but sceptical.
"They weren't sure if it was a fluke or whether I really did have the aptitude for it," says Arsh, with a small laugh.
They wanted him to take the exam again the next year, this time in European history. He again scored four on five.
During a visit to Lucknow's Bara Imambara, where Arsh kept telling his mother about unknown facets of the monument, someone advised her to take him to ASI's regional office inside the monument complex.
Surprised by his knowledge, the official they met directed them to Hasan at the ASI headquarters in Delhi.
A conference of senior ASI officials from across India was underway in Delhi when Arsh arrived with his mother.
Hasan, then director, sat him in a room and asked the experts to quiz and evaluate him about the methods and principles of archaeology, Indian history, epigraphy and scripts.
"It was incredible," says Hasan. "He knew it all."
Arsh was sent to an ASI excavation camp in Binjor near the Pakistan border.
"Only those students who have completed an MA go for excavations," says Hasan, "but he knew even more than they did."
Here on, his parents took him to several institutes and departments of archaeology across India.
He also established contact with archaeology professors at various foreign universities -- Harvard, Cambridge, University College London, Cornell.
Invitations to participate in and present papers at archaeology conferences in India have now become a regular feature.
During one such conference in Assam last year, which was attended by scholars from Japan, South Korea, Myanmar and Bhutan, while searching for a topic to speak on, Arsh decided to research the Edicts of Ashoka.
Scanning the inscriptions, he stumbled upon references that seemed to indicate that Ashoka was in touch with kings in Egypt and had sent Buddhist monks to their kingdom.
These monks were to be given special privileges so that they could freely roam the country and preach Buddhism.
The missing grave in Saqqara that he went looking for, Arsh believes, belongs to one such Buddhist monk who died in Egypt.
Arsh has found historical references that the tombstone had the dharmachakra (the wheel of dharma), a Buddhist sign, engraved on it.
The tombstone was lost during World War I, but its location can help determine whether the person for whom it was commissioned was important or not.
And a Buddhist monk in that era, as Ashoka's edicts indicate, was immensely important.
Arsh's research, which his parents have been funding, requires money.
His mother says money, thankfully, is not a problem.
For Arsh, who sounds much younger than 17, the concern is different.
More than convincing others, for him his work is all about getting reliable evidence that will convince him that his quest about the ancient Buddhist link between India and Egypt is legitimate.
For the young man who has chosen to straddle different eras and civilisations, it is a long journey into the past.
But having embarked on it, he is determined to tread the path.