Hindi lyrics are no bar to the global appeal of his music, discovers Amrita Singh.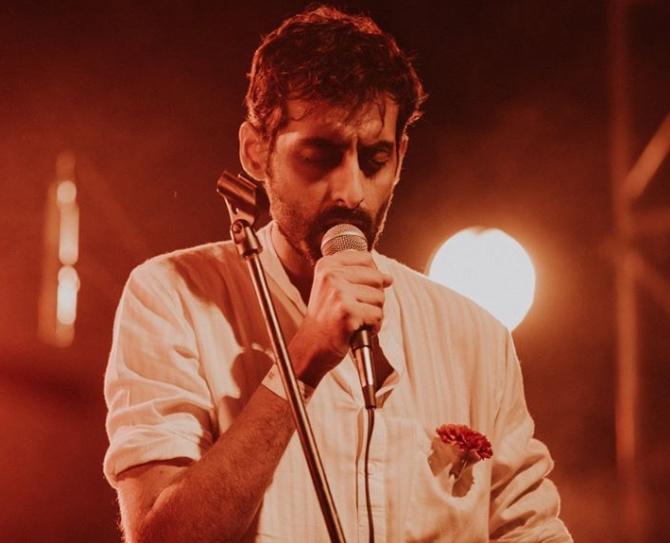 Suryakant Sawhney looks every bit the archetypal 'artist'. With his lanky frame, mysterious aura and brooding eyes, the 32-year-old musician has become the face of the indie music scene.
He spearheads two widely acclaimed and musically diverse projects -- the Peter Cat Recording Co and Lifafa.
While the former is a Delhi-based jazz band, the latter is a solo electronic music project.
Music wasn't always his first choice of artistic expression. Sawhney was studying animation in San Francisco when he decided to take the plunge.
"In 2010, it became clear that I would never have enough money to make films and so music felt like a good way to start my journey," he says.
However, he didn't entirely abandon his love of film and cinematic aesthetics. Each of his songs almost requires you to close your eyes and work with the imagery created by the powerful, philosophical lyrics.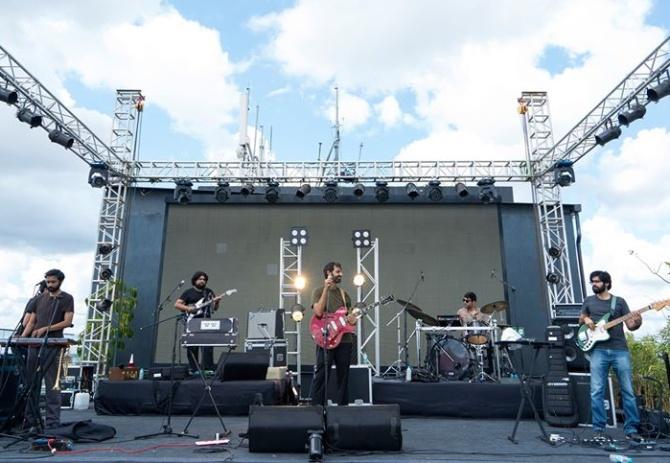 Sawhney was born in Gurugram and spent a major part of his childhood aboard a commercial ship that sailed around the Mediterranean as his father was in the merchant navy.
When he lost his father as a young teenager, he moved back to live in Gurugram with his mother.
His musical roots had been established by then, as his early years were spent in a family that gave ear to both Western and Indian music.
His mother was an ardent bhajan singer while his father introduced him to Western music.
The result: A musician inspired by a wide-ranging pantheon of musical greats, from Mohammed Rafi and Mukesh to Dean Martin.
"I'm clearly a product of two worlds colliding," says Sawhney as the music he creates, both with his band and as Lifafa, is marked by its ability to experiment with a diverse mix of genres, sounds and even languages.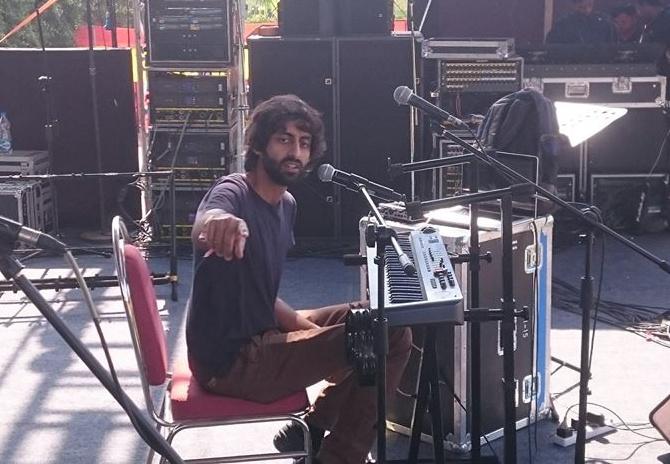 His musical journey began with the Peter Cat Recording Co in 2009 (the name was birthed in Kolkata's Peter Cat restaurant).
Sawhney is lead vocalist and guitarist, Karan Singh plays the drums, Dhruv Bhola the bass and samples, Rohit Gupta the keyboard and trumpet, and Kartik Sundareshan Pillai plays everything from the keyboard to the guitar and manages electronics.
The band released its first album titled Sinema (here's the cinematic motif) two years later. The song Pariquel was later adapted in Hindi as Jaanam for Dibakar Banerjee's film Detective Byomkesh Bakshy!.
Sawhney is an old-school singer, one whose deep voice is impressive, moving and expressive.
The lyrics, almost always in English, are melancholic, but set to cheerful, often foot-tapping melodies and rhythms.
His music, while inspired by jazz, rarely sticks to the genre and has elements of rock, synth, electronica, and gypsy music (this is not an exhaustive list).
From performing at restaurants in Delhi's Hauz Khas village to creating live music in Paris in 2019 at Rock en SeIne, PCRC has come a long way.
Their latest album, Bismillah, was released in June last year and is one of their smoothest and most accessible albums, catapulting the band into unmatched indie popularity.
PCRC's tracks have become essential music for the woke and hip youngster. A large crowd attended their gig in October 2019 to celebrate the success of Bismillah in Delhi at Qla, a large, upscale restaurant that overlooks the Qutb Minar.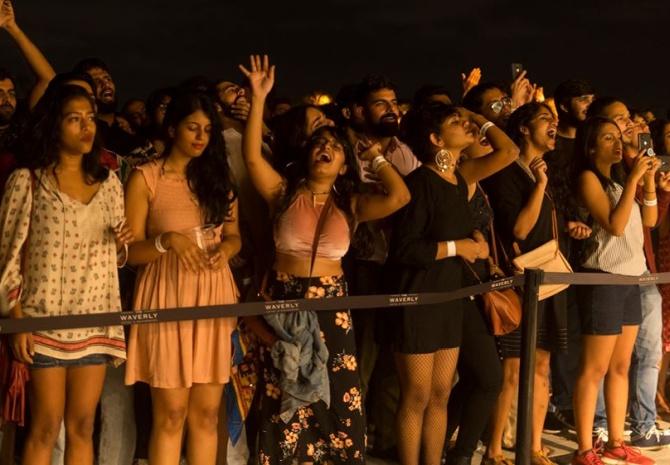 Sawhney's "artistic process" is almost classically chaotic. "I always archive or record little fragments of ideas or melodies which come to me and at some point in time, they transform into songs. A part of my brain is constantly thinking about music, I suppose."
His unstructured musical methods found a new avenue in electronic music, in Lifafa. Sawhney chose the name -- lifafa means 'envelope' in Hindi -- also because it refers to "enveloping" in electronic music, which is the way a sound rises and decays over time.
The scattered, spatial electronic music might have been a little too experimental for Indian audiences when it first launched in 2015.
But in January last year, Sawhney dropped his self-produced album Jaago onto unsuspecting listeners and somehow found instant popularity.
Overtly political Hindi lyrics, old Indian pop-inspired sounds, low-fidelity production quality (in which elements usually regarded as imperfections of a recording or a performance are audible) and natural, relatable sounds such as the sound of traffic, suddenly made him an 'it' artist.
Sawhney has taken inspiration from major British electronica artists Burial and James Blake, but has made Lifafa a homegrown project that steers clear of exoticising a bygone era of Indian music.
One of the album's songs, also called Jaago, is almost a political anthem that begins with Doob raha hai yeh desh (This country is drowning).
It is a hard-hitting, groovy beast of a song that even people who dislike electronica are drawn to.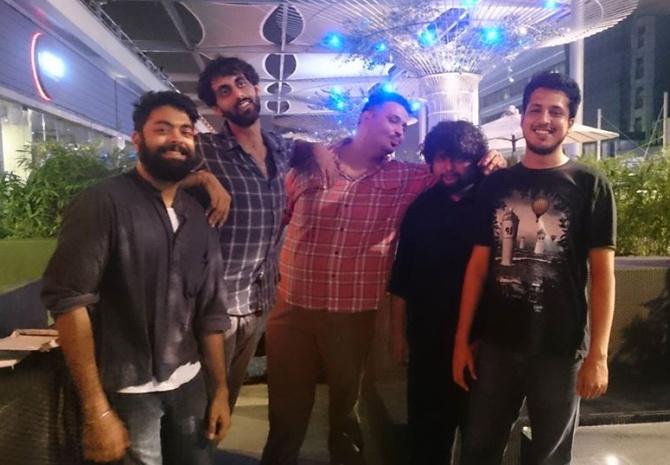 Hindi lyrics are no bar to the global appeal of his kind of electronica. "Lifafa, of course, works best in India, considering the language and context, but I've had some fantastic shows abroad with it, including one in Portugal where a couple decided to get married during my performance and then asked me to announce it for them," he says.
As both PCRC and Lifafa have managed to appeal to niche and mass audiences in India and abroad, Sawhney can focus on writing new music and traversing the world to connect with people and cultures through his music while French-label Panache and Indian-label Pagal Haina manage marketing and promotions.
On being asked what he likes more, being the frontman of PCRC or being Lifafa, Sawhney says creating live music and travelling with band mates is always more fun, even though Lifafa is a project that he can call his own.
"While PCRC has grown up in India, I do feel it is something meant for the entire planet and not just here. That is the real goal of the project, to become something transcultural and transnational."