Raise a toast with these fun cocktails by mixologist Sonali Mullick from Hitchki, the resto-bar chain.
The frothy Gangs of Wasseypur is sinfully refreshing with gin, rose syrup, lime juice and ginger.
With its beautiful deep purple colour, the earthy Aaj Pink Hain Paani is a magical cocktail and features butterfly pea tea.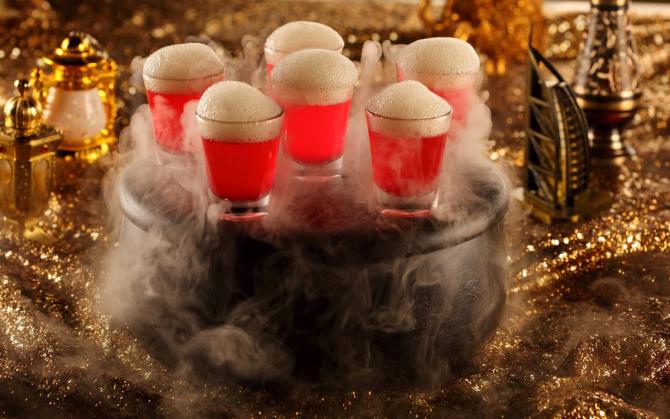 Gangs of Wasseypur
Serves: 6
Ingredients
120 ml gin
60 ml rose syrup
25 ml lime juice
30 gm ginger, chopped
200 gm ice
250 gm dry ice, you will find it at your local ice cream parlour
6 shot glasses
For the foam
2 gm Texturas lecite, a natural soy lecithin-based emulsifier available online, that is ideal for making foam
30 ml rose syrup
240 ml water
Method
Combine the gin, rose syrup, lime juice, ginger, ice and dry ice in tall jar.
Muddle (mix) and shake.
Pour into six shot glasses.
Using an immersion blender, blend the lecite, rose syrup and wateruntil it creates lots of foam.
Top up the shot glasses with foam and serve.
NOTE: The dry ice will sink to the bottom of the glass and doesn't harm your drink at all.
---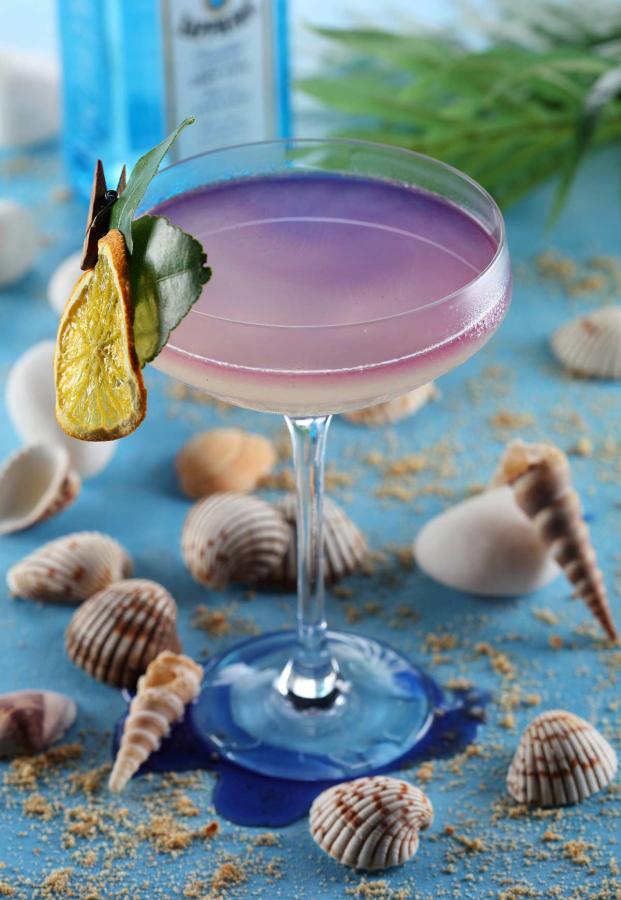 Aaj Pink Hain Paani
Serves: 1
Ingredients
60 ml gin
4 kaffir or lime leaves
15 ml lime juice
15 ml sugar syrup
20 ml butterfly pea flower tea, odorless with hues of blue, violet and purple, it is a native plant in Southeast Asia that is available online, check note on how to use it
100 gm ice
For the garnish
A coupe glass (please see pic above)
Dehydrated orange slice

Kaffir or lime leaves
Method
Combine the gin, kaffir leaves, lime juice, sugar syrup and ice in a jug and muddle or mix.
Transfer into a coupe glass by straining the contents through a channi or colander.
Pour the butterfly pea flower tea on top.
Garnish with an orange slice clipped together with the kaffir leaves.
Serve.
NOTE: If you are using butterfly pea flower tea infusion, you can use it directly.
If you are using the flowers, then brew 1 tbsp in hot water for 5-6 minutes, cool it and then use.