A star behind the bar, Sonali Mullick loves to serve cocktails with a twist.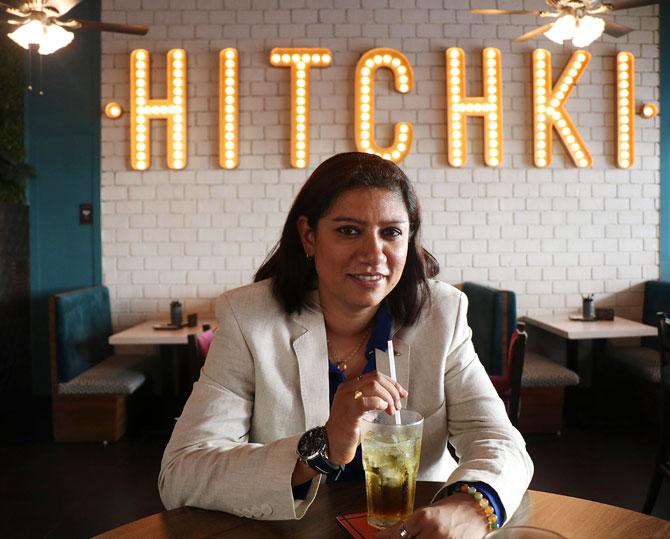 She loves the attention one receives behind the bar and her infectious smile can brighten up a dull day.
Her bindass (carefree) attitude makes her a crowd-pleaser and she wouldn't dare bore you with classic cocktails.
Meet Sonali Mullick, a mixologist who started tending bars 15 years ago.
Back then, she often overheard people saying, 'Yeh ladki hain, yeh bar ke peeche kya kar rahi hain (She is a girl, what is she doing behind the bar)?'
"Things have changed now," says Sonali. "People have started appreciating women bartenders. Shatbhi Bas (one of India's earliest women mixologists) was the one to set an example."
Today, Sonali is among India's top mixologists, shaking things up with novel pairings and unusual ingredients.
"At HITCHKI (a popular restaurant at BKC, the business district in north-east Mumbai), we have drinks made with rasmalai and rasgulla. We're experimenting with sushi and fungus and have introduced infusions with mangoes and herbs," reveals Sonali, who is also the head of operations and mixologist at Bayroute (a chain of fine dine restaurants in Mumbai).
In an interview with Anita Aikara/Rediff.com, Sonali talks about life behind the bar, carving a niche for herself in a male-dominated profession and what keeps her going.
The perks
I like to experiment with fresh ingredients -- be it fruits, spices or herbs.
I love this profession because you get to meet so many new people who have such varied taste and energy.
The journey
After I completed my hotel management course, I got introduced to the bar.
I come from a family where we drink occasionally at home.
I had my first drink, a plain whiskey soda, with my mamaji. He was the one who introduced me to drinking.
When I was a kid, I was not allowed to drink.
But once hotel management happened, I came to know that there can be so many varieties of drinks and so many methods of making them.
I got the opportunity to work in the restaurant of a five-star hotel in Mumbai. That's when I met Shatbhi Basu. And my whole life changed.
WATCH: Take Five with Sonali Mullick
Did you always want to be a bartender?
I was never sure of becoming a bartender or turning into a mixologist.
My forte was operations and handling guests.
Shatbhi was a huge influence. I saw the attention we got behind the bar and loved it.
I started mixing and experimenting and there was no turning back.
The challenges
I have been lucky. Thankfully, nothing bad has happened.
The other challenge is that you have to think out-of-the-box.
Mixology has opened up so many spheres. It no longer just about classy cocktails. It is about invention.
At HITCHKI, we have drinks with rasmalai and Kolkata's famous rasgullas. We're experimenting with sushi and fungus and have introduced infusions with mangoes and herbs.
I have to live up to people's expectations and know which ingredients are in, which are out.
I need to be creative and never be scared to experiment.
Being a woman mixologist is tough for some. If you are not coming from a sound background, it can be difficult.
If your parents are not supportive and don't respect your profession, that can be a big drawback.
I have always lived at home. I lost my dad when I was really very young. My mother had raised me and she has been very supportive.
She allowed me to do hotel management and respected my decision. She understood there were going to be late nights and she ensured I would be dropped back post a late night shift.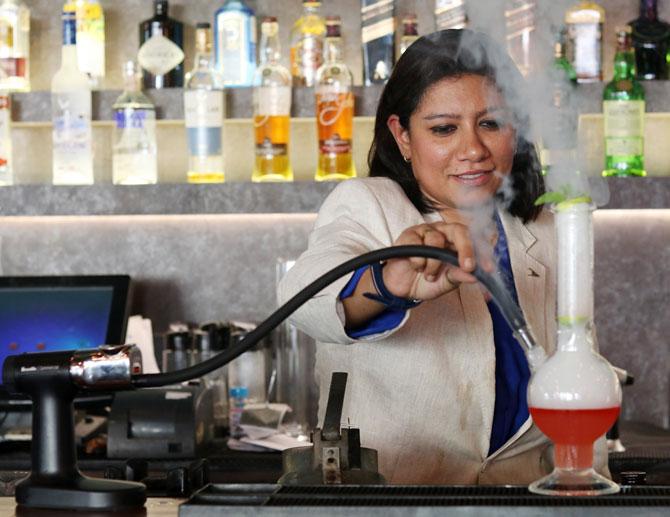 Who make better bartenders: Women or men?
My vote goes to the women, of course! We have better taste.
The trick to being a good bartender
Keep your ears and eyes open. You need to trust your taste buds.
The trick to being a good mixologist
Never stop experimenting. You never know what you will discover through your experiments.
How important is it for a woman behind the bar to look good?
All a woman needs is a bindass (carefree) attitude.
WATCH: Sonali Mullick shows you how to craft funky cocktails.
Qualifications required for a bartender
A hotel management course will teach you the basics.
But a bartending course will help you learn the skills.
After the course, it is important to work in a hotel or a standalone (restaurant, bar or pub).
A standalone will help you learn more because you are doing everything yourself.
Advice for those who want to get behind the bar
Come what may, don't give up. There will be a lot of challenges involved.
Keep trying and one day you will succeed. Experimentation is the key to your success.
Remember, if your ideas are good and creative, you can never go wrong.
Cheers and mast raho always.