Will you have it with bacon. No?
What about marigold?
Bar chefs are really mixing it up these days, writes Avantika Bhuyan.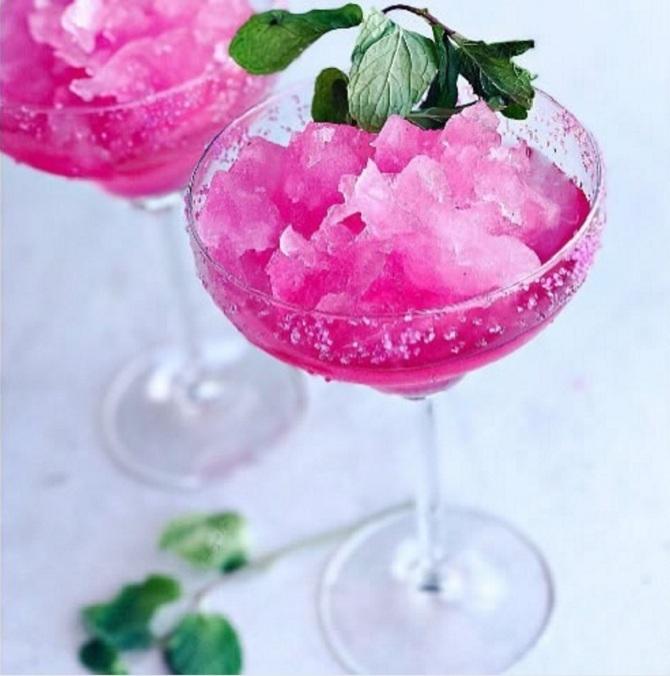 Photograph: @snowyrivercocktails/Instagram
Gone are the days of cloyingly sweet martinis, made with dashes of synthetic litchi and green apple syrups. Going back to a more natural larder, bar chefs are using tree barks, roots, fruits, spices and other aromatics to elevate the taste of your cocktail.
Bacon in your drink
Compared to bitters, shrubs are easier to make, taking a mere 25 to 30 minutes. Relying on the interaction between vinegar, fruits or herbs and spices and sugar, these concoctions have become a favourite with mixologists.
Shrubs allows them to give free reign to their imagination, mixing and matching ingredients such as sandalwood, marigold, bacon and bamboo with relevant liquors.
At Toast & Tonic, for instance, shrubs are the centrepieces of the cocktails, which celebrate the iconic gin-and-tonic combination.
'They are completely natural, with nothing artificial going in. A lot of thought goes behind these in order to make a structured and complex cocktail,' says Nakul Chandra of Toast & Tonic, Mumbai.
The subtle use of flavours such as lavender, elderflower, cinnamon and star anise to add a layer of complexity to the botanical-heavy gins is a great way to heighten the enjoyment of the ubiquitous gin and tonic.
At his other eatery, The Fatty Bao, every part of the plant -- from the root to fruit -- is used to cook the shrubs and syrups.
'We highlight Asian ingredients such as chamomile, wasabi, bamboo and green tea. Fruit or spice is cooked along with sugar and apple cider vinegar till the bite of the vinegar goes away. Made in small batches, these can be used over four to five days,' says Chandra.
Pairing it right
Your cocktail can turn into a wonderful playground of sweet, acidic and bitter flavours, only if you know which spirits to pair the bitters and shrubs with. Finding the right combination takes months.
At Aer- Bar and Lounge, at Four Seasons Hotel, Mumbai, mixologists, led by Ashish Sharma, spend two to three months trying various cocktail-bitter combinations.
This process can be seen at Slink & Bardot, the sleek new French resto-lounge in Mumbai, as well.
'We make vegetable bitters, spice ones and dry fruit ones as well. The veg ones pair well with gin and vodka to make dry cocktails like a martini. Floral ones such as lavender or chamomile, too, can be paired with white spirits to lend a hint of sweetness,' says co-founder Nick Harrison.
At his restaurant, it is the dry fruit ones that have been a great success. The cherry wood and vanilla bitters have worked wonders when paired with whisky-based cocktails.
On a revival trail
Bitters have been around for centuries. In fact, the first printed usage of the word 'cocktail' contains mention of 'bitters' in it.
According to an article in The New York Times, 'high-proof tinctures of roots, barks and aromatics, bitters were included in 166 drinks in The Old Waldorf-Astoria Bar Book, published in 1935.'
A dash of bitters is known to transform as well as balance out a drink. However, over time, their use declined -- no one was willing to put in effort to master a recipe that was developed centuries ago -- till revivalists such as Gary Regan embarked on a bitters trail and brought them back into vogue.
However, in India, the bitters found themselves tangled in a nasty web of import duties.
'A few years ago, the government discovered that bitters had an alcohol base and clubbed it with the liquor category. The duties skyrocketed and made it difficult to bring in an already premium product,' says Manu Chandra, chef-partner, Toast & Tonic.
That's when chefs decided to rely on their own unique skills to make these in-house. 'I have started a range of tinctures and infusions, which I mature for six months to a year. I use these in combinations to get the flavour profile closest to the bitters,' he says.
At 212 All Good, Mumbai, the idea to create bitters in-house stemmed from the overall philosophy of clean eating.
'Sixty years ago,there was no artificial flavouring and cocktails were all about liquor and natural flavouring. We decided to get back to that,' says Tanai Shirali, director (operations), Bellona Hospitality Services, which runs 212.
The team has created five-plus bitters after much research and experimentation.
'We went to Vrindavan Farms and sourced hibiscus, moringa, gentian roots and green pepper in brine to make bitters such as ginger and black pepper, green pepper corn, et cetera,' he says.
Must try
Cherry Vanilla Bitters
A recipe by Nick Harrison, co-founder, Slink & Bardot
Ingredients
8 ounces dried cherries
1.5 cups bourbon
6 cardamom pods (crushed)
2 tonic beans
2 vanilla beans scraped
2 star anise
1/2 tbsp gentian root
1/2 tbsp cassia chips
1/2 tbsp wild cherry bark
Method
Combine all the ingredients in an airtight container. Let it sit for three months.
Resist the temptation to open the lid.
Once infused, strain and put in a dropper bottle.
Strawberry shrub
A recipe by Himanshu Chaudhury, The Eau Bar, The Oberoi, Mumbai
Ingredients
Strawberries and sugar
Method
Use the cold method, as opposed to the hot method, of making a strawberry syrup. Mix the fruit with sugar and leave it overnight.
Filter the resulting liquid.
Now mix 15 ml of this shrub with vodka and white vinegar to create a refreshing cocktail.
Garnish with basil.
Guidelines to follow when making bitters: Use fruits such as oranges, plums, berries and apricots that are mildly acidic and have an element of sweetness.