Nowhere other than Goa, not even in Kerala, or Pondicherry, is the catch as fresh, the curries as redolent with spices and ingredients, says Kishore Singh.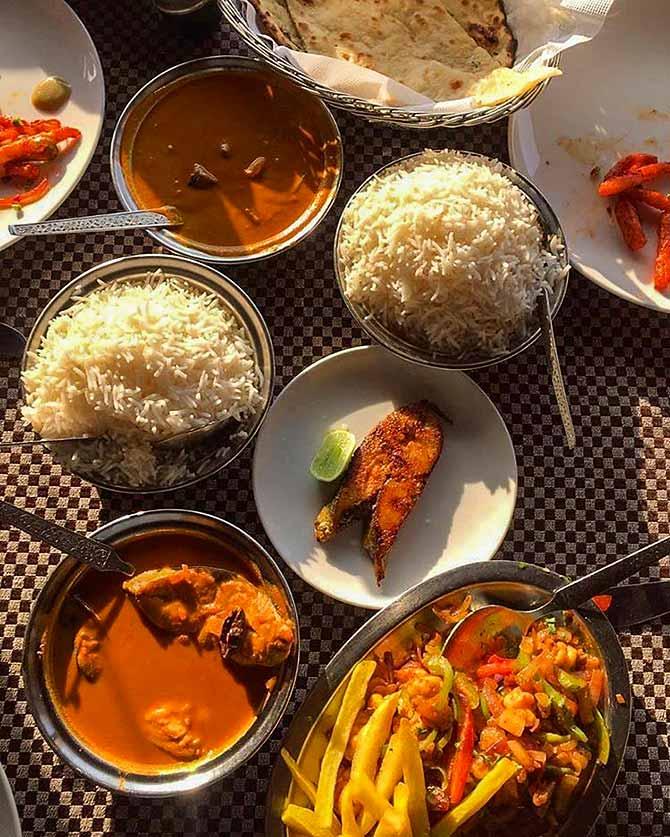 I don't go to Goa to drink.
Don't get me wrong! I love sitting at a beach shack as much as anyone else, with a G&T in one hand and the promise of a couple more courtesy of its friendly barmen.
But it's to eat that I return to Goa.
Nowhere else, not even in Kerala, or Pondicherry, is the catch as fresh, the curries as redolent with spices and ingredients.
Goa is a diner's paradise.
No restaurant -- not even those that cater to the flotsam and jetsam of tourists -- is ever really bad.
It's impossible to have a poor meal in the state.
And if you just threw up, that's the excessive beer or alcohol, not the vindaloo, doing its thing.
Time was when you hungered for Goa's fiery xacutis and balchaos, but with the arrival of a choice of food options that range from regional specialties to fusion experiments, there's enough and more to keep the palate satisfied.
On a recent, short trip I was fixated almost wholly on prawns, and did I strike pay dirt! Having skipped lunch because of a professional commitment, I was ready and more for my date with the aquatic crustacean.
There was an invitation to join a jolly bunch of revellers for a beach party, but I opted, instead, for aloneness and quiet.
A good choice as it turned out because the tiger prawns I was served required concentration, not company.
They were huge, and greatly improved by pepper, garlic and seasoning.
Cooked to creamy perfection, they lifted easily off their shells and melted on the tongue, leaving behind the lingering, salty taste of the sea as a memory.
If I had any complaints, it was that the specialty Martini Bar could not match the lobsters with equally splendid martinis, though it tried -- an absence of vermouth in Goa rendering the cocktail insipid.
The prawns at my friend Sangy's Kitchen the following day were modest-sized but announced their presence with a tingling of flavours that took you straight into food heaven.
Yet, they were mere teasers for what was to follow.
"Ignore the vegetarian stuff," whispered a well-intentioned, newly-acquired friend over cocktails spiced with kokum and other zesty things. "You won't get non-vegetarian like this anywhere else for love or money."
Verily, he spoke the truth, for what a feast there was -- pork fry and beef fry, chicken curry (also cutlets) and fish moilee, and though there were as many, if not more, things that grew on the ground or on trees, those that swam, flew, walked or crawled enjoyed most of our attention.
It was a meal meant for idling, but I had a flight to catch and had been tasked with ferrying bottles of craft gins from Goa.
I had expected to find these artisinal labels in the hundreds of 'wine' stores that line the roads, but was in for disappointment.
It wasn't till I had driven to dozens of shops that I could locate a Hapusa for my son, a Stranger & Sons for my daughter, which completed the quota the airline allowed me, forcing me to abandon the guilty pleasures of Greater Than that, it now strikes me, might have been the perfect accompaniment to the long and dull wait for a delayed flight at the state's unfortunately boring airport.
Love Goan food? SHARE your recommendations in the message board below.