Say 'hello' to Mira Patel, an aspiring model whose lingerie picks can put any of the Victoria's Secret models to shame.
At 19, aspiring model and make up artist Mira Patel is a huge Instagram sensation.
With a figure to die for and a confidence that can put seasoned models to shame, this dusky Indian beauty is living her dream right now!
'Before I even stepped foot on American soil, I would call my Foi (aunt) and tell her how I cannot wait to come the US and start wearing cute, short skirts and live in LA,' revealed Mira on Instagram as she unveiled pics of her recent photo shoot with Maxim.
'Some kids know from a young age what they want to be -- my answer always was 'A famous model',' she added.
'I know that this industry isn't all cupcakes and rainbows, it comes with a great deal of hard work, but I knew I was ready for it. Working with @maxim.india and the talented @nicksaglimbeni is just a step towards a bigger dream and I cannot wait to share more of this shoot with you.'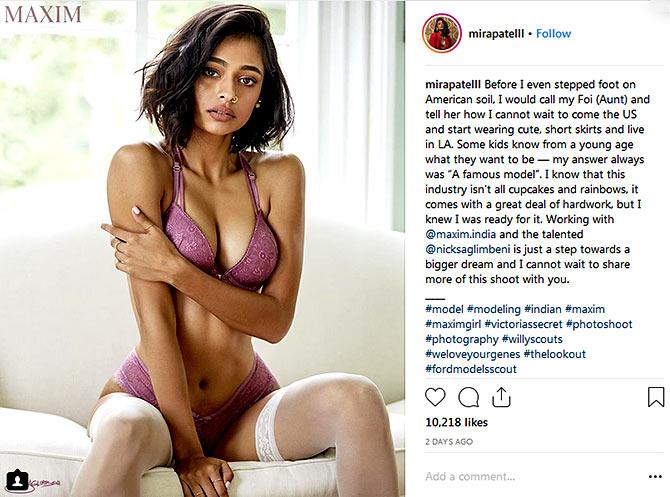 Photographs: Courtesy Mira Patel/Instagram
There's more to Mira than just her amazing lingerie shots.
She has been engaging her 50,000 plus followers on Instagram with her engaging pics on make up and Indian culture.
'Since I was little, I loved wearing makeup, getting dressed up, and going out onto the streets of my little society in Gujarat, India, thinking that those streets were my runaway,' Mira said in an interview.
'I would pose in front of mirrors all day and just practice posing, dancing to every song that played on the radio in my living room, and just being a sassy little five-year-old.
'I would dream of being a famous model and I had my talent of doing make up.'
This Navratri, she has been inspiring her followers with some stunning pics.
'I value the jewelry my mom passes down to me so greatly,' she says.
'They are so rare to find and have such special meaning behind them for me. This is from her Navratri collection and I can see where I get my taste of style for jewelry.
'I hope to save a lot of my pieces for my future daughter and I cannot wait to share more Navratri looks with you all!'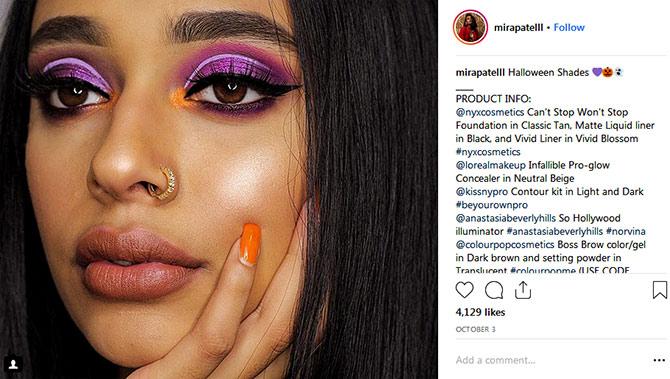 Another of her stunning make up looks.
'I started very basic. Stayed to what I thought I knew and never really pushed myself.
'After seeing the love, I got, I became confident and started to do various looks.
I now am always trying different looks whether that be with doing colorful looks to doing various Halloween or Coachella looks. I love being able to break the norms of my culture with my modeling as well.'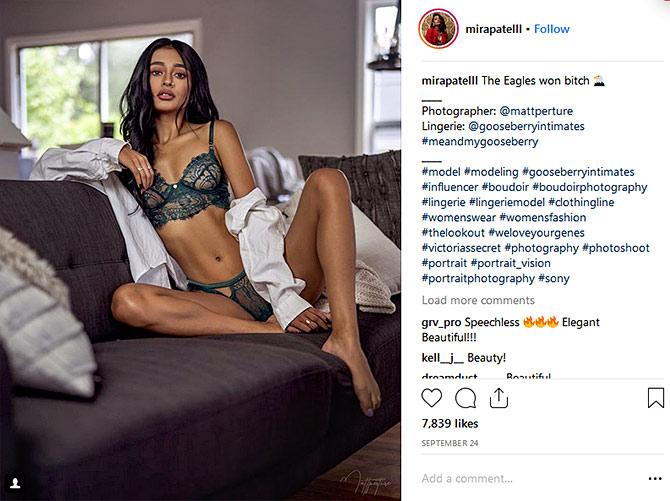 There was a time, when she moved to USA, that she got bullied a lot.
'I got bullied quite a lot for my heritage and how I looked, behaved, and spoke differently than the rest.
'It made me feel ashamed of my background and myself. I tried to be more 'American' and my mom would tease me for changing so much.'
But then she decided to embrace the real her.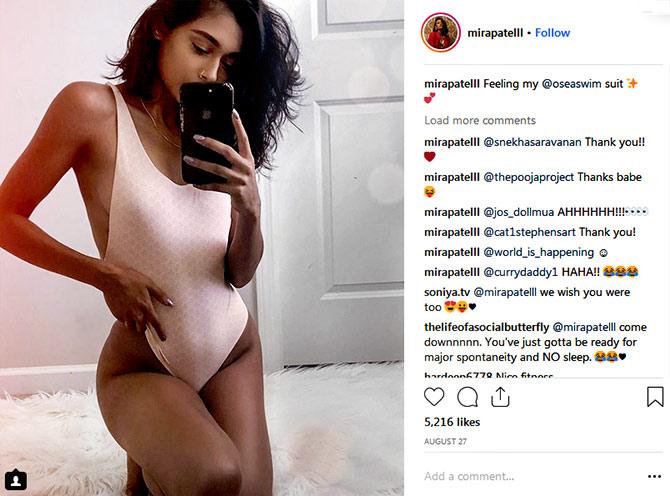 'If I were to describe myself in one word, it would be a rebel. I have the longest list of 'sh*t I wasn't supposed to do, but did'... lol.
'It's a bittersweet characteristic of mine and it has opened many doors for me.'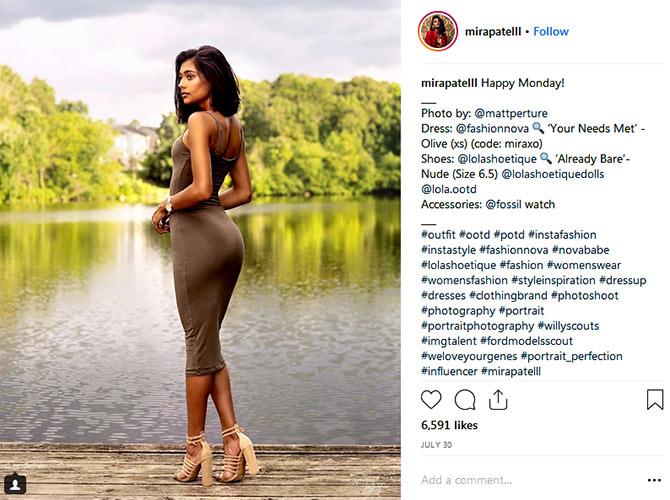 Doesn't this pic remind you of make up mogul Kylie Jenner?