A 20-year-old Kshamaya Daniel has her first experience of an Indian fashion week.
She survives it to pen this photo diary of her colourful, adrenaline-packed experiences.
Don't miss the vlog!
Photographs and text: Kshamaya Daniel/Rediff.com
Nervous.
That's how I'd describe my first day at LFW.
I'd never even seen a fashion week before, let alone reported at one.
But with the guidance I got from the godfather of Lakme Fashion Week, Rediff.com's Rajesh Karkera, I had nothing to worry about.
I was surprised when the security guards cheerfully waved at us, after recognising him, and then my jaw dropped to the floor as we walked through the venue and almost every model came up to greet and hug him. Godfather.
The sun beat down on JioWorld Garden, BKC, north central Mumbai, but the show went on.
The first one I watched was Gen Next, presented by INIFD, followed by INIFD's launchpad show in which Neha Dhupia walked.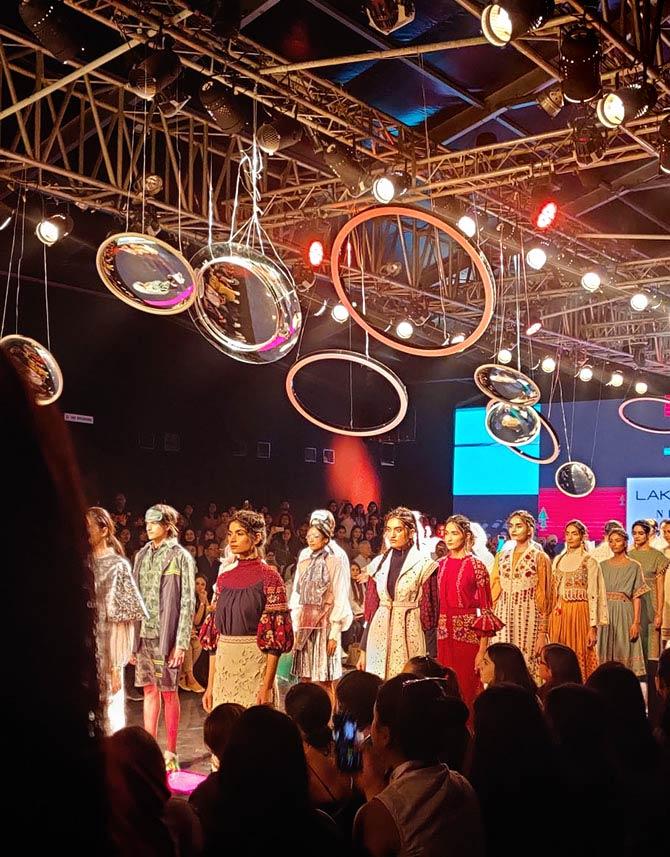 The Central Avenue was an Instagram dream.
Multiple photobooths, throne-shaped seats, snazzy red-carpet areas and, as if I could forget, crowds of fashionistas of all ages, dressed in their best.
Interviewing models, which is what I did next, was much easier than I thought it would.
I'm far from somebody who partakes in stereotypes, but I did expect them to be snootier.
I couldn't have been more wrong though.
I spoke to quite a few of them and I interviewed three, who were all very pleasant and affable.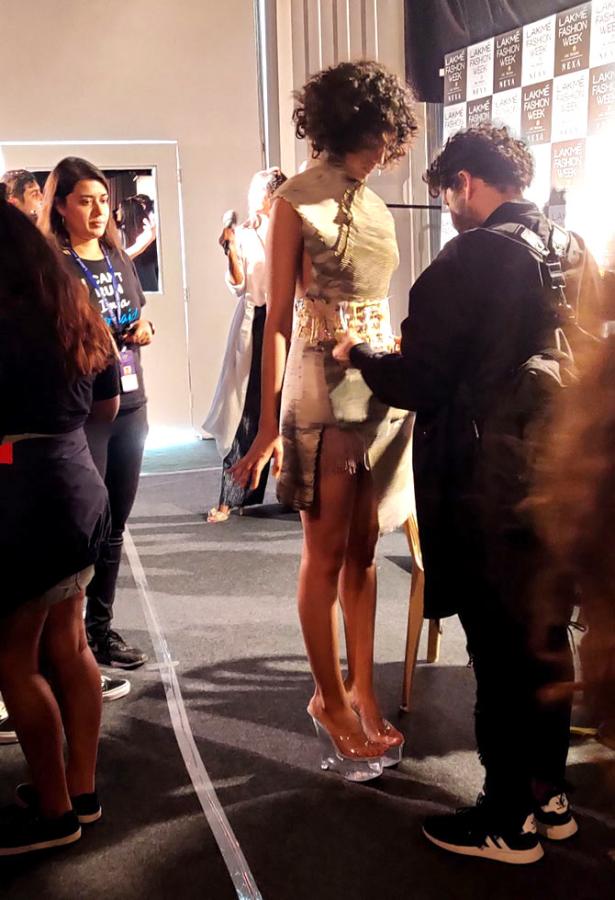 My next stop was the most exciting.
Backstage…
The excitement and bustle of the green rooms, hair and makeup and the runway were really the most stimulating of experiences.
Everywhere you looked, there were models being dressed, primed and styled, directors coaching them through rehearsals, stylists and MUAs dashing about in a dreadful hurry.
The glamour of it all was breathtaking.
It took me a whole day to get over the fear of being asked what I was doing or why I was in the middle of it all.
But truth be told, everyone was too caught up with their own stuff to even fully notice me.
Being invisible gave me the perfect vantage point.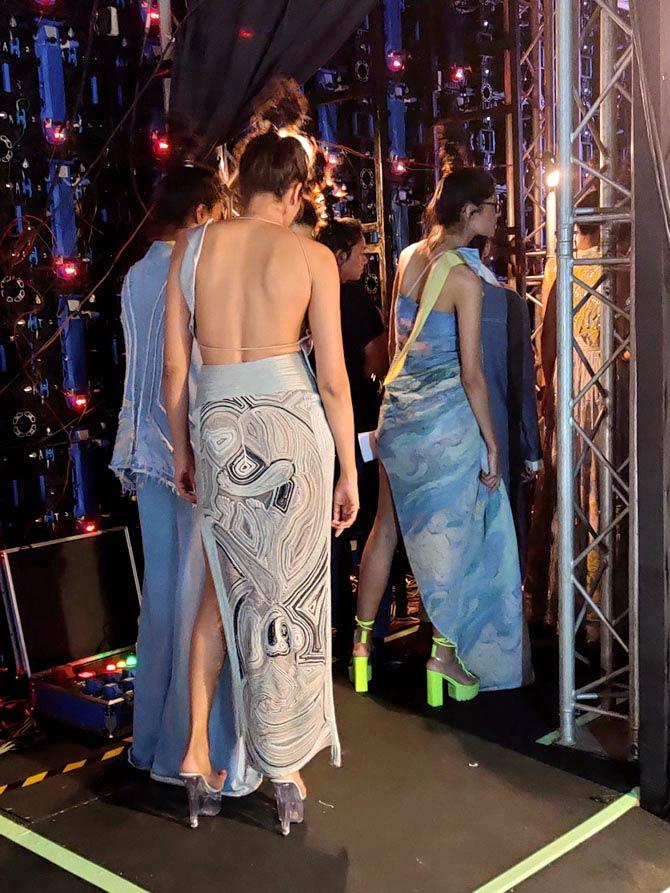 The Showroom was the antithesis of the runway.
Backstage was hectic, but the showroom was quiet and cool and smelled like fabric.
Seventy odd designer stalls sat in two long rows filled with freshly designed clothes that cost anything from Rs 15,000 to 3 lakh.
At the very end of the showroom was a fabric bar and a cafeteria featuring Dope Coffee and Chandini Chowk Chaat.
Ananya Panday made an appearance in the early evening for a quick photo-op and an interview with Anaita Shroff Adajania about her Digital Social Responsibility Initiative, SoPositive (SO+).
She was cheerful and candid and the crowd loved her.
During the question-answer session, one young man, a fan evidently, got up and serenaded her. He was rewarded with a hug from the young actor.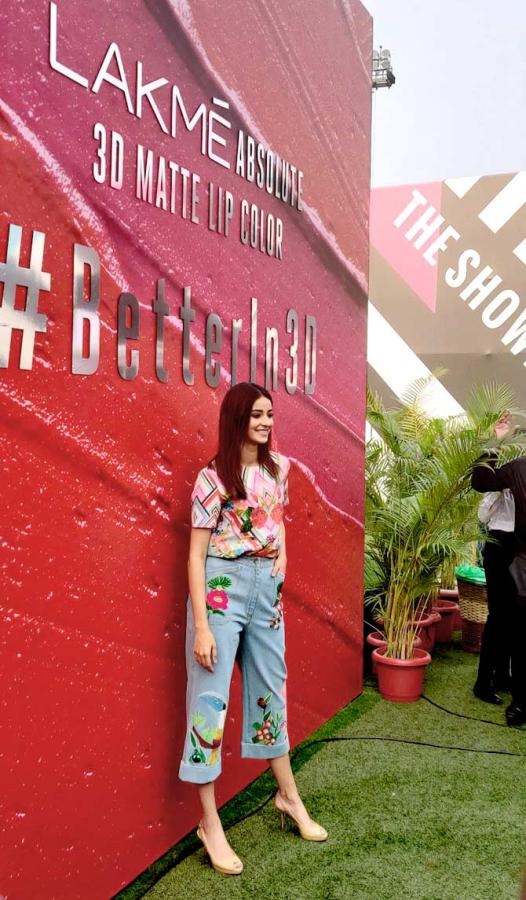 The final event of the day, for me, was the Swapnil Shinde and Vaishali S fashion show.
Swapnil Shinde's collection was modern and hot with diamonds, feathers and pictures of Cinderella eating McDonald's and drinking bourbon. Sunny Leone was his showstopper.
Vaishali S went in the opposite direction, with bold and brightly coloured ethnic pieces and Bharatanatyam dancers dotting the runway.
All of Vaishali's models walked the ramp barefoot, adding a lovely touch of Indian culture.

Post LFW, I walked to McDonald's (thank you, Swapnil Shinde) and ate steaming hot fries while spending approximately 173.2 hours finding a taxi.
I'm not sure what I expected LFW to be like, but I know it wasn't this.
The models were super friendly, the people were eccentric and intriguing and I found my groove pretty quickly.
Before you know it, I'm going to be an interview expert.
Lakme Fashion Week Day 2
With Day 1 under my belt, I was far more confident heading into Day 2.
Day 1 gave me a feel of what LFW is all about, how things work and what I'm meant to do.
On Day 2 I was feeling good in my cute outfit, I was surer of myself and I had fresh ideas and was starting the day with excitement, rather than a nervous pit in my stomach, was refreshing.
(On Day 2 I learnt a valuable lesson: always have backups. Two out of two of my great, fresh ideas didn't pan out and I was forced to improvise or be left with nothing. Day 3 will be my day though, don't you worry.)
Day 2 could be called Designer Day. I did interviews with Mohammed Mazhar, Neel and Kanika from Jajaabor and Deepa Goel from Siddh Couture.
Mazhar, whose upcoming collection embodies an interesting cross between Arabian and Cowboy, had some fabulous (and pricey) pieces to show us.
Neel and Kanika had interesting answers and a great thing about their brand is that they try to teach their patrons about different social issues through their various collections.
The Head of Security for LFW, Mr Sandeep Kumar was kind enough to have a chat with us. We found him faithfully stationed outside the celebrity green rooms and it was evident that he took his job, that he'd been doing for some 20 years.
He talked us through the requirements of his job and confessed, with a broad grin, that his favourite celebrity is "Kareena Ma'am", whom he has worked closely with on numerous occasions.
The pièce de résistance of Day 2 was doing the backstage vlog.
I'd seen how exciting and fun the runway was backstage and I wanted to share it with you guys.
So, I snagged another backstage pass and took a vlog capturing the goings-on backstage. Watch it now to get all the glamorous details!
Spicing up the afternoon, Sunny Leone arrived heavily guarded, in sparkling pink fashion to speak at the Vegan Fashion Campaign Launch by Peta India.
As she entered, I, unknowingly, cut straight across her path to the stage.
Her bodyguards looked rather bemused.
Once safely on stage, with no more interruptions by distracted interns, she spoke about the horrors that some animals face when they are used for their skins or furs and urged everyone in the audience to think twice before purchasing non-vegan fashion products.
I also crossed paths with Santoshi Shetty, blogger and social media star. She was chatty and stopped for a quick photo.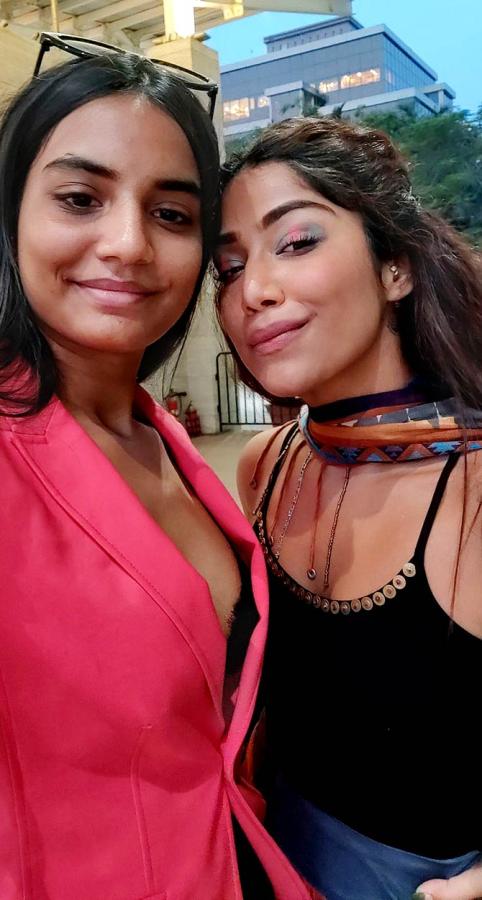 Not long after the PETA conference ended, the models gathered in the Central Avenue and there was a minute of silence to honour Indian fashion great Wendell Rodricks, who suddenly and sadly passed away the day before.
It was quite touching to see all the models there; most of them stood and bowed their heads as they observed that 60 seconds of respect.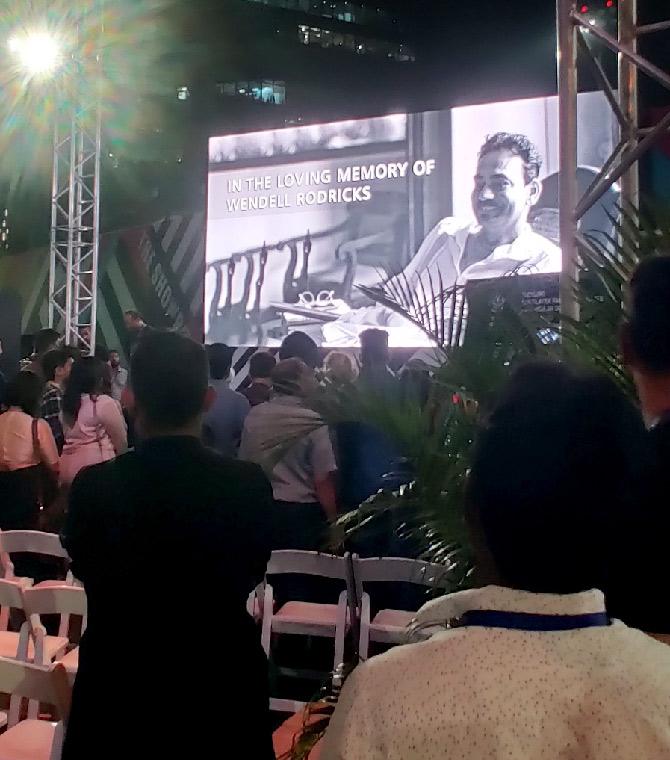 At this point, I heard a strange buzzing noise and I looked up to see that someone was flying a remote-controlled plane right over the Central Avenue. In that minute of absolute silence, the buzz of its motor was deafening.
I sort of looked around in confusion, trying to figure out who would do that and why and then I realised it was a drone and they were taking a video of the sweet moment dedicated to Wendell.
My last event of the day was 'Crafted in Crochet' by 'Shades of India,' on the runway.
The show was absolutely fabulous.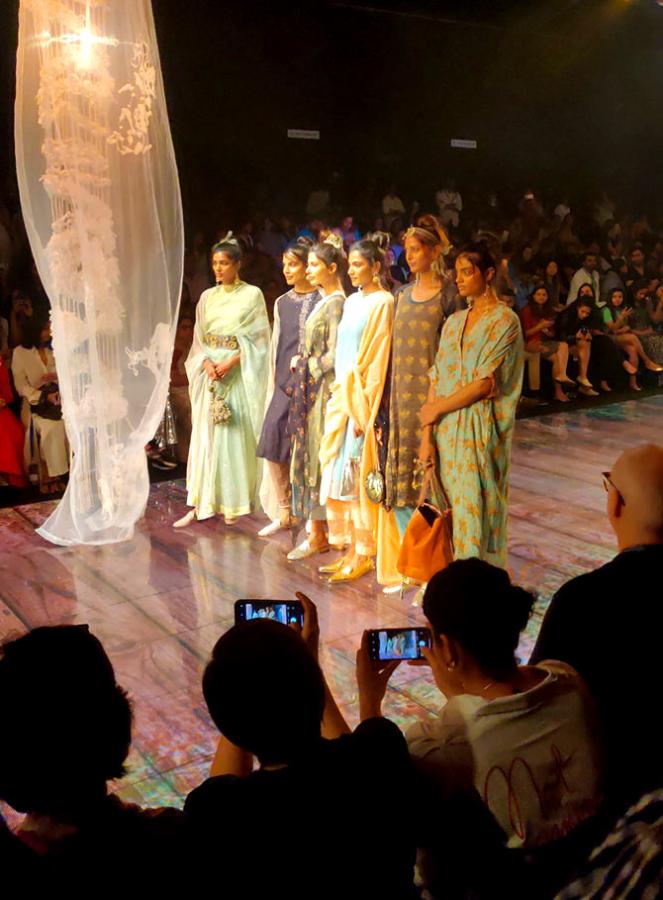 The brand, which is thoroughly indigenous, sought to showcase their grass-roots and ethnic theme through their show and they definitely succeeded.
The show began with live music, played and sung by a small group of classical Indian musicians. The first one to walk down the ramp was the lead singer, her voice sweet as honey.
In an effort to spotlight Indian communities specialising in natural textiles, the runway was decorated with flowy, cloth ornaments that had pieces of raw cotton hanging off them.
Placed sporadically in the audience were small cots, where women, in traditional Indian attire, sat cross-legged and crocheted pieces of cloth right there.
They soon stepped down and walked the ramp next.
After this is when the models began to pour out, except there were models of all ages and all sizes, in a beautiful display of inclusivity.
As I'm quickly learning that every day at LFW is magically different.
Today's sustainable fashion theme really hit the nail on the head because it's exactly what this world needs right now.
I'm excited to see what tomorrow holds and I leave you with some unordered, totally random pictures of my day.