For three years Vaishali Shadangule has been away from ramps discovering the magical essence of India, she tells Rediff.com's Prasanna D Zore.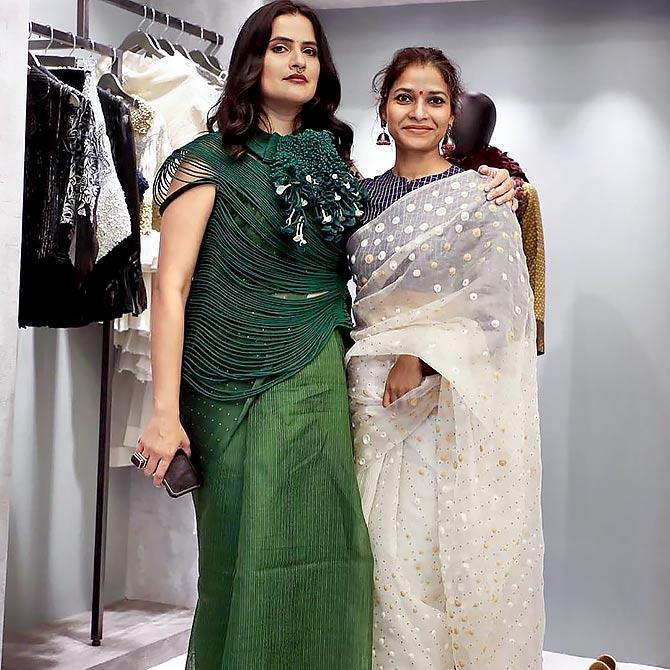 Designer Vaishali Shadangule was back at Lakme Fashion Week, Wednesday!
After a hiatus of three years.
She spent much of the time, in between, travelling through India's villages -- in search of sustainability and simplicity -- and had some life-changing experiences that only India can provide.
She spoke about the emotions that sustained the creation of this collection and, in general, about her vision.
What do you want to communicate through your designs?

I always like to give the message that we respect and appreciate what we have.
We have so much in India: How they weave in villages. How many crafts we have.
I try to get the best out of these villages and (attempt to) provide them with a market.

I travel around the world to showcase these weaves.

Tell us about your village experience.

I have been travelling through villages in Madhya Pradesh, the northeast, Karnataka.

Recently, I have adopted a few looms in Karnataka. Khun is a beautiful weave in Karnataka which is almost dying.
I am (hoping) to revive that weave and get them the market they deserve.

What do you like the most about our villages?

How they live. Their lifestyle is inspiring.
When we talk about sustainable life we forget that India always had a lifestyle that sustained itself.
It's a way of life (in villages) of reusing, recreating. No wastage. It still happens in India's villages.

What were your life-changing experience?

I really connect well with the villages; I enjoy being in the villages because my soul is from a village. I belong to the villages (she hails from Vidisha, Madhya Pradesh, near Bhopal).
I will always be like that. I will not change that.

I was not aware of fashion and design when I left my town as a 17-year-old.
I was trying to do something different.
I did a lot of odd jobs before I started getting involved with fashion design.

Is there one Indian you would like to dress?

I would like to dress everyone. They should come back to their roots. They should see what we have.
I would want to dress everyone in Vaishali's designs.

What style of Indian attire that will never go out of fashion?

The sari

Silly fashion mistakes Indians make?

Many. But I think that is just the way we are.

Would we be seeing more of you at LFW?

Yes.