These bloggers are adding fresh flavours to India's vibrant street-food scene.
Manavi Kapur and Nikita Puri report.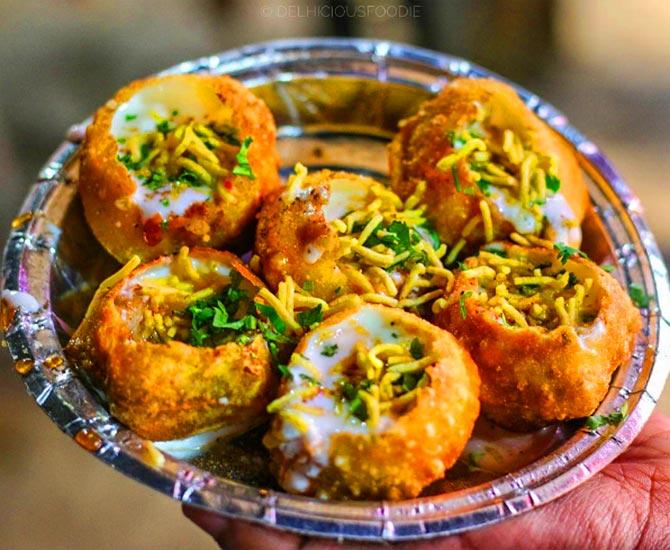 Photograph: Kind courtesy Delhicious Foodie/Instagram
'I am travelling to Delhi and want to try authentic street food. Any recommendations?'
This question often makes an appearance on social media platforms.
Usually, such posts are inundated with links to blogs and YouTube videos that indulgently chronicle every little morsel of potato that is fried, every drop of chutney making its way to the chaat plate and every move of the street vendor's hand on the quintessential tawa.
The romance of having a plate of chaat between being jostled for space in the dusty lanes of Chandni Chowk in Old Delhi is captured in painstaking detail by food bloggers and YouTubers.
A ready reckoner for those visiting a city or even residents wanting to explore new flavours, this has also meant social media stardom and a loyal customer base for street-food vendors.
A poha stall in Mumbai's Bandra East, which is run by an elderly Maharashtrian couple, saw its business almost triple after blog posts by Kalyan Karmakar, food blogger and author of The Travelling Belly, was picked up by mainstream media.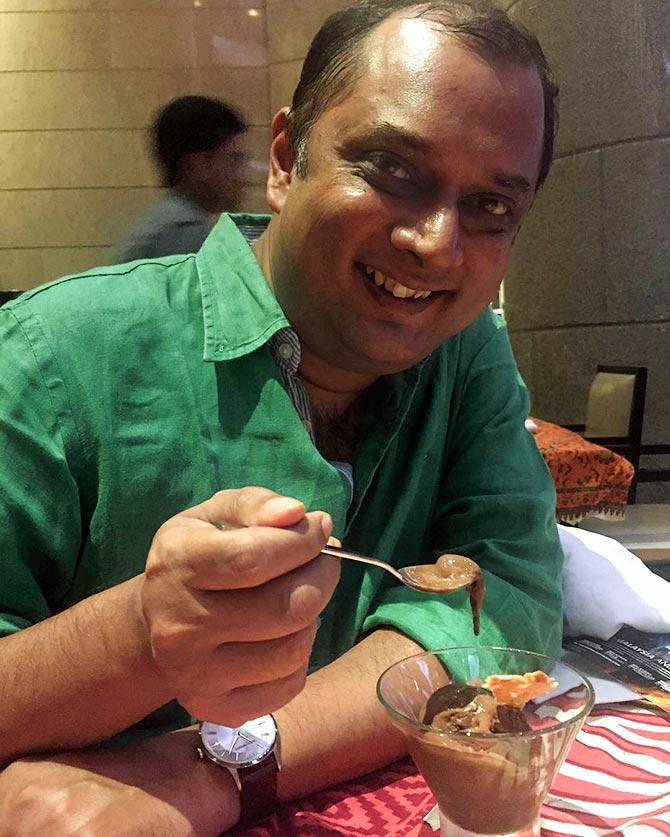 IMAGE: Food blogger Kalyan Karmakar enjoys a bowl of double chocolate gelato with no added sugar.
Photograph: Kind courtesy Kalyan Karmakar/Instagram
"I used to often go there for breakfast and blogged about them. Then a local newspaper got in touch with me, took their contacts, and wrote about them," says Karmakar.
There was no looking back after that.
Urvashi Yadav's chhole kulcha stand in Gurugram is another case in point.
An educated, upper middle-income woman, Yadav began this little business after her husband's accident left him unable to work.
Whether it was her English-speaking persona or the fact that she wore an apron, bloggers soon began writing about her vend, eventually leading to news reports in mainstream media.
"I could not have even imagined sustaining this business had it not been for those who blogged about my stall," says Yadav.
While the plans to open her own restaurant have been stalled for the moment due to permit issues, her Municipal Corporation of Gurgaon cart has become a landmark in Gurugram.
As far as landmarks go, Natraj in Chandni Chowk, famous for its dahi bhalla and tikki, commands a street name of its own.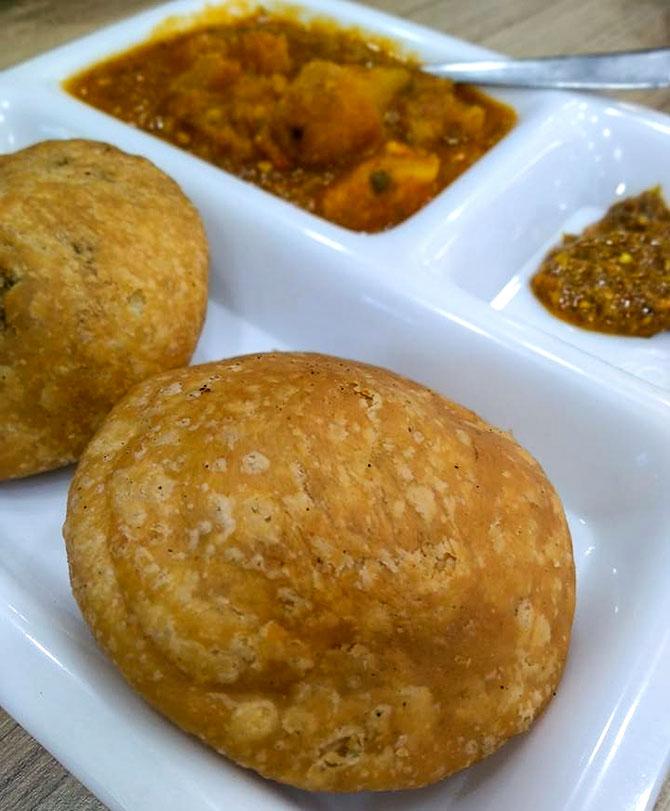 IMAGE: Have you tried the kachoris at Bengali Sweet House in Delhi?
Photograph: Monali Sarkar/Rediff.com
Though every nook and cranny of the bustling market is dotted with street food vendors, Natraj belongs to an era where generations of the same family take forth a culinary tradition laid down by their great grandfathers.
Jitin Sharma, the nephew of the current owner, is slow to smile even when he makes jokes about the culture of Chandni Chowk.
"How much can bloggers help business if we can't keep Chandni Chowk clean and safe?"
A crowd gathers and looks on, presumably used to the shop being photographed often.
"It always helps to have our name on popular blogs and be featured in videos. There is new clientele in those visiting Delhi," says Sharma.
As if on cue, a group of three friends stops outside Natraj and orders two plates of dahi bhalla.
Promptly, three smartphones zip out of their pockets and each of them struggles to get the light right for Instagram.
Street-food vendors notice such trends.
Unlike a couple of years ago, when any vendor would be wary of being photographed or stop visitors from making videos -- essentially for the fear of being harassed by local authorities -- today they welcome the prospect of their food being popularised on social media.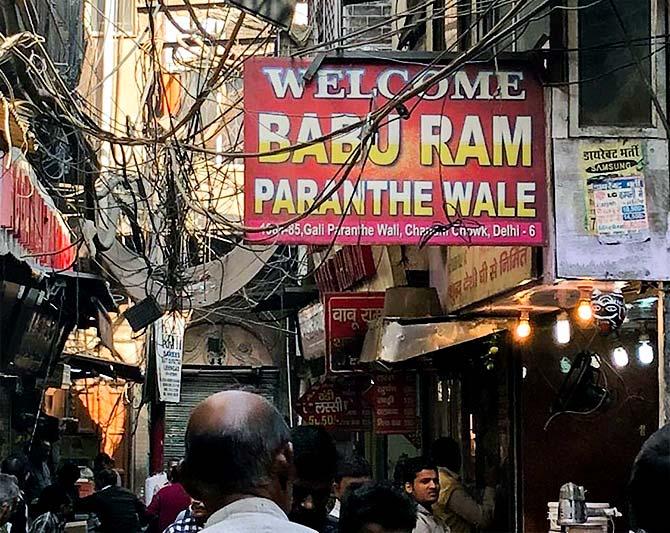 IMAGE: The famous Gali Paranthe Wali in Chandni Chowk, Delhi.
Photograph: Monali Sarkar/Rediff.com
For instance, the Old Famous Jalebi Wala in Dariba Kalan, Old Delhi, has a small Google sticker inside his shop.
"We don't post anything online. But I'm sure you must have read about us on several blogs. Did you see the video on YouTube of our jalebis being made?" asks the helper in the shop.
While they may not adopt newer business models, old-school shops are opening up to and embracing their secondhand presence on social media.
"There used to be a time when I would go out to click photographs and street food vendors would ask me to pay them," says Priyadarshini Chatterjee, a Kolkata-based food writer.
"Today, vendors often ask me if I will post them online."
This has changed with vendors becoming aware about their rights under the Street Vendor Act, 2014.
Under the Act, states are to appoint Town Vending Committees that would conduct surveys of the number of street vendors and ensure that their livelihood is secured.
The vendors are also to be allocated a designated vending zone, which would prevent their harassment at the hands of civic authorities.
"Other states should learn from Bihar, which has been able to implement the Act quite effectively," explains Wajiha Aziz, programme manager at the National Association of Street Vendors of India.
In several countries abroad, street food "is part of the local, everyday culture and not restricted to some novelty value.
"The perception about Indian street food needs to change before we can reach that level," says Chatterjee.
Social media, she adds, helps by also giving vendors "some form of recognition when a customer comes to them and says that he or she saw their video online."
There is a strange attraction to these videos and those who make them know it.
Slow-motion, time-lapse and boomerangs -- vloggers know exactly how to use technology to tap into their fan base.
Several videos on YouTube chronicling nothing more than a tawa frying some eggs and buns, for instance, have over 100,000 views.
It is almost as though the growing viewership of these quirky videos has transferred the quirk on to street food, too.
If a trend begins in one part of town, it swiftly permeates to all street food hubs in the city, barring only the staunchly traditional ones.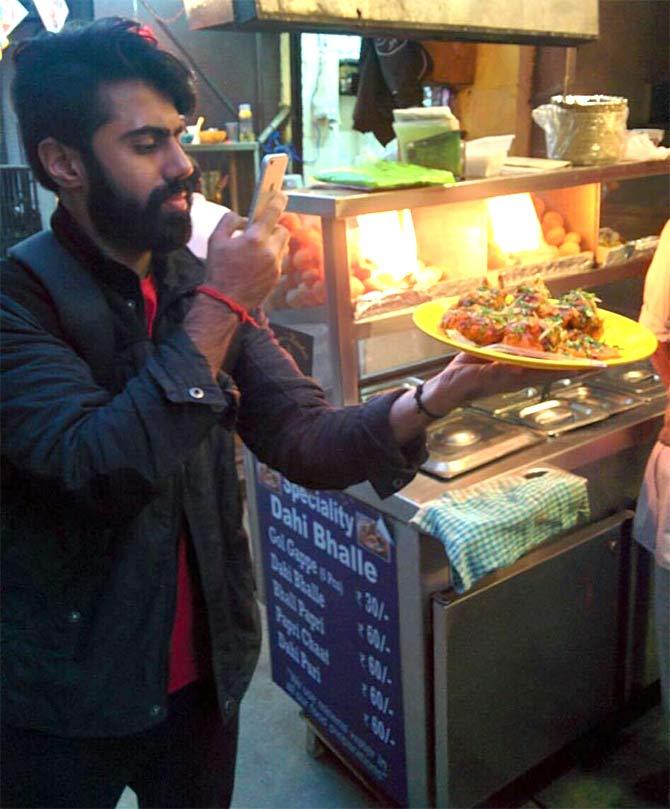 IMAGE: Foodie Himanshu Sehgal decided to pick up a yellow plate and roam the streets of Delhi exploring the food options there. Today he runs a successful food blog called My Yellow Plate.
Photograph: kIND Courtesy Himanshu Sehgal/Instagram
You can read his story here: That boy with the yellow plate
For instance, tandoori momos began as an offbeat food trend in North Campus in Delhi, and quickly spread to areas such as Amar Colony, Lajpat Nagar, Rohini and Punjabi Bagh.
There is also pride in the number of flavours or varieties the vendor sells, especially since it plays up well with blogs looking for click-bait headlines.
"Paneer and corn masala, with lots of cheese, please," says Ishan Mukherjee, an e-learning content developer in Bengaluru.
It isn't a sandwich Mukherjee has requested for, but a dosa from a stall offering '99 varieties of dosa'.
When he first moved to the city a couple of years ago, Mukherjee stumbled on videos of these stalls all over YouTube; he's been hooked on cheese on veggie-laden dosas ever since.
These dosas, served on plastic sheets laid out on steel plates, make for an easy and satiating meal for those on their way back from work.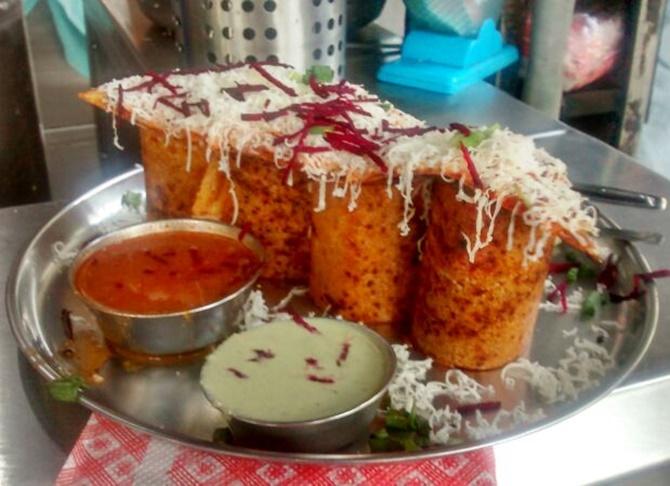 IMAGE: Consider yourself to be a die-hard foodie in Mumbai?
Then you must have tried the boat dosa.
It's a hot selling item! Close on its heels is the pizza dosa and pav bhaji dosa.
Photograph: Laxmi Negi/Rediff.com
The prep work for these motorised dosa carts begins around 5 every evening, with kilos of finely chopped capsicum, followed by tomatoes, mushrooms, boiled cauliflower, spinach, onions and more, all saddled beside bowls of different chutneys and a pan brimming with boiled hakka noodles.
Made in butter, the menu actually lists 99 combinations of dosa toppings varieties like Chinese dosa and pizza dosa.
Some of them have even moved to adding Cadburys as the primary ingredient (chocolate crepes, anyone?).
"I would have eventually found my way to one of these stalls since there are so many of them, but the videos I saw definitely quickened my pace.
"It looked clean and filling, and let's not forget the cheese," says Mukherjee.
In one of the columns at The 3 Hungry Men, a food-blogging Web site, the bloggers focus on Thindi Beedi in V V Puram, a 300-metre stretch that comes alive with food carts every evening in Bengaluru.
These carts offer treats like rasgulla chaat, curd kodubale (rice and gram fried rings), avarekalu akki rotis (rice flour rotis with hyacinth beans) and dal ubbattus (the regional version of Maharashtrian puran polis).
"The best kayi (coconut) ubbattus are at the end of the Thindi Beedi lane, next to the bhajji centre," comments one of the blog's followers, sharing how she packs a few of these crispy fares home for later, well after stuffing herself.
The interaction continues, and personal recommendations do always come in handy.
The thrill of finding a hidden gem is also what drives some bloggers and their followers.
The growing popularity of food walks belongs to this realm, which is especially true for cities with a melange of cultural heritage.
Mumbai is a perfect example of this phenomenon.
Food differs between areas of the city and several localities, such as the Bohri Mohalla, remain unknown even to old timers.
While some shops like Taj Ice Cream have been in existence since 1887, it is only now that they are gaining popularity because of food walks and the subsequent blogs and vlogs.
Taj Ice Cream now regularly features on several lists of must-eat places for Ramzan.
"Street food walks help those who don't eat on the streets break their mental barriers and try out street food," says Karmakar.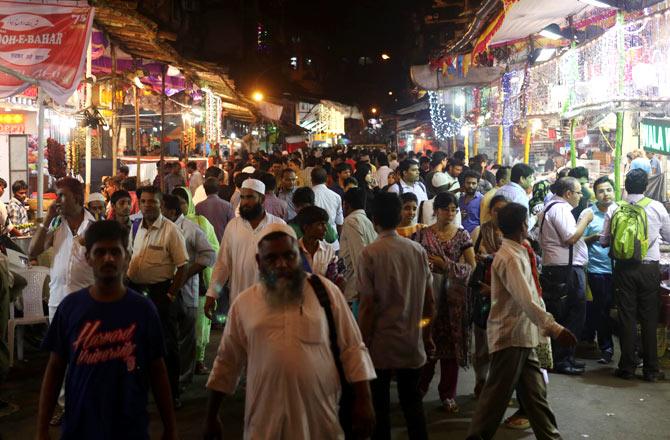 IMAGE: This is what Mumbai's Mohammed Ali Road looks like during Ramzan.
Some flock here to break their fast and have iftar while others come to explore and share their love for tummy-happy food.
Photograph: Hitesh Harisinghani/Rediff.com
But do such blogs and walks make a substantial difference?
"The food cart guy is definitely going to have a crowd on Saturdays, irrespective of whether I put up a post on Friday or not, but I think it definitely helps.
"The hardest bit about street food blogging is that you can never be sure of the return on investments," says Colin D'Souza, co-founder of The 3 Hungry Men.
His Web site gets about 5,000 hits daily and his Instagram page has over 10,000 followers.
Would a newer audience, brought in via social media, mean the primary audience starts avoiding these vendors?
Would it lead to an increase in fare, and become less aspirational for those on the street?
"These questions can only be answered when blogging about street food truly becomes a social phenomenon", says Sid Khullar whose Chef at Large reportedly reaches 20 million foodies.
"I don't think blogging has made enough of a difference to street food yet, so we can't draw any conclusions as of now," he says.
However, blogging about street food has attracted the attention of tourists, Khullar points out.
"At the end of the day, any publicity is good for business."
A symbiosis between street food vendors and bloggers is only a beginning.