Misal Pav, the delicious Maharashtrian snack served at Mumbai's Aaswad restaurant won the prize at the global Foodie Hub Awards in London.
The humble misal pav served at Dadar's Aaswad restaurant has been named the world's tastiest vegetarian dish at the Foodie Hub Awards in London.
Misal is a spicy curry made of moth beans or dried peas and served with boiled potatoes and garnished with raw chopped onions and farsan.
Often served with curds and pav (or bread), misal is a breakfast snack that is also eaten at lunchtime.
With its roots in the Kolhapur region of Maharashtra, the dish has several variations across the state.
Some variations get their names from the ingredients that go into it: Dahi Misal is misal served with curds and Shev Misal is, well, served with sev.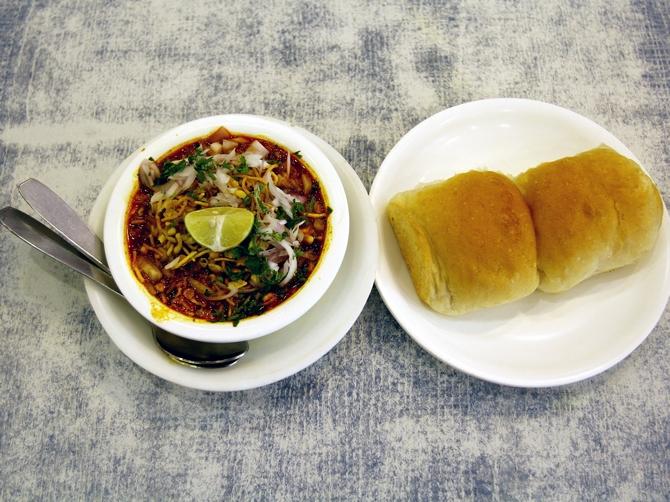 But most variations simply take the name from the region they are served in:
Puneri misal: Pune.
Khandheshi misal has its roots in Khandesh, the region in northwestern Maharashtra.
Nagpuri misal: Nagpur.
In Pune the spices are toned down but Mumbaikars prefer it spicy, says Kalyan Karmarkar who is the Foodie Hub Expert for Mumbai and who nominated Aaswad's misal for the awards.
Kolhapur, largely believed to be the home of the misal, serves the spiciest variation of it and is called the Kolhapuri misal.
Located in the heart of Dadar in central Mumbai, just a hop-skip-and-jump from the headquarters of the Maharashtrian right wing political party, Shiv Sena, Aaswad was inaugurated by the late Bal Thackeray in 1986.
Today, Aaswad serves some 400 plates of misal pav every day.
Suryakant Sarjoshi, Aaswad's owner who seems rather chuffed with this honour, tells us that it earns the restaurant about Rs 19,000 daily.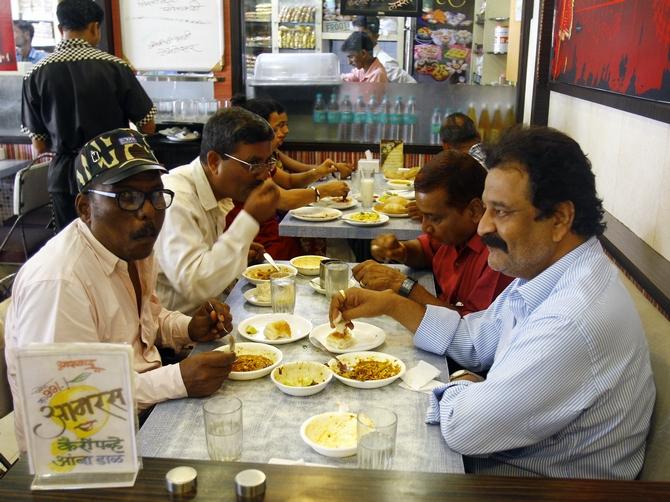 Then there is Vilas Taral who gives us a crash course in making the misal:
First moth beans, garlic and onions are boiled in water along with curry leaves.
Add grated coconut and misal masala and continue to boil.
Separately heat two tablespoons of oil and add mustard seeds, asafoetida, cumin seeds and garlic and add to the curry.
The final flourish comes in the form of farsan, sev, onions and tamarind chutney.
The dish is typically served with bread and butter.
Among several patrons of the restaurant is Vilas Gurav (62), a former police officer who was enjoying the dish when we arrived.
"I travelled all the way from south Mumbai just to have this misal. The quality is outstanding," he says.
It is a sentiment that Kalyan Karmarkar echoes.
"Aaswad's misal is always fresh, the amount of spices added is perfect and the quality of the farsan is very good. It doesn't make you feel heavy because they don't use inferior oil," he says.
Besides misal, Aaswad is also famous for several other Maharashtrian dishes such as the thalipith, kothambir wadi, piyush and aam panna.
Aaswad
Shivaji Park, Dadar (W)
Mumbai
Tel: 022-2445-1871/2445-1876
As with all Indian dishes, misal is made differently across the state.
Every home has its unique misal recipe.
Are you as mad about misal as we are? Share your misal recipes!
Email them to getahead@rediff.co.in (subject line: 'Mad about misal') and we will publish them on Rediff.com.
Don't also forget to add a picture of your creation to go with the recipe!
> More food features and recipes here
Photographs: Hitesh Harisinghani/Rediff.com