From Jalandari seekh kebabs to gajar ka hawla, presenting three yummy winter recipes.
Jalandari Seekh Kebab
---
Ingredients:
1500 gm lamb mince
50 gm garam masala
50 gm red chilli powder
50 gm coriander powder
50 gm turmeric powder
50 gm jeera powder
50 gm fresh coriander
100 gm ginger
100 gm garlic
50 gm salt
Method:
In a bowl, add lamb mince and all the other ingredients. Mix using a mixer and ensure that all the items are minced properly.
Take a skewer and make a seekh out of it. Cook the lamb mince in tandoor pot. 5. Serve with mint chutney and fried garlic raita.
---
Bhatti Ka Murgh - Pindi Wala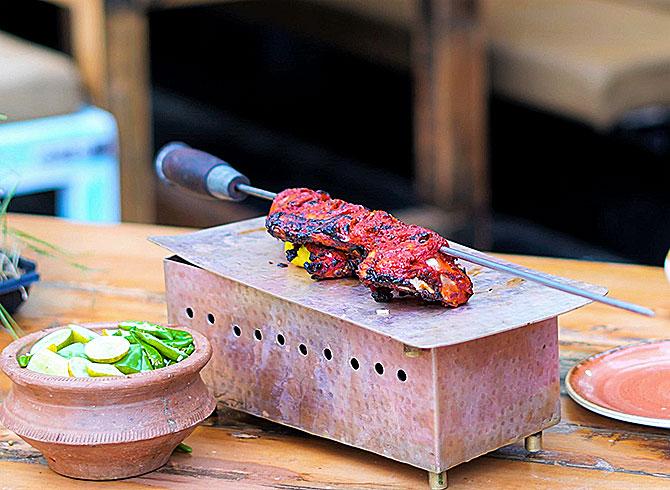 Ingredients:
3 tbsp mustard oil
1 tsp ground coriander
1 tsp ground cumin
1 tsp ground turmeric
1 tsp degi mirch
1 tbsp garam masala
1 tbsp red chilly powder
1 cup plain yogurt (hung)
2 tbsp lemon juice
10 gm ginger garlic paste
Salt to taste
4 whole chicken legs (drumsticks and thighs)
Method:
Heat the oil in a small pan over medium heat, then add coriander, cumin, turmeric, degi mirch, garam masala and red chilly powder, stirring continuously, until fragrant (approximately 2-3 minutes). Let it cool completely.
Whisk spices into yogurt, add lemon juice, garlic, salt, ginger.
Cut deep slashes into chicken, coat with marinade, chill.
Coat the chicken in the marinade, cover and chill for at least an hour (preferably 6 hours).
In a clay oven/tandoor ensure temperature is right, skewer the leg and cook it in the oven for 12-15 minute. Once the desired colour is achieved, cover the chicken with a silver foil and cook until done. Once cooked remove it from the skewer and coat with a mix of cream and butter and serve hot
---
Gajar ka halwa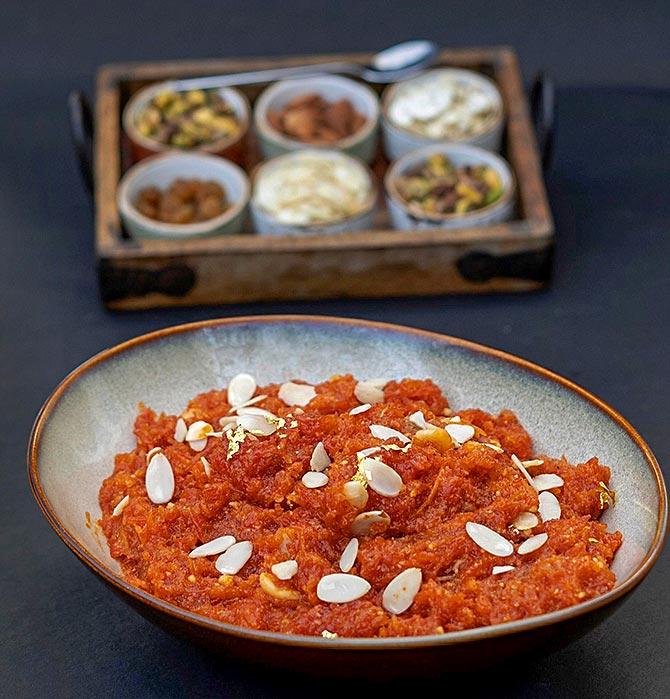 Ingredients:
500 gm carrots
480 ml full fat milk
60 gm ghee
1 tsp freshly ground cardamom powder
150 gm sugar
125 gm khoya
Almond and pistachio slivers for garnishing
Method:
Wash, peel and grate carrot to medium thickness. Add with milk in a heavy bottom pan and cook on low heat until the milk is absorbed.
Add ghee in the pan along with cardamom powder. Fry for 4-5 minutes on low heat. Keep stirring continuously. Add sugar and cook for another 4-5 minutes. Add grated khoya and cook for 15-20 minutes on low heat until ghee starts to leave on the sides. Keep stirring in between. Garnish with almond and pistachio slivers. 10. Serve warm. -
---
Amandeep Singh is the chef de cuisine of Bengaluru Marriott Hotel Whitefield. He can be contacted on ga@rediff-inc.com.
---