Gaurav Chawla, Corporate Executive Chef at First Fiddle Restaurants, shares three recipes from his specially curated menu at Tamasha, Mumbai.
Mini Margherita Kulcha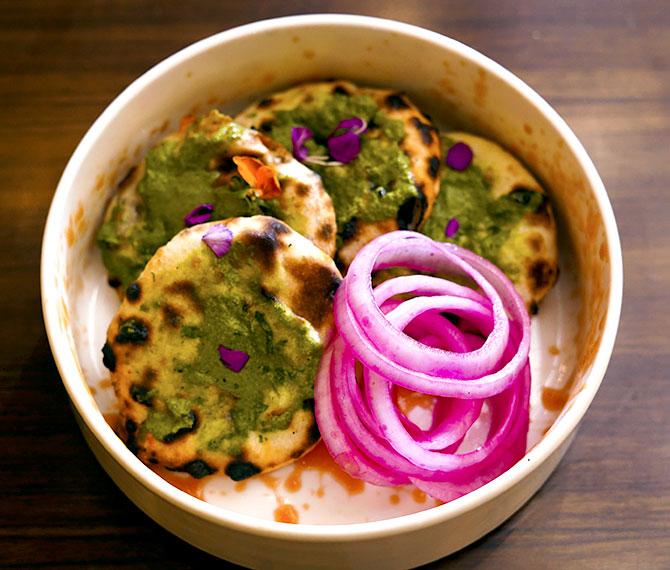 Ingredients:
For the margherita stuffing:
350 gm chopped tomatoes
20 gm olive oil
5 gm garlic
5 gm chilli flakes
3 gm oregano
15 gm basil
7 gm salt
5 gm crushed black pepper
40 gm fresh mozzarella, grated
40 gm tomato paste
120 gm naan dough
Pesto butter
Method:
Heat oil in a pan. Add garlic. Saute for a minute and add tomatoes. Cook for 5 minutes. Add tomato paste, oregano, black pepper and salt. Cook for 10 minutes or till the mixture start leaving the pan.
Take out of the pan and keep it aside to cool. When completely cooled down, add chopped basil and grated mozzarella.
Divide the naan dough into four equal parts and stuff this mixture inside it. Cook in the tandoor. Apply pesto butter on top, sprinkle chilli flakes and serve.
---
Mustard Basil Fish Tikka and Kasundi Mayo
Ingredients:
For the fish marinade:
45 gm kasundi (mustard) paste
15 gm hung curd
15 gm chopped basil
5 gm chopped parsley
1/4 tsp ginger-garlic paste
3 gm crushed black pepper
3 gm salt
1 tsp lemon juice
1/2 tsp mustard oil
200 gm river sole fish
For the kasundi mayo:
15 gm kasundi
3 gm mayonnaise
Method:
Marinate the fish with all ingredients and keep in refrigerator for at least 2 hours.
Cook the fish in tandoor for 7 minutes or until well cooked.
Serve with kasundi mayo by mixing the kasundi and mayonnaise together.
---
Mango Risotto Kheer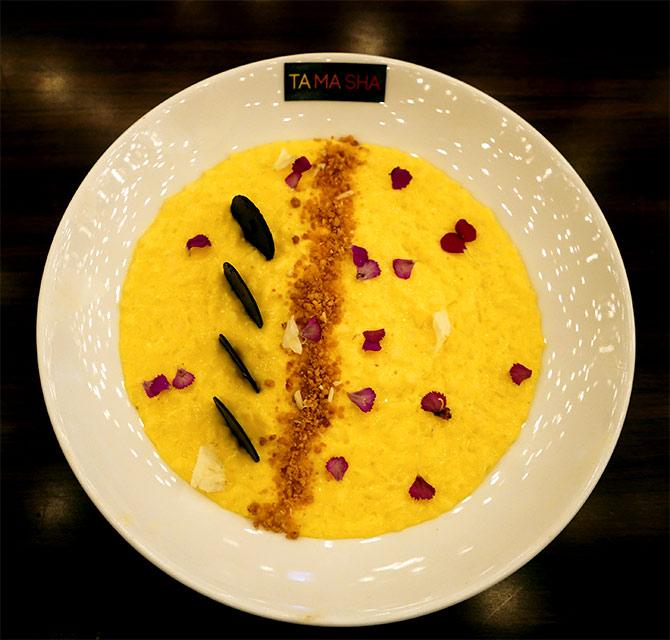 Ingredients:
60 gm mango pulp
100 gm Arborio rice
350 ml milk
30 gm sugar
10 gm fresh mango
20 gm chocolate
Method:
Boil milk in a pan. Add Arborio rice. Cook the rice and add sugar at the end. Mix well and keep it aside to cool down.
When completely cooked, add mango pulp and mix well.
Melt chocolate. Spread on a baking mat and let it cool. Cut into coin size circles when cooled.
Garnish the kheer with the chocolate coins and fresh mango slices.