Chef Manish Kusumwal, corporate chef, Keys Hotels shares his recipe for the classic French sandwich.
A toasted and baked ham and cheese sandwich, Croque Monsieur finds its origin in French cafés and bars.
A quick snack, it's heavy enough to be considered as a meal.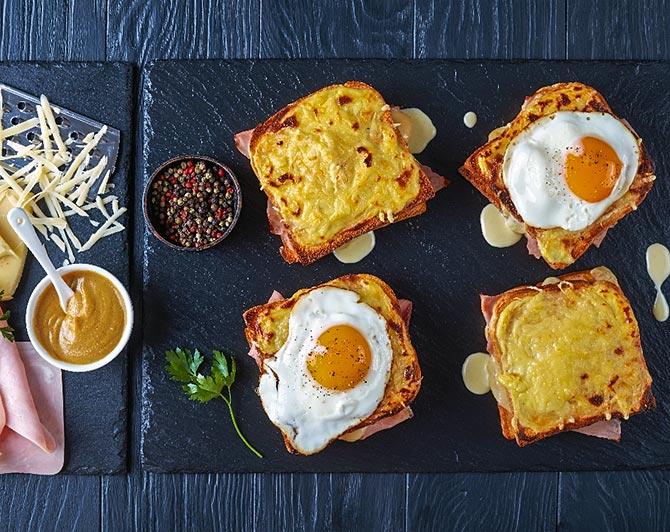 Ingredients
For the Béchamel sauce
2 tbsp butter (plus more for toasting bread in the pan)
2 tbsp flour/maida
1 cup warm milk
A pinch of nutmeg
For the sandwich
4 thick slices of white bread
Dijon mustard
4 slices ham (preferably pork ham, but you can also use chicken ham)
4 slices Gruyere cheese, sliced (can be replaced with a good cheddar, grated or sliced)
50 gm Gruyere cheese, shredded (can be replaced with cheddar)
Method
For the Béchamel sauce
In a small, heavy-bottomed pot, melt the butter over medium-high heat. Once it starts to bubble and foam, add the flour and whisk for another 30 seconds, stirring continuously.
Add the warm milk and stir until smooth. Finish with nutmeg.
For the sandwich:
Spread Dijon mustard on one side of each slice of bread.
Apply the Béchamel sauce generously and evenly on two bread slices.
Top the slices with even amounts of the ham and cheese. Then place the other two slices of bread on top to make the sandwiches.
In a large skillet or a nonstick pan, melt another tbsp of butter. Add each sandwich and lightly brown on both sides. It should be slightly crispy.
Place the sandwiches on a sheet pan and top with the Béchamel sauce.
Pre-heat the broiler at 425°F. Top each sandwich with grated Gruyere and place under the broiler until golden brown. Serve hot.
Tip: Once you have made this sandwich, you can take it a notch higher by making it a Croque Madame by adding a poached or a fried egg on top.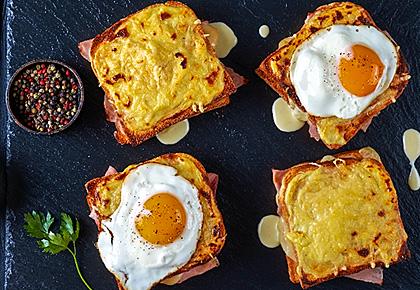 What's your favourite snack? Tell us about it in the messageboard below.