Ditch sweets for something healthy this Holi.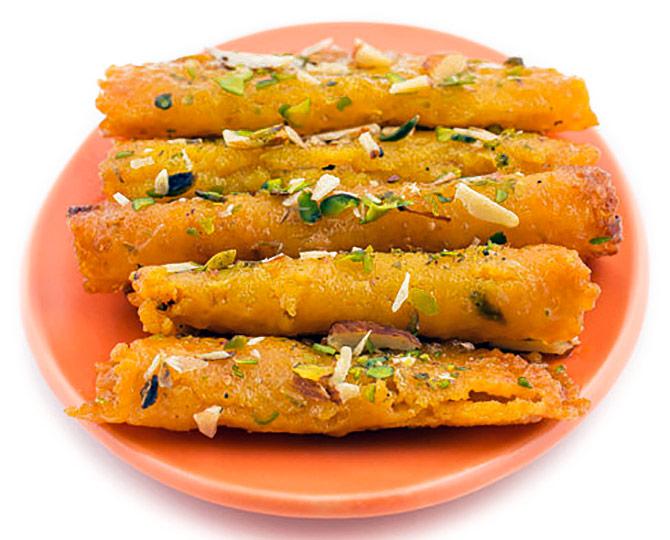 Oats malpua with multigrain coconut jaggery stuffing
Ingredients:
40 gm semolina
80 gm oat flour
20 gm wheat flour
120 ml milk
100 ml oil
40 gm desiccated coconut
40 gm jaggery
20 gm almond
20 gm cashew
20 gm oats
10 gm multi-grain seed mix
20 gm khoya
2 gm cardamon powder
500 gm sugar
Method:
Heat pan on low flame. Dry roast the desiccated coconut for two minutes. Add jaggery to it and mix well. Keep mixing the two ingredients. Jaggery will take some time to melt.
Once you notice that the coconut and jaggery mixture is not sticking to the pan, add khoya to it. Stir it continuously for 2-3 minutes, Add cardamom, multigrain seed mix and dry fruits. Mix the dry fruits and turn off the flame. Transfer it to a wide plate and let it cool.
For the sugar syrup:
In a pan mix water and sugar. Boil till syrup reaches two string consistency.
For the malpua:
Take oat flour, semolina and wheat flour in a bowl. Mix well. Slowly add milk to the above mixture and keep mixing it. It should not have lumps in it. Keep the mixture aside for half an hour.
Heat oil in a non-stick pan. Pour a ladle or spoonful of batter in the pan, spreading it evenly. It should look like a small dosa. Once the crepe turns pale golden, flip it to cook the other side.
Take 1-2 tbsp of the filling in your palm; place it lengthwise in the centre of the malpua and seal the edges. Press it gently with a spatula to give it the shape of a frankie. Serve warm or cold.
---
Chef David Edward Raj is the managing partner, Culinary Development and Innovation, Elior India.
---