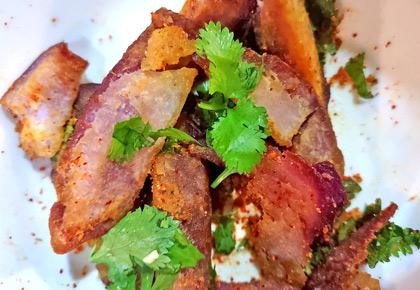 The purple Surati kand is a winter vegetable of note, especially in the Western parts of India, putting in a stellar appearance, surely, in umpteen lakh tasty undhiyos during its seasonal run.
One of the best ways to have kand is deep fried or air fried like chips/fries and seasoned, Gujarati style, with methi sambhariya or methia masala.
Methia masala is a powdered spice that is a mix of ground roasted fenugreek and ground roasted mustard seeds with chilly powder.
Have Zelda Pande's Methia-Flavoured Kand Fries, warm, as a snack with your chai or as chakhna with drinks, or part of lunch/dinner.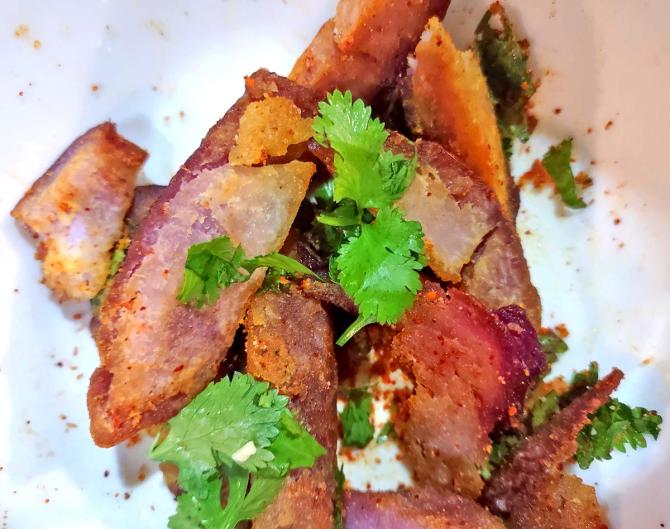 Methia-Flavoured Kand Fries
Serves: 2-3
Ingredients
1 kg purple kand or purple yam
Oil for deep frying
3-4 tbsp vegetable oil, if air frying

For the seasoning
½ to 1 tsp hing or asafoetida
1 tsp haldi or turmeric
1 tsp lal mirchi or chilly powder
1 lime, sliced
Salt to taste
3-4 tbsp chopped green dhania or cilantro or coriander
2 tsp methi sambariya, available in spice and masala shops, or online, or in kirana or provision stores selling Gujarati food condiments.
Method
Cut the well-washed, scrubbed raw kand into large potato-sized pieces; keep the skin on.
All the pieces should be roughly the same size or the smaller pieces will get too soft while cooking.
Boil in pressure cooker with plenty of water for about 4-5 whistles.
Open the pressure cooker immediately and drain off the hot water; the boiled kand should not sit soaking in water or it will become too soft.
Cool.
Remove the skin using peeler.
Some of the skin will fall off, but the difficult areas require a peeler.
Cut into chunky wedges about ½ inch across and 2 inches in length
Heat the oil and when it becomes medium-hot, add a batch of 8-10 kand wedges.
Deep fry, turning them with a slotted spatula, till they change colour and darken.
Drain onto a tissue or paper towel-lined plate.
Repeat for the balance kand wedges.
If using an air fryer
First toss the unfried, boiled kand wedges with the 3-4 tbsp oil.
Place in a preheated air fryer and fry 5-10 minutes at 180°C.
Turn the wedges over and fry another 5-10 minutes till crisp.
Seasoning
Toss the warm kand wedges with the salt, haldi, hing, lal mirchi, methia sambariya powder.
Squeeze juice from the lemon wedges on top just before serving and toss again.
Garnish with cilantro.
Serve warm.
Note: You can also bake the kand wedges in a 180°C oven. Like you did for the air fryer, first toss the boiled kand wedges with 3-4 tbsp oil and place on a foil-lined baking tray. Bake for 10-15 minutes and using tongs turn the wedges around and bake for 10-15 minutes more till crispy.
Alternative seasoning: Chaat masala instead of methia masala. Crushed roasted peanuts also makes a good additional seasoning.
Leftover methia masala can be used as topping for khakra, dhokla or roasted papad with chopped onions and green dhania. Or sprinkled on chopped cucumbers/carrots/tomato/raw mango. Or utilised in making an instant pickle -- slices of kairi (raw mango) + methia masala + 1 tsp mustard oil + salt.