Integrative nutritionist and fitness expert Payal Kothari shares her recipe.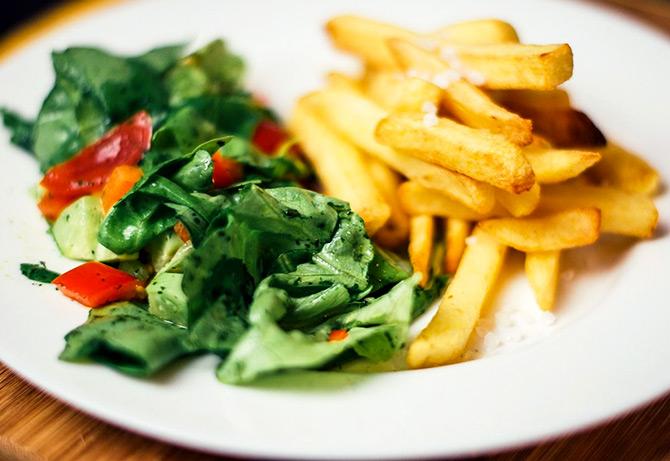 Healthy fries with herbs and olive oil, served with beetroot ketchup
Ingredients:
Serves: 2
2 big potatoes
2 sweet potatoes
1 sprig fresh rosemary
Fresh coriander
2 tsp olive oil
Salt and pepper
For beetroot ketchup:
2 cups cubed and cooked beetroot
1 tomato
¼ cup water
¼ cup vinegar
2 tbsp brown sugar/jaggery
1 bay leaf
½ red onion
Pinch of salt
Pepper
Method:
Parboil the potatoes in a vessel. Put a fork through them to make sure they don't get overcooked.
Remove from water and slice carefully into the length of French fries.
Add chopped rosemary and coriander to the olive oil and gently brush on the potatoes.
Arrange on a pre-greased tray and put into a pre-heated oven for 7-8 minutes at 200 degrees.
For beetroot ketchup:
Heat all ingredients over a medium flame in a saucepan until all the liquid has thickened.
After letting it cool for a couple of minutes, blend the mixture till it has a smooth ketchup like consistency.
---
Vegetable Pad Thai
Ingredients:
Serves 2
½ packet flat, wide rice noodles
1½ tbsp soya sauce
¼ fresh lime juice
Red chilli flakes, crushed
1½ tbsp vegetable oil
½ tsp jaggery
1 carrot grated
1 bowl cabbage, grated
1 turnip, grated
1 cup of bean sprouts
2 tsp roasted peanuts
1 clove of chopped garlic
½ cup of diced semi-firm tofu
½ cup broccoli
Salt as per taste
Method:
Boil noodles according to the instructions on the packet. On a wide pan put oil to simmer, add garlic and grated vegetables to semi-cook.
Add the soya sauce, jaggery, salt and lime juice to the cooked vegetables in the pan.
Toss in the noodles and sprinkle peanut powder, chilli flakes and tofu on top.
Toss once again gently without breaking the tofu.