Chef Prakash Chettiyar, executive chef, JW Marriott Kolkata tells you how to cook lamb shanks restaurant style.
Slow Braised Lamb Shanks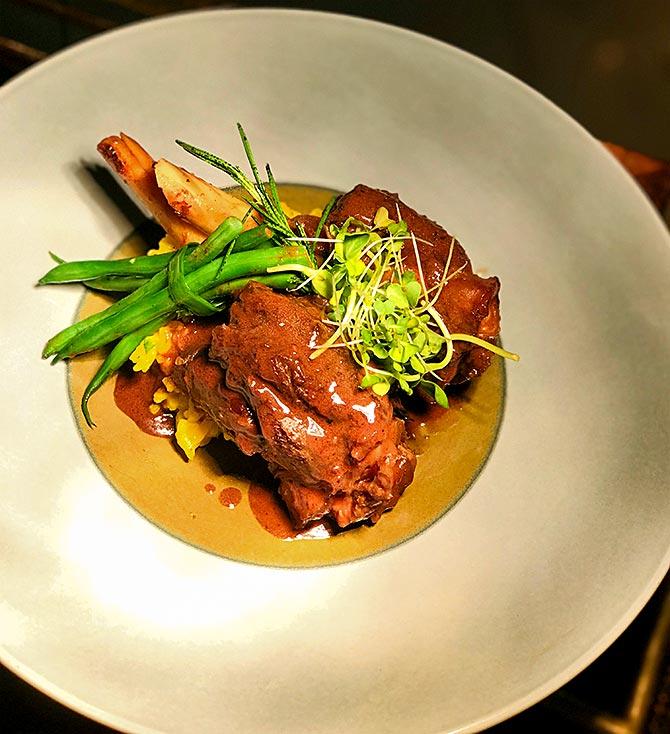 Ingredients
1 red onion, diced
2 celery stalks, diced
2 carrots, peeled and diced
3 garlic cloves, crushed
2 cups thick lamb stock
1 cup peeled, seeded and chopped tomatoes
2 tbsp tomato paste
1 tsp chopped fresh thyme
1 bay leaf
4 lamb shanks, external fat trimmed
Salt to taste
Freshly ground pepper to taste
2 tbsp olive oil
1 cup red wine
Method
Heat a cooker on slow flame.
Add onion, celery, carrots, garlic, stock, tomatoes, tomato paste, thyme and bay leaf. Stir well to combine.
Season the lamb shanks with salt and pepper.
Heat a large pan. Add olive oil and wait till it emits smoke.
Add the shanks and let it turn brown on all sides. This should take about 5 minutes.
Transfer it to the cooker.
Turn off heat and pour in wine, tomato puree in the pan.
Turn on heat and cook on medium-high heat.
Bring to a simmer, stirring to scrape up any browned bits from the pan's bottom.
Add wine to cooker.
Cover and cook on high heat for six hours or till lamb becomes tender.
Transfer the lamb shanks to a large serving dish.
Remove bay leaf from the cooking liquid.
Using a blender, puree the liquids and solids until smooth.
Pour some of the sauce over the shanks.
Serve with saffron risotto and freshly crushed black pepper.
---
Do you have an interesting recipe you want to share?
Simply write to getahead@rediff.co.in along with the NAME of the recipe, a little background and a photograph if possible. We'll publish the best ones right here on Rediff.com.