Rediff reader Sangita Agrawal tells you how to make ice cream at home.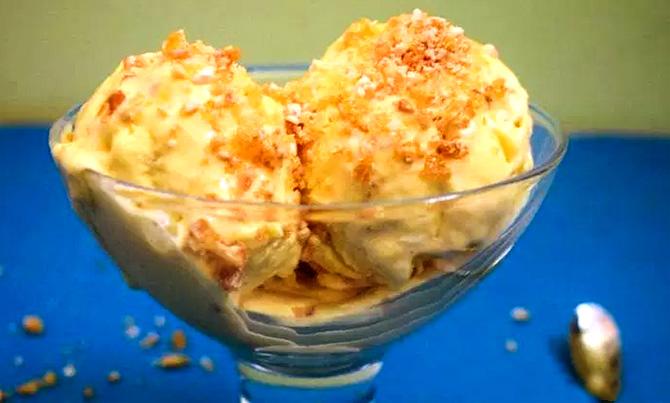 Yield: 1½ to 2 litres
Prep time: 15 minutes
Total time: 30 minutes
Freezing time: 12 to 14 hours
Ingredients
½ litre full cream milk
6 tbsp sugar
2 tbsp milk powder
1 tbsp corn starch
1½ tbsp GMS (foam booster)
¼ tsp CMC (alginate)
For whipping
For the praline (butterscotch)
3 tbsp broken cashew nuts
4 tbsp sugar
1 tsp butter (optional)
Method
In a bowl mix CMC, GMS, milk powder, cornstarch and 3 tbsp milk and make it into a smooth paste. Set aside.
In a sauce pan pour rest of the milk add sugar and bring it to a boil.
Add the milk powder mix and boil by string continuously.
Reduce the heat to low and boil for 5 to 7 minutes or till the milk is thick enough to coat the back of the spoon.
Bring it to room temperature by stirring.
Pour this mixture in a freezer safe container and freeze for 4 hours or till almost set but not hard.
Take it out from the freezer and transfer it in a food processor and add cream.
Blend at least for 6 to 8 minutes till the mixture is light and frothy and should be at least 1½ to 2 litres in volume.
Add 1/3 of the praline and churn again.
Pour 1/3 of the ice cream in a freezer safe container, sprinkle some praline, Repeat 2 more time.
Tap the container and close the lid.
Freeze overnight.
To make praline
Grease a metal tray or line a plate with butter paper and set aside.
Heat a dry non-stick pan. When hot, sprinkle the sugar over the pan.
Reduce flame to low heat and wait while the sugar starts to melt and turns a light golden brown.
Add the cashew nuts and butter and stir until the mixture turns a dark golden brown. Take care not to burn it, sugar is very easy to burn.
Remove from fire as soon as the colour changes to dark golden brown and the cashew nuts look roasted, tip immediately into a plate lined with parchment or butter paper and let it cool completely.
Break into smaller pieces or pulse in your mixer until you get a very coarse praline. Keep it chunky.
Store in an airtight container.
This can be used on ice creams, or even for making chocolates at home.