We'd asked you, dear readers, to share your recipes of the dishes that were on Barack and Michelle Obama's plates.
Rediff reader and food blogger Debjani Chatterjee sent us this recipe of Bedmi Aloo: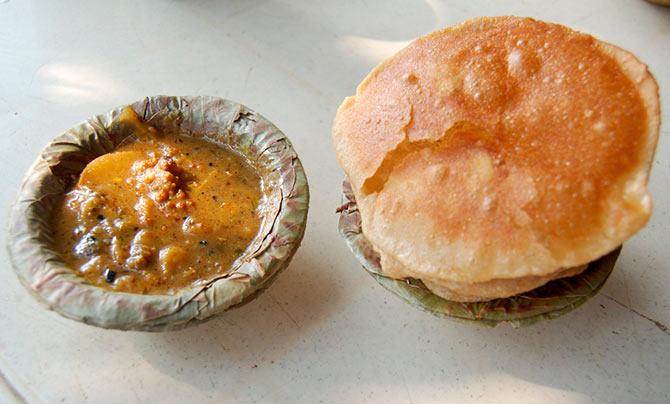 Ingredients
For Bedmi Poori
1 cup black gram without skin (Urad Dal)
2 cup whole wheat flour
1 1/2 tsp fennel seeds powder
1 tsp asafoetida
1 tsp dry ginger powder (if not available, use 1 tsp ginger paste)
1 tsp red chilli powder
1/2 tsp mango (amchur) powder
1 tsp coriander powder
2 tbsp ghee
Salt to taste
2 green chillies
Vegetable refined oil for deep frying
For Bedmi Aloo ki Sabzi
5 to 6 potatoes
2 medium sized tomatoes pureed
1 tsp cumin seeds
1 tsp coriander powder
1 tsp cumin powder
2 tsp red chilli powder
2 dry red chillies
1 tsp turmeric powder
1 tbsp grated ginger
1 tsp dried fenugreek leaves (Kasuri methi)
1 tbsp ghee
2 tbsp mustard oil
Salt to taste
1 tbsp wheat flour (optional)
3-4 cups of water
Method
How to make Bedmi Pooris
Soak black gram in water for 4 to 6 hours or preferably overnight and make a coarse paste of the soaked dal along with green chillies. Try not to use any water to make the paste.
In a bowl mix flour with fennel seed powder, asafoetida, dry ginger powder, red chilli powder, aamchur powder, coriander powder and salt.
Add dal paste to the flour mixture and start kneading it. If required add very little water to make a semi soft dough.
Add ghee to the dough and knead for a minute or so.
Cover the dough with a wet cloth and allow it to set for 20 minutes.
Knead the dough one more time and divide it into 15 equal sized balls.
Heat sufficient oil in a pan.
Roll each balls into 5" pooris and fry it on medium flame till they turn golden brown and puff up.
How to make Bedmi Aloo ki Sabzi
Boil potatoes with little salt and water. Drain the water from the pan.
Do not cut the potatoes into cubes like we usually do while making a potato dish. Instead break them a bit with the help of the back side of a spatula or ladle to get uneven pieces and some mashed potatoes. This dish gets its name from the texture of the potatoes.
In a pan, heat ghee and mustard oil and temper the mixture with dried red chillies, asafoetida and cumin seeds.
Add dried fenugreek leaves and cook for one minute on medium flame.
Add tomato puree and ginger paste and cook for 2 to 3 minutes.
Add cumin powder, coriander powder, turmeric powder, red chilli powder and salt. Cook for another 2 to 3 minutes or until oil leaves the sides of the pan.
Add potatoes and mix well with the spices.
Add 3 cups of water to the mixture.
In half cup of water add 1 tbsp wheat flour and mix properly. Add this mixture to the potato gravy. This step is optional but it provides a good texture to the gravy.
Boil the sabzi till you get the desired consistency. Ideally, the consistency should be runny.
Serve hot with pooris.
Photo: Scott Dexter/Creative Commons

ALSO SEE
Dear Readers, tell us how you'd make Mutton Rogan Josh, Dal Raisina or any of the dishes listed here.
Please mail your recipes to getahead@rediff.co.in with the subject line 'Obama Recipes'