We'd asked you, dear readers, to share your recipes of the dishes that were on Barack and Michelle Obama's plates.
Rediff reader Nilesh sent us the recipe of Fresh Cut Fruits with Orange-Vanilla Syrup: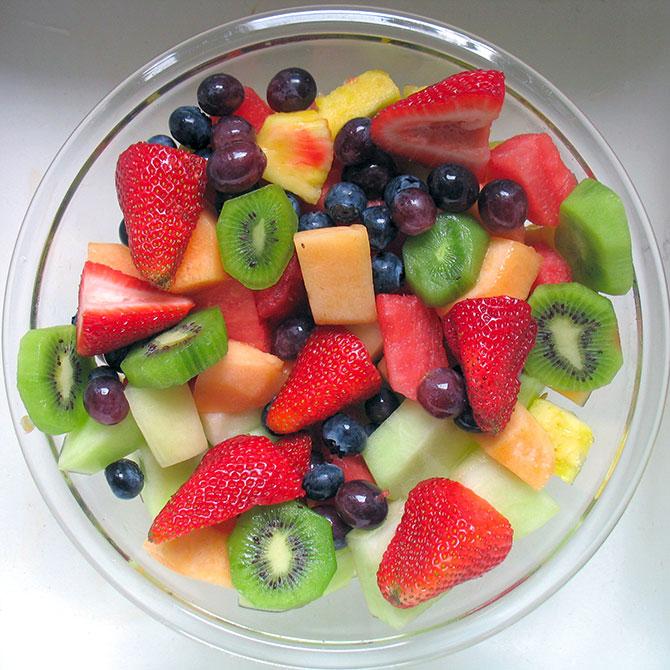 Ingredients
1 cup fresh pineapple
3 bananas
1 cup seedless grapes
3 kiwi fruit, peeled and sliced
1 cup strawberry for colour
1 cup orange
(You may also add fruits of your choice)
For the syrup
2 tbsp fresh lemon juice
2 tbsp orange juice
1 tsp lemon zest
1 tsp orange zest
1 tsp vanilla extract
Sugar/sweetener as required
Method
In a bowl, add orange juice, lemon juice and heat it on low flame for one minute.
Add lemon and orange zest.
Add sugar and vanilla extract.
Cook for 6 to 7 minutes and allow it to cool.
In a glass bowl, add all the fruits in layers -- one over the other.
Add pineapple, followed by banana, kiwi, grapes, strawberry and oranges.
Add the syrup over the fruits with a small spoon and spread evenly.
Allow it to set for some time.
Serve it in a bowl or in an ice cream cone. You can add some whipped cream. Kids will love this recipe.
Photo: lisaclarke/Creative Commons
ALSO SEE
Obama's Banquet Menu: Do you have the recipe?
28 states: Send us your best recipes
Dear Readers, tell us how you'd make Mutton Rogan Josh, Dal Raisina or any of the dishes listed here.
Please mail your recipes to getahead@rediff.co.in with the subject line 'Obama Recipes'