When it pours, the heart craves for kanda bhaji with a cup of hot masala tea.
Chef Ranjan Rajani, executive chef, Hotel Sahara Star adds a twist to the good bhaji and shares his special masala chai recipe.
Kanda bhaji with peanuts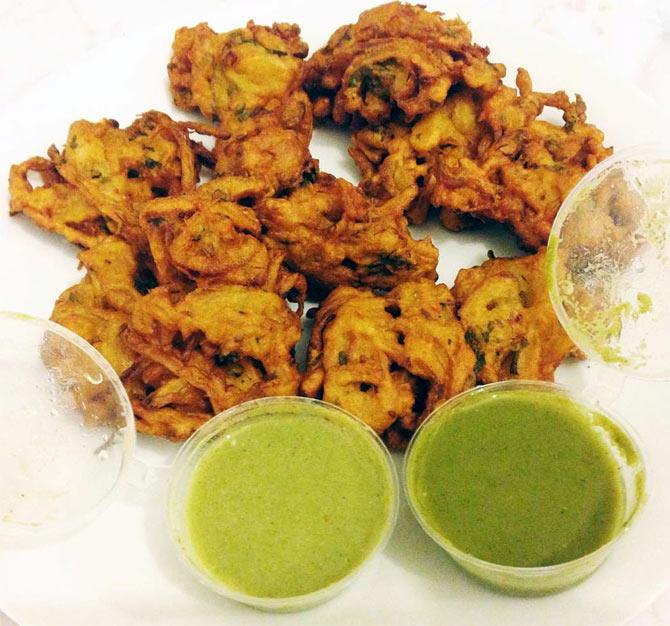 Ingredients
500 gm onions
200 gm Bengal gram flour (besan)
20 gm coriander
20 gm green chillies
Salt to taste
1 tsp turmeric
25 gm peanuts
10 gm whole coriander seeds
500 ml refined oil for frying
Method
Slice onions thinly and apply salt to remove all its water.
Add Bengal gram flour and other ingredients and make a proper batter. If it is too thick, add some water to adjust consistency. Check on salt.
Pour oil in kadai and heat on medium flame.
Drop the pakodas for frying and stir continuously to avoid them from sticking.
Remove when crisp and golden brown.
Serve with spicy coriander chutney, sweet saunth chutney and masala chai.
---
Masala tea
4 tbsp tea powder
10 gm ginger
2 gm cardamom
200 ml milk
250 ml water
100 gm sugar
Method
Put a pot on range with water. Bring to boil.
Add tea powder, ginger, cardamom and sugar.
Simmer for some time.
Add milk and simmer for some time.
Strain it and serve hot in cutting chai glass.
What's your favourite monsoon snack? Tell us in the messageboard below.