Mother's Day is just around the corner and so we invited Get Ahead readers to share their mom's best recipes with us -- those yummy dishes that only she'd whip up. As part of an ongoing series, we present two of the responses we recieved.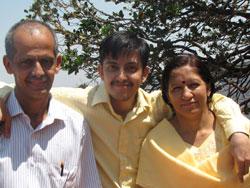 First up is Gul Suhanda who shares his mum Rita's recipe for Masala Aloo Bhindi (known as Sel Bhaji among Sindhis):
Ingredients:
2 large potatoes
200 gm bhindi (okra)
10 pods of garlic
A little ginger
1 cup chopped coriander
1 tsp dry coriander seeds
5-7 green chillies
2 large tomatoes
1/4 cup of water
5 tsp oil
1/4 tsp haldi (turmeric)
Preparation:
Grind the green chillies, garlic, ginger, dry coriander seeds, chopped coriander and tomatoes together in a chopper/grinder.
Add 1 tsp salt, 1/4 tsp haldi and 5 tsp of oil to the paste and mix well in a bowl.
Cut the potato into thick slices and slit each slice so that there's a little space in between to stuff the mixture.
Slit the bhindi length-wise to create space to stuff the masala.
Stuff the potato and bhindi with the mixture and shallow fry.
Add 1/4cup of water to the remaining mixture and add it to the pan.
Cook the above in a medium flame with covered pan for around 20-25 minutes till the tender.
Next up is this recipe for Gobi ka Kheer from an anonymous contributor:

Ingredients:
100 grams cauliflower (grated)
2 cups milk
15 grams broken cashew nuts
15 grams kishmish (raisins)
10 grams sliced almonds
10 grams broken walnuts
1 pinch saffron
3 tbsp sugar
2 pieces cardamom, powdered
Preparation:
Pressure-cook the grated cauliflower, drain the water and once again boil it in an open pan for a few minute and drain the water.
Boil the milk in a pan then reduce the burner to low flame.
Pour half a cup of hot milk, add the saffron and keep aside.
Add the cauliflower to the milk.
Add almonds, cashew, walnut and raisins.
Add the sugar and simmer for 1 minute.
Add the saffron milk to the kheer.
Add the cardamom, close the lid and turn off the heat.
Serve warm or chilled.
Send in your mom's best preparations to getahead@rediff.co.in, and we'll publish them right here on rediff.com; be sure to mention her name and yours.
If you would like to share a photograph of your mother and you, send it in with your recipe so we can publish it alongside.
And don't forget to write a few lines to her telling her why you love her cooking!