We'd asked you, dear readers to share recipes of your favourite Mummy ka Khana.
Rediff reader Lajja Bhutra, 28, from Chennai shared a recipe she learned from her mother Santosh Bhutra.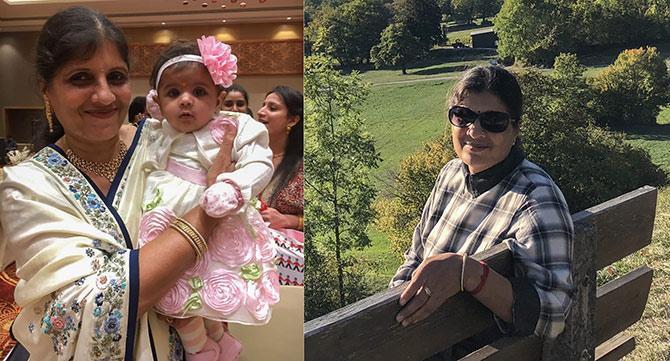 Dal bati churma with special lehsun tadka and masala chaas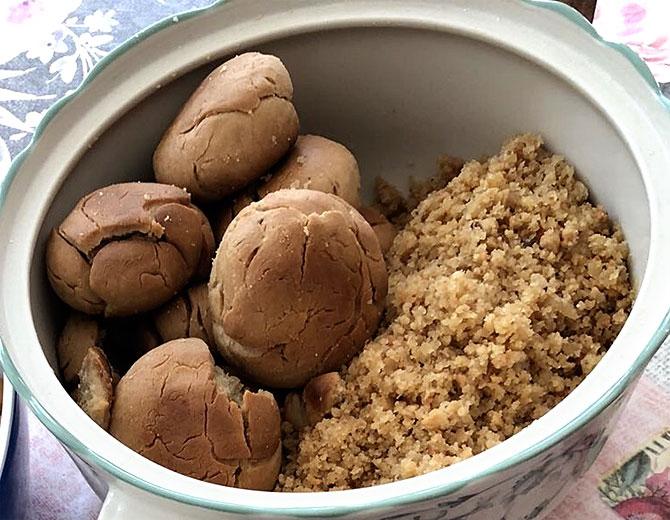 Dal
Ingredients
1 cup green moong dal (steam cooked)
1 tbsp ghee
A pinch of hing (asafoetida)
1 tsp mustard
1 tsp jeera
A few curry leaves
2 cloves
2 cardamoms
2 bay leaves
1 tbsp chopped garlic
Coriander (for garnish)
Method
Take the traditional green moong ki dal and give it the special lehsun tadka.
Heat desi ghee and add hing, mustard, jeera, curry leaves, cloves, cardamoms, bay leaves and chopped garlic.
Add sizzling hot tadka on the dal from top and garnish with coriander.
PS: The aroma itself will give you good vibes.
Bati

Ingredients
1 cup wheat flour
1 tsp ajwain
Salt as required
1 tbsp melted ghee
Method
Mix wheat flour, ajwain, salt and ghee.
Rub in the ghee nicely to the flour. (Do not skip this part; otherwise the bati will be too hard).
Add lukewarm water to make a tight dough. Make small rolls.
Take a roll and make a small dent in the centre.
Keep it in hot tandoor and roast both sides.
Remove from fire and add ghee. Crush it a bit in between your palms and serve.
Churma
Ingredients
Bati (prepared earlier)
Ghee
Powdered sugar/jaggery
Method
Crush the batis in a mixer to get a coarse mix.
Add ghee by rubbing it in between your palms -- this is the tiny little secret for good moist churma.
Add powdered sugar, mishri or jaggery.
Mix well and mouthwatering churma is ready to serve.
To digest this rich food and keep our tummies cool, my mother would give us a big glass of masala chaas, which is quite enjoyed by all our relatives and visitors too.
Masala chaas
100 gm fresh yoghurt
1 green chilly (roughly chopped)
1 tsp cumin powder
A sprig of curry leaves
Few sprigs of coriander leaves (roughly chopped)
1 tsp black salt
Water as required
Method
In a hand blender, add yoghurt, green chillies, curry leaves, coriander leaves, cumin powder, black salt and blend it well.
Add enough water to bring it to the required consistency for buttermilk. My mother would recommend a ratio of 40:60 (yoghurt to water).
Pour in a glass and enjoy it in the hot summer.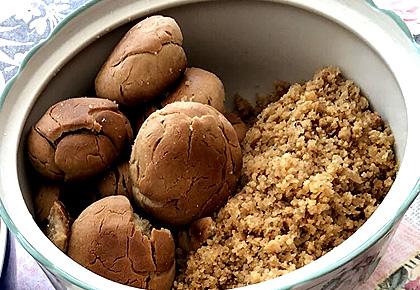 ---
Which is your favourite mom's recipe? Tell us.
Simply share your recipes on getahead@rediff.co.in (My mom's recipe) along with your NAME, AGE, LOCATION, a picture of your mother and maybe the recipe if possible.
We'll publish the best responses right here on Rediff.com!