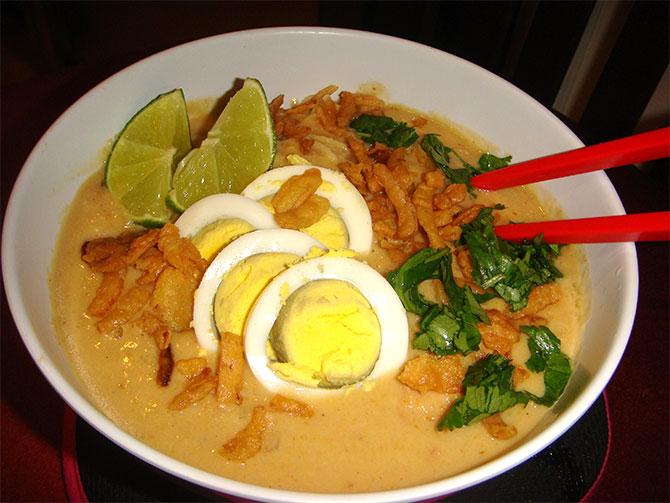 This Mother's Day, strengthen the bond of love with your mother over delicious delicacies.
Nothing beats a home-cooked meal.... And when when it's prepared by your mother, it's simply YUMMY.
Ahead of Mother's Day, Mini Ribeiro spoke to a few celebrities who were more than happy to share their mother's recipes with us.
Read on to find out what's so special about these dishes.
---
Burmese Khow Suey
Recipe by Anita Kochhar, mother of actor-television presenter Samir Kochhar
Burmese Khow Suey is a soup-cum-meal made with egg noodles, curried chicken and coconut milk.
Samir Kochhar, whose mother makes this lip-smacking dish, says, "My mother's a gifted cook. She would always make me a quick meal at the drop of a hat, be it continental, Chinese or Oriental. Burmese Khow Suey has to be on top of the list.
"She gives it her own twist.
"The chicken gravy is made in a very unique way that includes her inimitable quirks. The end result is just wow. I really miss her cooking in Mumbai."
The dish might involve too much of effort -- right from preparing the noodles and curry to garnishing -- but it's definitely worth it!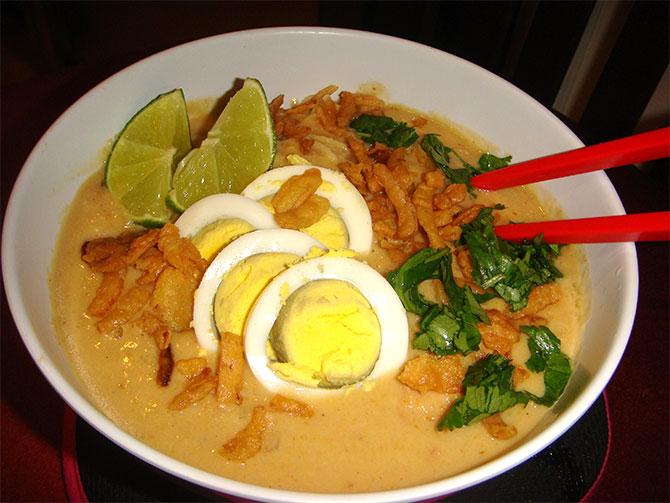 Photograph: CM Banerjee/Wordpress
Ingredients
For the soup
300 gm boneless chicken (chopped into bite sized pieces)
3 onions (finely chopped)
2 tbsp ginger garlic paste
1/2 tsp pepper powder
1/4 tsp mixed spice powder
1/ 4 tsp red chilli powder
2 cups coconut milk
3 tbsp gram flour (besan)
2 cups chicken stock
6 tsp oil
For accompaniments
1 bowl onion slivers
1/2 bowl garlic julienne
1 bowl peanuts
1 bowl spring onion greens
1 bowl noodles
4 eggs
1 bowl lemon wedges
1 bowl green chillies (chopped)
Method
Take a vessel and boil chopped boneless chicken pieces with salt in three cups of water.
Once boiled, remove the chicken pieces from the stock. Keep them aside.
Heat a large pan, add 4 teaspoons of oil and the finely chopped onions. Fry till golden brown.
Add ginger-garlic paste, chicken pieces, dry spices and fry for a few minutes.
Add chicken stock and coconut milk. Let it boil for a few minutes.
Add gram flour to thicken the soup. Remove the pan from the gas. Keep it covered.
Boil the noodles with a little salt. Strain and sprinkle two teaspoons of oil. Place it in a serving bowl.
Deep fry peanuts, onion slivers, garlic slices and noodles separately.
Finely chop the spring onion greens and cut the lemon into wedges. Boil the eggs and quarter them.
Take a soup bowl and put the noodles in. Pour two ladles of soup on it.
Top it up with all the accompaniments. Sprinkle lemon juice. Serve.
---
Punjabi Kadhi Pakora
Recipe by Surinder Kaur, mother of Master Chef Ranveer Brar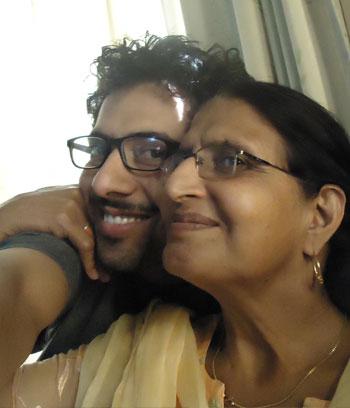 Though Ranveer Brar is a chef extraordinaire, his mom's food is still the best.
"I hated Mathematics as a child and would fret whenever I had to give an exam in that subject. So every time I came home after a maths test or tuition, my mother would keep her kadhi ready for me. It was a reminder that all can be solved with but one whiff. And it truly would," says Ranveer.
In comparison to other kadhi recipes, the Brar kadhi has an irresistible texture that lives up to the expectation of a true-blue Punjabi kadhi.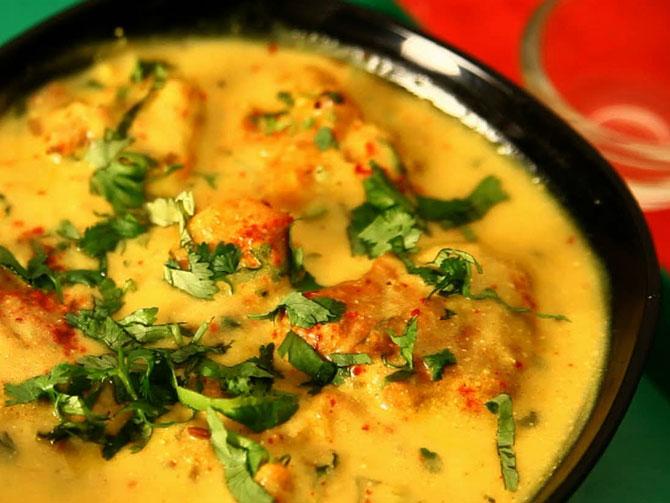 Photograph: Kind Courtesy Seema/India Food Network
Ingredients
2 tbsp roasted bengal gram flour (besan)
2 cups curd
1 tsp ginger and green chilli paste
2 tbsp coriander (chopped)
Salt to taste
For tempering
1/2 tsp cumin seeds
1/2 tsp coriander seeds
A pinch asafoetida (hing)
1 red chilli (cut in pieces)
2 tsp ghee
For pakoras
2 sliced onions
1 green chilli (chopped)
1 tsp cumin powder
1 tsp red chilli powder
2 tbsp coriander leaves (chopped)
1/4 cup curd
2 cups besan
Salt to taste
Method

For kadhi
Mix besan, curd and two and a half cups of water in a deep soup pan. Whisk well.
Add ginger and green chilli paste and salt and mix well.
Cook for 15 minutes on a medium flame.
In a small pan, prepare the tempering.
Heat oil in the pan and add cumin and coriander seeds.
When the seeds crackle, add asafoetida and red chillies. Stir for 15 seconds.
Add the tempering to kadhi. Cook for another two minutes.
For pakoras
Mix all the ingredients, make a thick batter and rest for 20 minutes.
Make small balls from the batter.
Deep fry them in hot oil. The pakoras are ready.
To assemble
Add pakoras to the kadhi.
Garnish with chopped fresh coriander leaves. Serve hot.
---
Baked Baingan
Recipe by Uma Tripathi, mother of author Amish Tripathi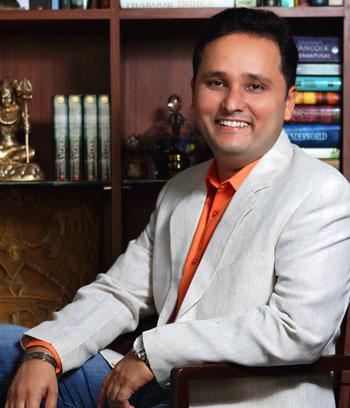 Baked Baingan is an Indian recipe served as a side dish.
"My mother used to make this delectable dish with baingan (brinjal) and white sauce. Back then, it seemed exotic to us and tasted delicious.
"I don't know what she put into it, but it was amazing. If someone else tried making the same dish, it does not taste the same.
"I still love it and once in a while, when my mother steps into the kitchen, I urge her to make this.
"In fact this is the only baingan preparation I enjoy," says Amish.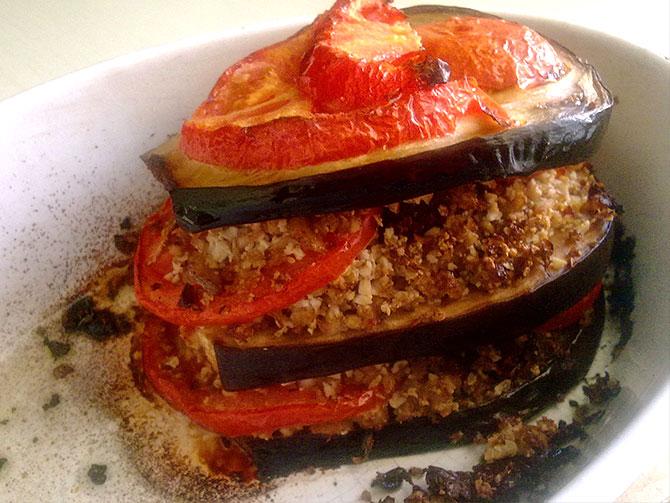 Photograph: Lablascovegmenu/Creative Commons
Ingredients
1 large brinjal (baingan)
Onions (should be double the amount of the brinjal)
200 gm ghee
50 gm maida
500 ml milk
50 gm cheese
50 gm butter
Method
Cut onions in a round shape like you would for a salad.
Heat some ghee in a pan and fry the onions.
Once fried, keep it aside in a plate. Slant the plate to drain the excess ghee.
Cut the brinjal in round slices (just like the onions).
Add ghee to the pan and fry the pieces of brinjal.
Place the fried brinjal pieces on a plate. Slant the plate to drain the excess ghee.
Heat another vessel to prepare some white sauce from the butter, maida and milk.
Grate one cube of cheese into the white sauce. Let the sauce cool.
In a glass bowl, place one layer of fried onions. Then put a layer of fried brinjal.
Pour a little bit of white sauce on top.
Put another layer of onions, then brinjal and white sauce. Keep repeating the process and create as many layers as required.
When you finish, pour in the remaining remaining white sauce. Then add the grated cheese on top.
Bake at 180 degrees for 15-20 minutes.
Check if the cheese layer has become brownish. If not, bake for another two to three minutes. Serve.
---
Prawn Balchao Pickle
Recipe by Greta Rodricks, mother of fashion designer Wendell Rodricks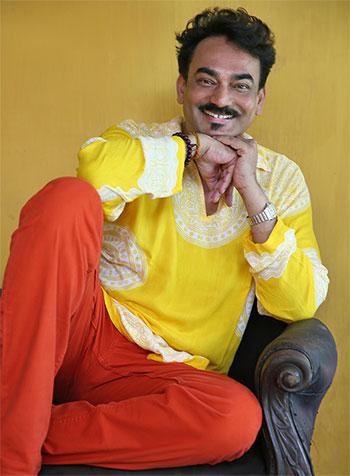 Photograph: Francois Matthys
A traditional Goan dish, Prawns Balchao Pickle is a hot and spicy mix.
It adds flavour to any meal -- from a humble dal and rice to an elaborate buffet.
The pickle can be easily stored in a refrigerator for a long time.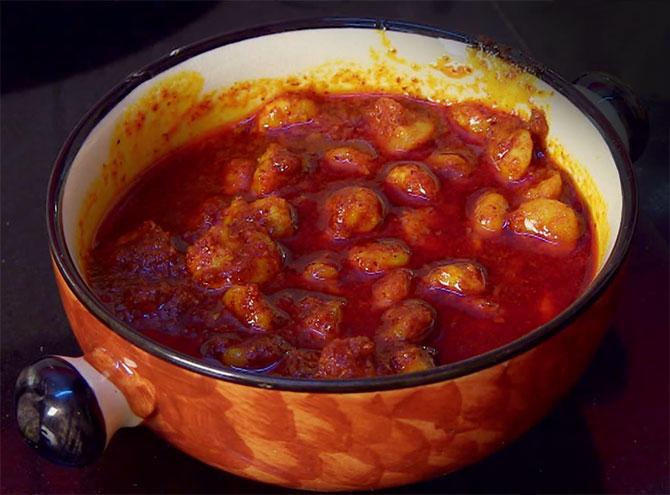 Photograph: Kind Courtesy

Archana/India Food Network
Ingredients
2 kg prawns
2 large onions
4 stalks of curry leaves
1 1/2 tsp salt
1 1/2 tsp sugar
1 glass Goan vinegar
1 glass coconut feni
For masala
20 whole Kashmiri chillies
2 full pods garlic
3 inches ginger
2 tsp turmeric powder
2 tsp cumin seeds
1 tsp mustard seeds
10 pieces of cardamom
1 tsp cloves
3 inches cinnamon
1 tsp black peppercorns
Method
Grind the masala together.
Shell, devein and fry the prawns in a pan.
Remove the prawns from the gas. Make sure the water has completely dried up.
Fry onions, curry leaves and the masala. Add the prawns.
Add salt, sugar, vinegar and feni as desired.
Place it in a separate bowl for cooling. Store.
---
Lamb Chops
Recipe by Jyoti Bhathena, mother of actor Vivan Bhatena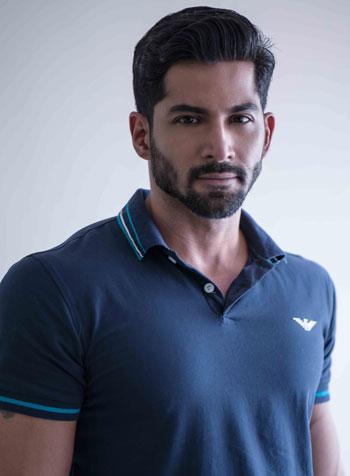 Quick and easy to cook, lamb chops have juicy, tender meat which is best served when slightly pink.
It's a perfect meal for family to bond over at the dinner table.
"My mother is an excellent cook and, since childhood, my friends and family have flocked to our home for a taste of her homemade food. My personal favourite are her fried lamb chops.
"This green masala lamb delicacy was my father's favourite too. The two of us always bonded over this dish.
"I remember playfully fighting over the last lamb chop with my dad. But mom, being the mom that she is, always saved an extra piece for me," says actor Vivaan Bhatena.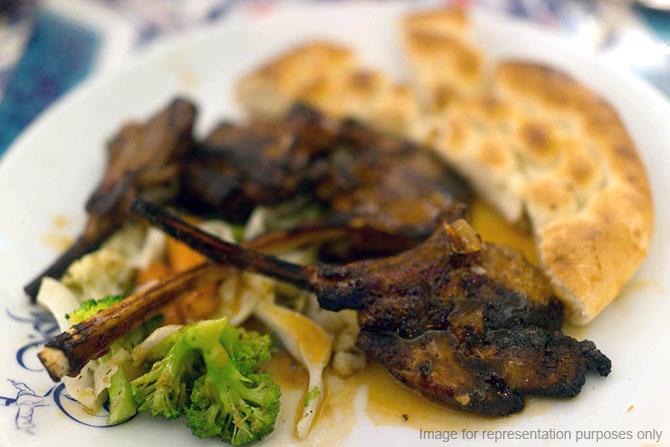 Photograph: Charles Haynes/Creative Commons
Ingredients
1 cup fresh coconut
A small bunch of mint leaves
A small bunch of coriander
4 green chillies
2 tsp cumin
2 tbsp ginger paste
2 tsp garlic paste
6 lamb chops
2 eggs
1 tsp turmeric
Breadcrumbs
Oil for cooking
Salt to taste
Method
Marinate lamb chops with ginger and garlic paste, turmeric and salt for 15 minutes.
Grind all other ingredients. Coat the lamb with this mixture. Keep it aside for 15 mins.
Then dip the lamb chops in egg. Coat them with breadcrumbs.
Heat oil in a pan and fry the lamb chops. Once fried, add chaat masala and lime. Serve hot.
*Images used for representational purposes only.
Click here for interesting recipes and food features
Share your mother's best preparations to getahead@rediff.co.in along with your NAME, AGE and the place where you LIVE.
We'll publish the most interesting ones on Rediff.com and India Abroad.
Do include a few lines about why you love your mother's cooking and what makes it so special.
Remember to mention your mother's name. And don't forget to send a photograph of yourself with your mother. We'll publish it along with the recipe.