Surprise your guests with these colourful recipes.
Add a dash of convention to the traditional Holi sweets.
Chef Balvinder Pal Singh Lubhana, executive sous chef, Renaissance Lucknow Hotel tells you how to serve up some goodies.
Rasmalai Cheese Cake (eggless)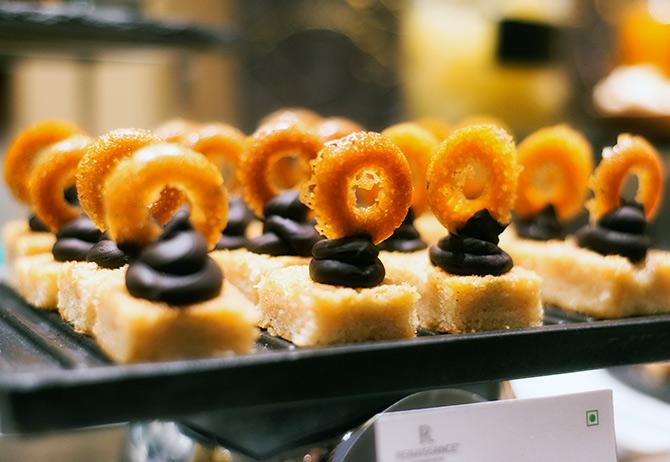 Ingredients
For Base
200 gm digestive biscuit crumbs
80 gm butter (melted)
For mousse
1 vanilla pod
500 gm soft cheese
500 gm whipped cream
100 gm milk
400 gm rasmalai (whole)
30 gm gelatin
90 gm chilled water (for soaking gelatin)
For garnish/plating
White chocolate spray
Pistachio flakes
Chocolate garnish
Method
Mix biscuit crumbs and butter well. Spread in base of heart shape mould. Refrigerate the mould.
Soak gelatin in 90 ml water and keep aside.
Make mousse mixture by mixing cheese, whipped cream, milk, and vanilla pod.
Remove the refrigerated biscuit crumb mould and arrange the rasmalai layer on top of it.
Melt gelatin in the microwave and add in mousse mixture.
Pour mixture in the mixture and freeze for overnight.
Un-mould the cheese cake and spray it with white chocolate.
Keep it in the refrigerator.
Garnish with pistachio flakes and chocolate.
---
Gulkand Paan Baked Yoghurt
Ingredients
500 gm fresh cream
500 gm yoghurt
400 ml condensed milk (Milkmaid)
20 gm gulkand
20 gm paan flavoured mouth freshener
For garnish/plating
Paan leaf/Paan flavoured mouth freshener
Method
Mix fresh cream, yoghurt and condensed milk in a bowl.
Mix it well with a whisker.
Add flavouring agent like paan mouth freshener and gulkand into the batter
Now pour the mixture in small bake proof ceramic or glass container or bowl
Place the bowl in the baking tray
Pour some water into tray and bake it for 6 to 8 minutes at 160 degree Celsius.
After baking refrigerate the baked yoghurt for an hour.
Garnish with pistachio flakes and chocolate.
You may also add fresh fruits and serve.
---
Baked Boondi Jamun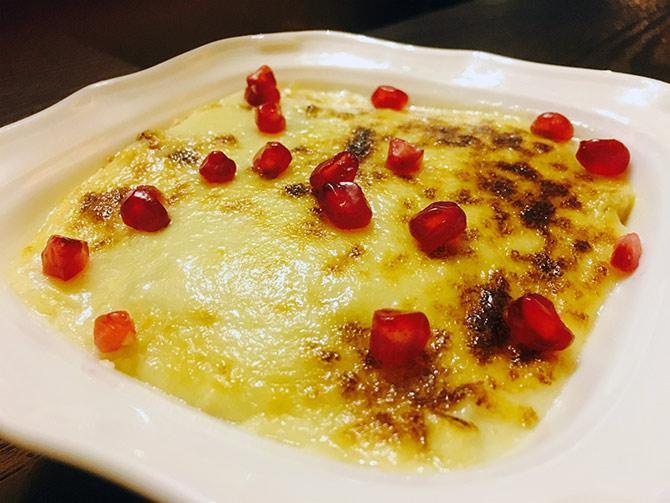 Ingredients
For the boondi
1 teacup kuttu ka atta
3/4 tea cups water
Ghee for frying
For the rabadi
1 litre milk
100 gms sugar
For the sugar syrup
1 teacup sugar
3/4 teacup water
2 pinches saffron
Other ingredients
Few blanched almonds (sliced)
50 gm pomegranate
Method
For the sugar syrup

Mix sugar and water and boil the mixture till it reaches 2 threads consistency. Cool slightly.
Warm the saffron in a small vessel, add a little water and rub until the saffron dissolves. Add to the syrup.
For the boondi
Prepare a smooth batter with the flour and water.
Heat the ghee and pour the batter using a sieve so it forms small boondis. Fry the boondis in batches.
Put the boondis in the hot sugar syrup and allow to soak the syrup for a few minutes.
For the rabadi
Allow the milk to boil with the sugar stirring continuously, until it is reduced to 2 cups. Allow to cool slightly.
About 15 minutes before serving, spread the boondi evenly in a baking dish.
Pour the rabadi mixture over it and sprinkle sliced almonds and cardamom powder on top.
Bake in a hot oven at 200 degree C (400 degree F) for 15 minutes.
Garnish with pomegranate and serve.