Executive Chef Lokesh Jarodia of The Deltin, Daman shares his special Easter recipes.
Wine poached pears, beet and candied walnut
Ingredients
3 medium sized beets
1 firm pear
½ cup dry red wine
¼ cup walnuts, candied
¼ cup feta cheese, crumbled
A few handfuls of salad greens
1-2 tbsp olive oil
A drizzle of balsamic vinegar
A drizzle of honey
Sea salt and fresh black pepper
Method:
Peel beets and pear. Boil them together with ½ cup of red wine and water. Cool the cooked beet and poached pears to wedges.
Make a dressing out from olive oil, balsamic vinegar, honey, sea salt and black pepper.
Take a deep plate preferable pasta plate, arrange all the ingredients including beets, pears and lettuce together. Garnish with feta crumble and candied walnuts. Drizzle the balsamic dressing and serve chilled.
---
Mushroom leeks and Parmesan tart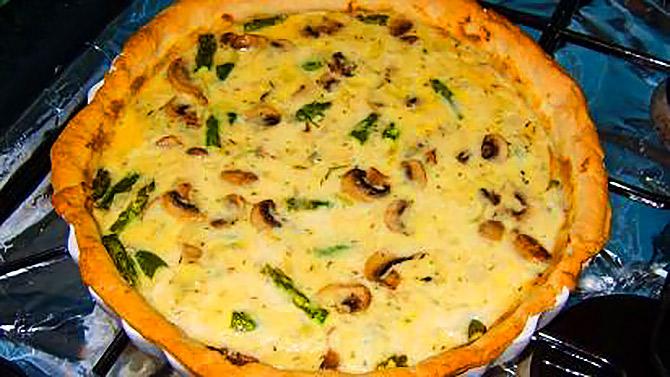 Ingredients:
25 gm butter
4 leeks, sliced and washed
250 gm fresh button mushroom, sliced
2 leeks
284 ml double cream
140 gm Parmesan cheese, grated
For the pastry:
280 gm plain flour
140 gm cold butter, cut into pieces
2 eggs
Method:
To make the pastry, tip the flour and butter into a bowl, then rub together with your fingertips until completely mixed and crumbly. Add 8 tbsp cold water, and then bring everything together with your hands until just combined. Roll into a ball and use straight away or chill for up to two days. The pastry can also be frozen for up to a month.
Roll out the pastry on a lightly floured surface to a round about 5 cm larger than a 25 cm tin. Use your rolling pin to lift it up, then drape over the tart case so there is an overhang of pastry on the sides. Using a small ball of pastry scraps, push the pastry into the corners of the tin. Chill in the fridge or freezer for 20 mins.
Heat oven to (200°C/fan 180°C/gas). While the pastry is resting, heat butter in a pan and cook the leeks for 10 mins, stirring occasionally, until they soften. Then turn up the heat and add the mushrooms. Cook for 5 mins more and then turn off the heat.
Lightly prick the base of the tart with a fork, line the tart case with a large circle of grease proof paper or foil, then fill with baking beans. Bake the tart for 20 mins, remove the paper and beans, then continue to cook for 5-10 mins until biscuit brown.
While the tart case cooks, beat the eggs in a bowl and then gradually add the cream. Stir in the leeks, mushrooms and half the cheese. Season and then tip the filling into the tart case. Sprinkle with the rest of the cheese, then bake for 20-25 mins until set and golden brown. Leave to cool in the case. Trim the edges of the pastry, remove and serve in slices.
---
Blackberry chocolate cake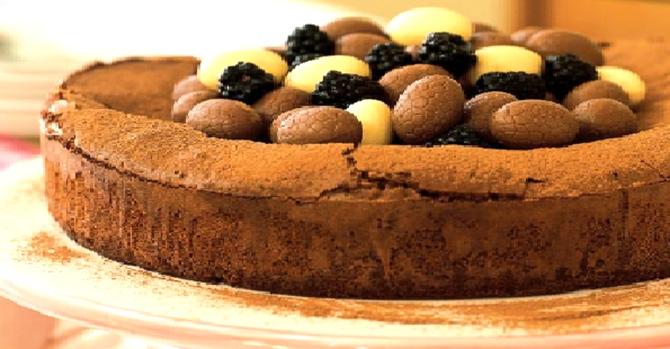 Ingredients:
250 gm butter, chopped
250 gm dark chocolate, roughly chopped
1/3 cup milk
1 cup castor sugar
4 eggs, at room temperature, separated
1/3 cup plain flour
150 gm frozen blackberries
Solid chocolate Easter eggs, to serve
Extra blackberries, to serve
Cocoa powder, to serve
Method:
Preheat oven to 200°C. Grease and line a 23 cm (base) spring form pan with baking paper. Melt butter in a small saucepan over medium heat. Set aside.
Combine chocolate and milk in a large heatproof bowl. Place over a saucepan of simmering water (don't let base of bowl touch water). Heat, stirring with a metal spoon, until melted and smooth.
Using an electric hand mixer beat in sugar. Remove bowl from heat. Set aside for 10 mins to cool slightly. Add egg yolks, one at a time, to chocolate mixture, beating well after each addition. Add melted butter. Stir until combined. Sift flour over chocolate mixture. Gently fold in.
Whisk egg whites in a separate bowl until soft peaks form. Gently fold into chocolate mixture. Sprinkle over blackberries. Gently fold in until combined. Spoon mixture into prepared pan. Bake for 15 mins or until risen. Reduce oven to 160°C. Bake for a further 50 minutes or until a skewer inserted into the center comes out clean. Leave to cool completely in pan (don't worry if cake sinks in center).
Place cake onto a serving plate. Decorate with chocolate eggs and blackberries. Dust with cocoa. Serve slices with mascarpone or thick cream, if desired.