Reader Megha Vikram shared her special recipe for Raspberry Marshmallows.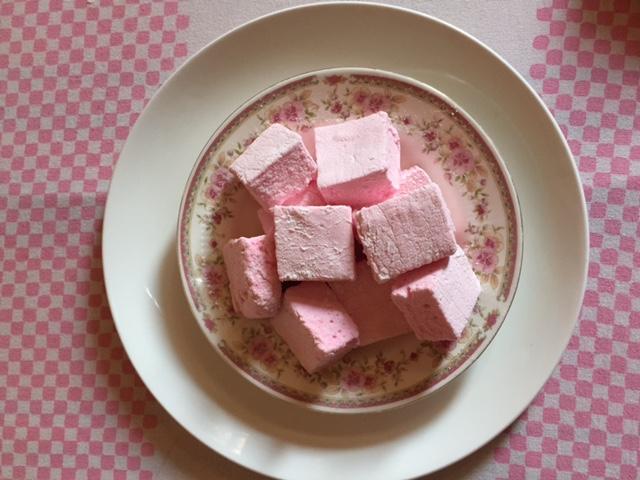 Here's the recipe:
Ingredients
20 gm gelatin
1 cup ice cold water
1 1/2 cup granulated sugar
1 cup light corn syrup
1/4 tsp salt
1 tsp vanilla or raspberry
Few drops of gel food colour
1/4 cup icing sugar
1/4 cup cornstarch
Oil to grease the tray or a nonstick spray.
Method
Place the gelatin in the mixer with half cup water. If you are using a hand-mixer make sure that you use a large bowl.
Mix the remaining water, granulated sugar, corn syrup and salt in a saucepan.
Place over medium-high heat, cover and cook for 3-4 minutes.
Remove the lid. If you have a candy thermometer then clip it to the side of the saucepan and continue to cook till the mixture reaches 240 F (that's approximately 7-8 minutes).
Once the mixture reaches this temperature, immediately remove from heat.
Turn the mixer on low speed and while running slowly pour the hot sugar syrup into the bowl with the gelatin mix.
If you're using a hand-mixer you need to be very careful with this and it would be better to take the help of an adult for this step.
Once all the sugar syrup has been added, turn the mixer to high and continue to beat for 10-12 minutes till it's very thick and glossy.
Add the colour and flavour at the last stage.
While you're mixing it, it is wise to prepare the tray.
Grease a single 13x9 or two 8x8 trays with oil or cooking spray.
Mix the icing sugar and cornstarch in a bowl and dust the trays with it. Keep some extra sugar mix for use later.
Once the mixture is done, pour it into the trays and spread with an oiled spatula.
Sprinkle some more of the dry mix on this, covering the tray properly.
Let it set for at least 4 hours or ideally overnight.
Run a knife dusted with the dry mix around the edges and unmould.
Cut with a sharp knife or dusted pizza cutter.
Sprinkle more of the sugar mix to coat all over.
Store in an airtight container at room temperature.
Note: Megha used a stand mixer for this. "It can also be made using a handheld electric whisk. But as per my knowledge it's not possible to make marshmallows if you are not using any of these," she says.
Lead photograph: Megha Vikram
Click here for interesting recipes and food features
You can share your favourite recipes too.
Write in to us at getahead@rediff.co.in (subject: My Fav Recipes) with your name, hometown and any interesting details about the origin of the recipe, along with a photograph if possible.
We'll publish the best preparations right here on Rediff.com and in India Abroad.